Capturing stunning images of your beautiful baby bump can be fun and rewarding. However, looking your best in these photos may require extra preparation and consideration. Otherwise, you may end up with a pained look in your pictures or an unprepared theme.
Coming from first-hand experiences as a professional maternity photographer for over two decades, I'm listing tips to look your best for a maternity photoshoot.
Tips to Look Your Best for a Maternity Photoshoot
To look your best for a maternity photo session, book a professional photographer to help you develop a concept, pick the right time, and select the perfect location. Choose comfortable yet stylish outfits that will highlight your belly. It also helps to pamper yourself, get professional hair and makeup, and research poses.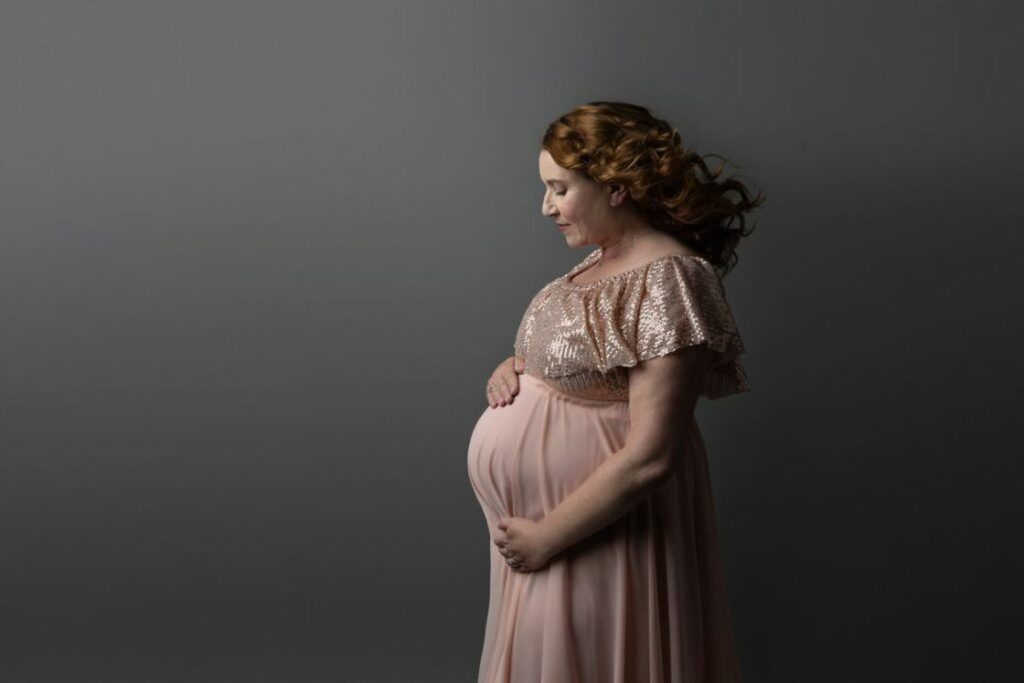 Pregnancy is an incredible journey, and a maternity photoshoot is the perfect way to celebrate and commemorate this special time. As a maternity photography expert, I'm excited to share helpful tips for a session you'll cherish forever.
| | |
| --- | --- |
| Tips | Actions |
| Book a professional photographer | Choose an experienced and skillful photographer |
| Develop a concept | Create a unique and personalized theme |
| Pick the right time | Choose which trimester to do the shoot |
| Select a location | Decide between an indoor or outdoor location |
| Prepare outfits | Pick outfits that highlight the bump comfortably |
| Hire a professional hair and makeup artist | Choose an artist that best reflects your preferred style |
| Pamper yourself | Get a manicure and take a good rest |
| Include family members in the shoot | Take some pictures with your partner or other kids |
Find a Professional Photographer
Finding an experienced, professional photographer is the first step to ensuring you look your best during your maternity photoshoot. A skilled maternity photographer will know how to pose you, utilize lighting, and capture the most flattering images to document your pregnancy.
Maternity portraits are important. Thus, you must evaluate the quality of a photographer's images to ensure they can capture your precious moments in a polished and aesthetically pleasing manner.
As an experienced photographer in this particular niche, I understand pregnancy photography's unique challenges and requirements. This makes me better equipped to make you feel comfortable and confident throughout the process.
Create a Theme or Concept
I've helped mothers reduce a huge chunk of their photoshoot jitters by assisting them in developing a concept. A clear theme allows you to create a personalized and more memorable maternity photoshoot.
Including these sentimental props is a fantastic way to enhance your theme and add a unique touch to the pictures.
Baby's first outfit or shoes
Ultrasound photos
A handwritten letter to the baby
Pick the Perfect Schedule
In my experience, the best time for a maternity photoshoot is during the third trimester. This is when your baby bump is beautifully visible, and you feel comfortable enough to pose for photos. Keep these factors in mind when scheduling your session: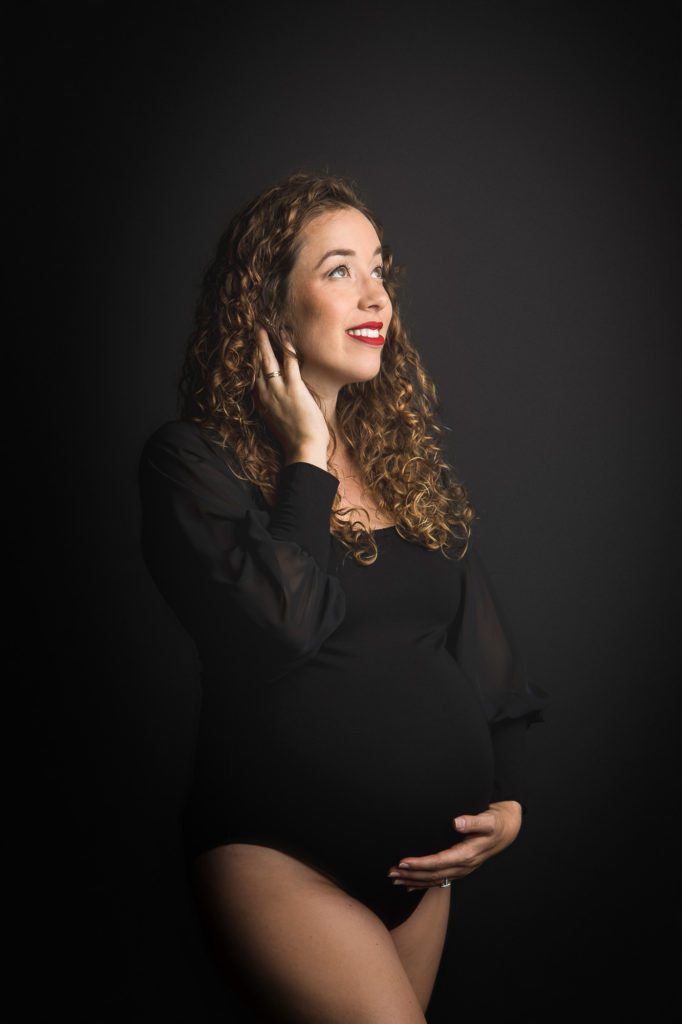 Baby bump size
Personal comfort level
Any potential health restrictions
Moreover, you must consider the time of day when scheduling your photoshoot. The best time for outdoor sessions is usually the golden hour or the first and last hours of sunlight of the day. Meanwhile, you'll want to consider the best lighting options for indoor sessions in your chosen location.
Select a Meaningful Location
I generally recommend studio or home-based shoots for expecting mothers who prefer a more intimate and personal setting. Your home is where you feel most comfortable, and it can convey a sense of warmth and love. Some ideas for capturing stunning maternity photos at indoor locations include:
Using the nursery as a backdrop
Posing in your bedroom with soft, natural lighting
An outdoor maternity photoshoot can be a breathtaking option for those who feel more comfortable moving outdoors, especially in nature. There are a lot of non-beach outdoor locations in San Diego that have a sentimental meaning to the expecting parents, whether it's a favorite beach in San Diego, park, or hiking trail. Here are some tips for a successful outdoor shoot:
Choose a location with a beautiful and serene setting
Consider incorporating seasonal elements like fall foliage or spring blooms
Choose the Right Outfit
For each maternity photo session, I make sure to make mothers feel at ease while looking stunning. I do this by discussing the importance of balancing comfort and style in clothes. Here are some considerations for a comfortable and stylish outfit for a maternity shoot:
Choose soft, stretchy, and breathable fabrics
Avoid tight or restrictive clothing
Consider flowy dresses or form-fitting options to accentuate your bump
Stick to a limited color palette to maintain harmony in your photos
Coordinate your outfit with your partner's attire, if applicable
Aim for a mix of patterns and solids, although avoid overly busy or distracting patterns
Get Professional Makeup and Hair Styling
Investing in professional makeup and hair styling is another way to help you look your best for a maternity shoot. Consider these key benefits of hiring a professional makeup and hair stylist for your maternity shoot: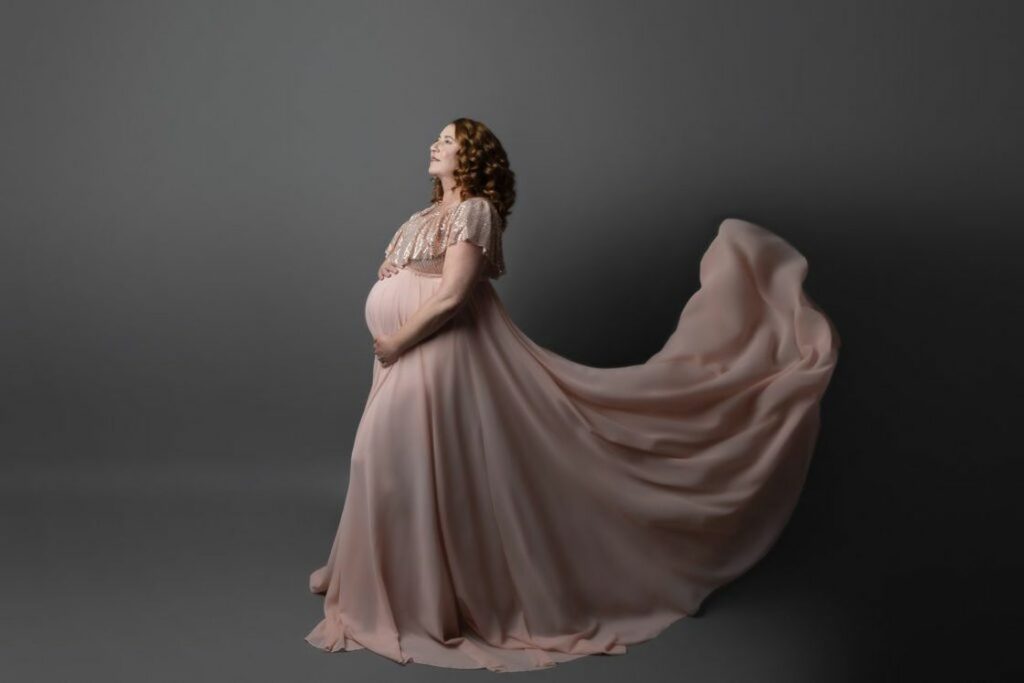 Enhancing your natural beauty
Creating a polished, camera-ready look
Boosting your confidence during the photoshoot
Concealing imperfections or blemishes
Complementing your maternity attire with a flattering hairstyle
Pamper Yourself Before the Shoot
Pampering yourself during pregnancy is an excellent way to reduce tension, letting you radiate a more glowing aura during the shoot.
Taking the time to care for your appearance will help you feel more confident and relaxed during the session. A nice, professional manicure is perfect for prepping your hands, as it will appear in most pictures. Lastly, get enough sleep the night before the shoot.
Consider Involving Family Members
Involving family members in some pictures of your maternity photoshoot can add an extra layer of warmth and love to the photographs.
Suppose it's not often you take family photos. Letting your family join is a great way to showcase the bond between you and your loved ones.
Related Questions
How Do I Make Myself Look Good in Maternity Photos?
To look good for maternity photo sessions, you must prepare yourself physically and mentally. It helps to start by finding a professional photographer to guide you in selecting outfits, crafting a theme, and choosing the perfect location.
What Do I Need to Know Before a Maternity Photoshoot?
Before your maternity shoot, you need to know things like photoshoot location options, wardrobe choices, and the qualities to look for in a maternity photographer. It also helps to have a list of poses, props, and other ideas to incorporate into the session to make the photos unique and personal.
How Do You Feel Confident in Maternity Pictures?
The best way to achieve confidence in maternity photos is by working with a photographer you trust and feel comfortable with. Be open about your preferences and insecurities so your photographer can tailor the shoot to your strengths and highlight your beautiful pregnant form.
Conclusion
The key to looking your best for a maternity photoshoot is embracing your natural beauty and ensuring your comfort throughout the session. As your professional maternity portrait photographer, I let your happiness shine through, resulting in gorgeous, memorable photos that celebrate this special time in your life as a mother.