Do you want new photos to frame or post online, yet wondering where you should take the photos? From sunny beaches to urban spots, San Diego boasts a myriad of sceneries. Here's a list of the best San Diego photography locations for your next family photography session in San Diego.
San Diego Photography Locations
The best places to take pictures in San Diego include La Jolla's seaside neighborhood, nature fields in Carlsbad, the coastal community of Solana Beach, and the beaches of Del Mar. You can also go to the cultural hub of Downtown San Diego and Old Town San Diego's historic sites.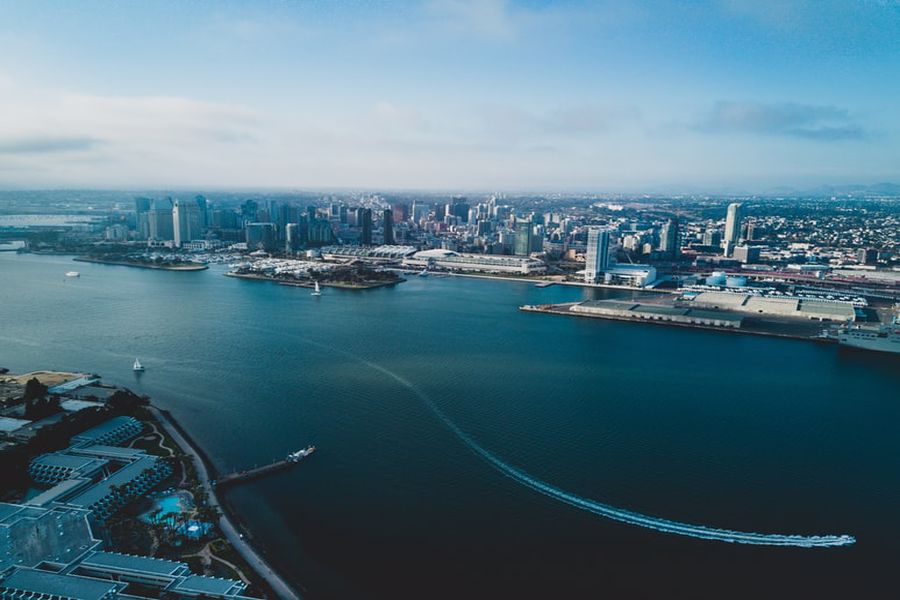 Even if you only have a few hours to go around the city, you can see the beauty of San Diego and use it as a natural background for your photos. In my years of scouting San Diego, these are the perfect shooting locations for different kinds of photoshoot ideas.
La Jolla
La Jolla is a hilly, seaside neighborhood within San Diego. It has several locations to spend the day taking pictures and even holding intimate gatherings at night.
Ellen Browning Scripps Memorial Pier: Taking a photo under the iconic boardwalk is the ultimate San Diego background. This is one of the best places to take family portraits in San Diego, especially during sunset.
Windansea Beach

: This stretch of coastline may not exactly be the best swimming spot because of rocks and strong currents. However, the sandstone points and the dreamy skyline in the background make it one of the most picturesque beaches in San Diego.

Prospect Street: If you're looking to include some shopping and dining out, Prospect Street is a non-beach San Diego photography location idea. It has a gem of shops and restaurants, as well as a branch of the Museum of Contemporary Art San Diego.
Aside from shops and beaches, La Jolla has a reputation for being an artsy town because of gorgeous murals across alleyways painted by incredible artists. Whether you join an art walking tour or go by yourself, you can find walls filled with contemporary art that would make great photography backgrounds.
Carlsbad
Do you have more time to take pictures during springtime? Head to Carlsbad to find lovely flowering fields. Whether it's for fine art portraiture or a quick family portrait, Carlsbad offers many photography spots for nature lovers.
You can start with The Flower Fields at Carlsbad Ranch. This 50-acre field of dazzling flowers overlooking the California coastline is idyllic for senior portraits and family pictures.
Moreover, take a breather from the skylines by visiting the San Diego Botanic Garden. This is an ideal photography location in San Diego for romantic couple portraits.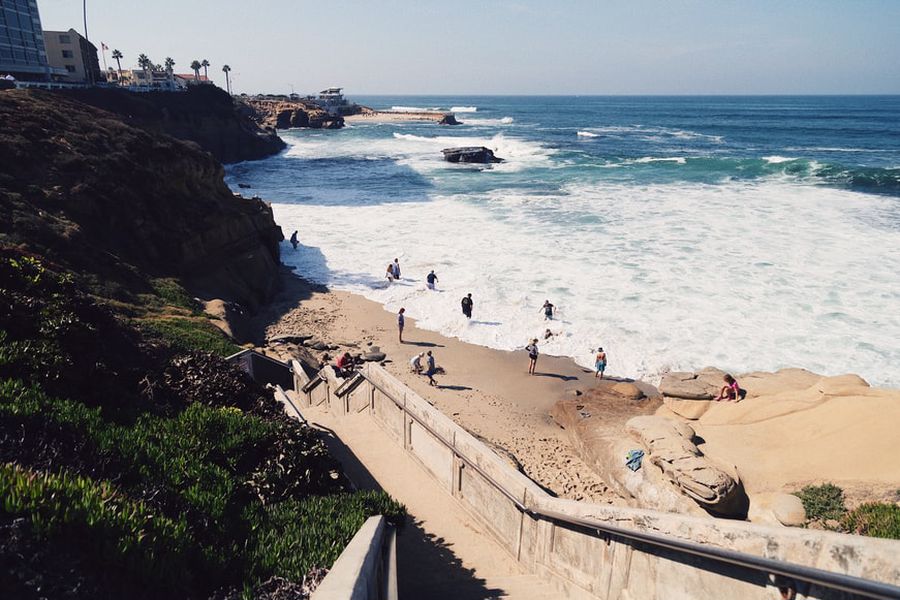 Solana Beach
The enchanting, seaside community of Solana Beach offers a coastline, shops, nightlife, and hiking. This can be one of the go-to photography locations in San Diego for kids, teenagers, and adults.
Fletcher Cove Beach Park:

This is the main beach in the area. It also has a grassy area, playgrounds, and a viewing platform for all your photography needs.

Annie's Canyon Trailhead

: Are you looking for something a bit extreme? The rock formations in this hiking spot provide aesthetic contrast and texture against neutral-colored clothes. It also gives panoramic views of the San Elijo Lagoon.

Cedros Avenue Design District

: A few blocks in Solana Beach houses art galleries, furniture stores, and specialty boutiques that would be great backgrounds for lifestyle and urban-themed photoshoots.
Del Mar
Known for the city's generally warm, dry climate, San Diego's beaches attract people from across the world. Among its popular beach communities is Del Mar, a sandy beach area that provides an excellent view of the coastline and sunset.
Parks

: Seagrove Park and Powerhouse Park let you take family pictures while bonding with the family. This is a good photoshoot location, particularly if you want to take a break between shoots to let the kids have fun at the picnic areas, playgrounds, and vast green spaces.

Beach: Del Mar is one of the most accessible beach portrait photography spots in San Diego, suitable for families and students looking for an outdoor yet nature-themed photoshoot location. Meanwhile, you can bring your furry friend to the Del Mar Dog Beach, where pets can play off-leash in the shallow waters.
Downtown San Diego
There's more to San Diego than breezy beaches. About a 30-minute drive from Solana Beach, Downtown San Diego gives you access to a modern center with boutiques, restaurants, and galleries suitable for urban chic portraits.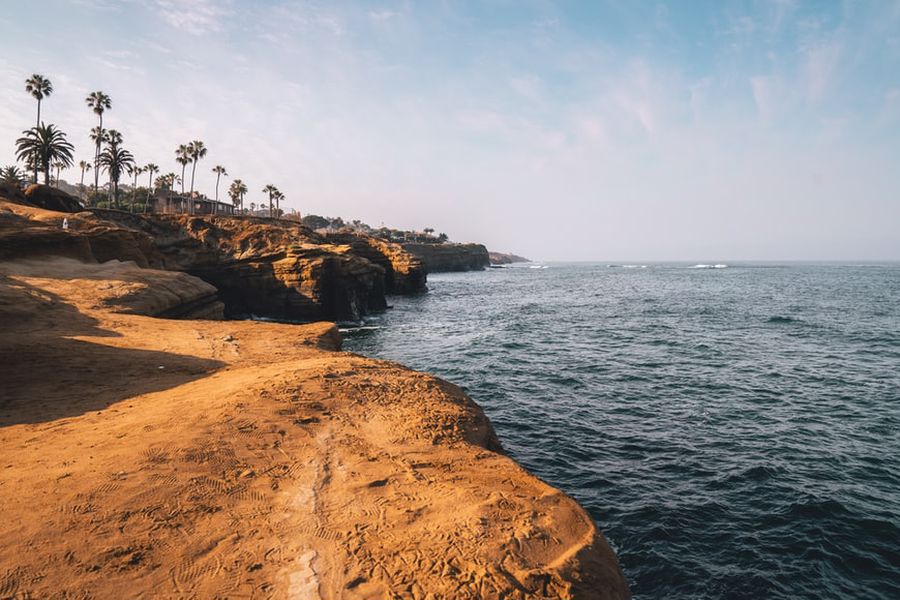 As a cultural hub, Downtown San Diego combines Spanish and Victorian architecture with high-rise structures. From the Horton Plaza, Gaslamp Quarter, New Children's Museum, and Seaport Village, there's an abundance of waterfront and urban spots that would make a charming backdrop for pictures.
Old Town San Diego
Old Town San Diego is one of the top photography locations in San Diego because of its history and culture. From Instagrammable alleys to quaint shops, you won't run out of spots to take photos.
Whether you're a local or a visitor, going to Old Town San Diego lets you discover how San Diego became the first European settlement in California. This place has over 35 historic sites, and these are among the places where you can learn history while taking photos.
Old Town San Diego State Historic Park

: The wide pedestrian-only streets create a small village with more than 20 buildings. In every step, you'll find a picture-worthy wall or shop that will take you in a historical yet festive mood.

Presidio Park

: This landscape gives magnificent views of the Pacific Ocean and 40 acres of parkland for families to enjoy. Take a side trip to the Junipero Serra Museum to see archeological digs from the original settlement mission in San Diego.

Museums

: If you prefer an indoor shoot, Old Town San Diego also has a number of museums, including the Wells Fargo Museum, the San Diego Courthouse, the Whaley House Museum, and the La Casa de Estudillo.
Conclusion
Whether you want to play with the waves or get crafty, there's a spot in San Diego that will give you the most scenic backgrounds. If you need help visualizing the shoot, feel free to check out our San Diego family portfolio, I can help you plan and prepare to turn ideas into memorable photos!