The choices are plentiful when it comes to beach photography sessions in San Diego! While there are plenty of options, there are also plenty of factors to consider. What season is it? When is sunrise/sunset? If you're a young family and wish to have a family photograph taken in San Diego, what are the schedules of your little ones? When is high tide/low tide? Does the beach you love have a lot of room?
San Diego Beach Photography: Which Beach is Best for Portraits?
All of these things and more have helped me form some "norms" over the years, so that I can offer consistent results to my clients. While these are not hard and fast rules, they are things that I use to choose beach sessions dates carefully. When we make informed decisions, our results are more likely to align with our desires.
When do we take photos at the beach?
The most common time to take photos at the beach is at or just before sunset. The "golden hour" light is often most desired, but native San Diegans know that the sunset is not predictable. Sometimes it's AMAZING and sometimes it's, well, not so amazing. Morning can also be lovely at the beach, and it's often less crowded which is always a plus.
Regardless, the beach as your backdrop is hard to beat! I have a few other parameters depending on the time of year and the beach you choose. The most broad parameter I have is that, during summer months, I do not photograph at the beach on the weekends in the evening. Friday, Saturday and Sunday evenings are not options, as the beaches are so crowded that it makes removing distracting humans from your photos more than challenging- it can be next to impossible.
Plus, a crowded beach means it's difficult to get the angles, spots and areas we want if they are full of…people. The other common factor we must consider is the tide. High tide on one beach may mean something different than high tide at another, so depending on where you want to go, we may be able to go there anytime, or we may need to choose another photography location in San Diego, date or time.
Every year in January I look up the tide charts for the year and find the best dates for my favorite "low tide love" sessions. I do the work for us!
Which San Diego beach is best?
Each beach in San Diego has unique qualities to offer, but I photograph three the most, in addition to one "beachy vibe" spot that doesn't have a ton of sand. I am open to other beaches too, but these are the most familiar and I know what to expect.
Torrey Pines State Reserve
This natural oasis offers dramatic cliffs all the way down the beach, La Jolla in the distance to the south, and amazing reflections at low tide. However, high tide is a no-go at this beach- the sand is too narrow and can often become dangerous, and high tide often makes the southern area of the beach inaccessible. Other things to consider:
As of writing this post in summer of 2022, Torrey Pines does have a lot of rocks at the base of their stairs to access the beach. They are large and cumbersome, making accessibility an issue. If anyone participating in the photoshoot has stability challenges or concerns, this beach is not ideal. If the rocks are removed I will update here!

Torrey Pines is the best option for morning beach photos! The high cliffs offer additional shelter from the sun, extending our time a bit more.

It is not advisable to take photos up on the trails of the reserve. If attempted without a permit (a very expensive permit that requires the employment of a ranger), we can be kicked out/asked to leave.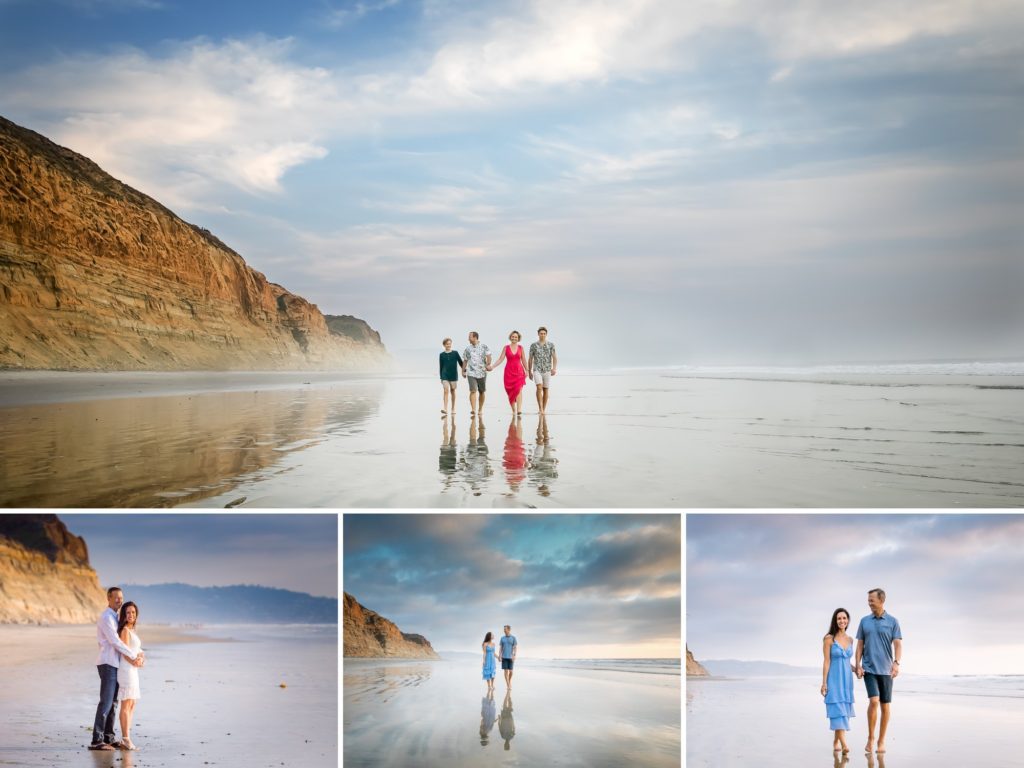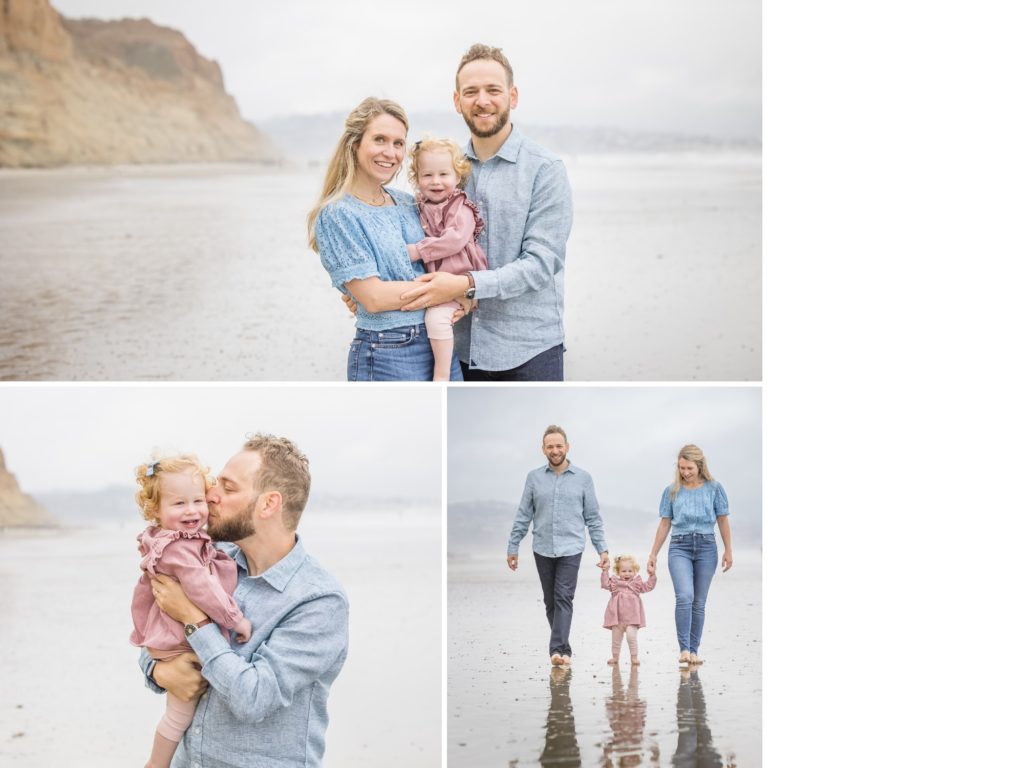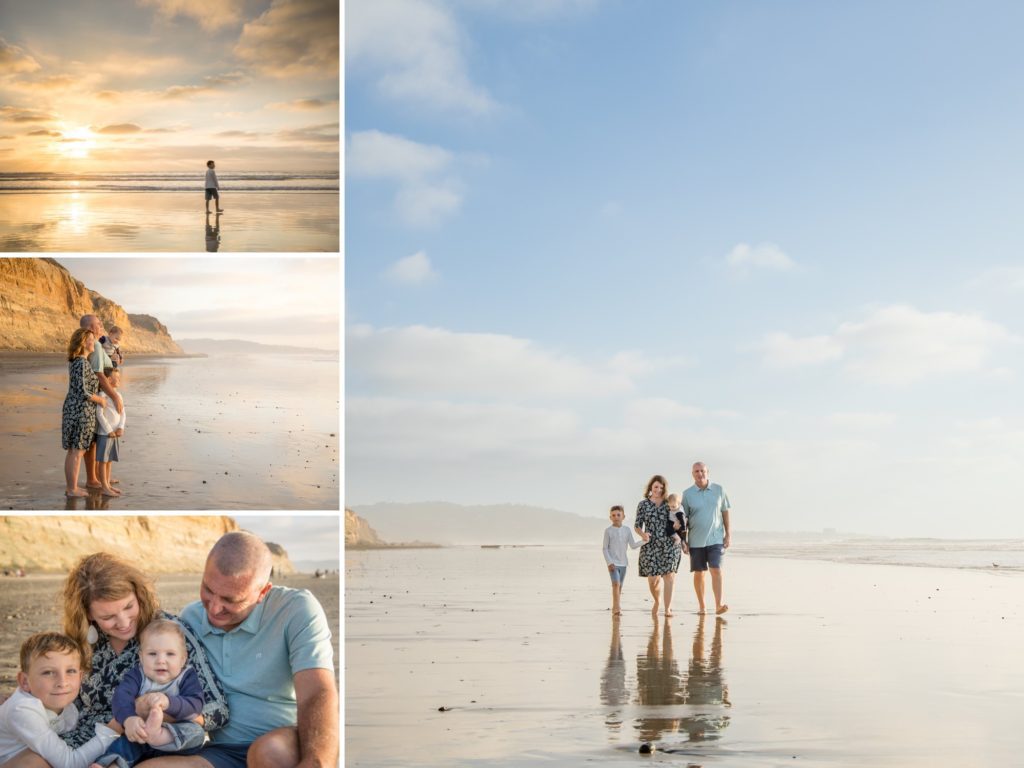 Scripps Pier, La Jolla
This beach is visually stunning and very popular! With the pier as an architectural centerpiece, you can also look south to La Jolla, and north of the pier are cliffs, boulders and more for lots of visual interest. In addition, above the pier is the Forum, an area with some modern architecture, neutral tones, and an amphitheater as well. I love exploring this whole area and always find new nooks and crannies each time!
In terms of the tide, This beach is best at low tide as well, but mid point between high and low can work so long as it's not too high. Very high tides mean very little beach and very little room to navigate under the popular pier, which is the site of many photoshoots, video and novice/hobbyist photographers every day.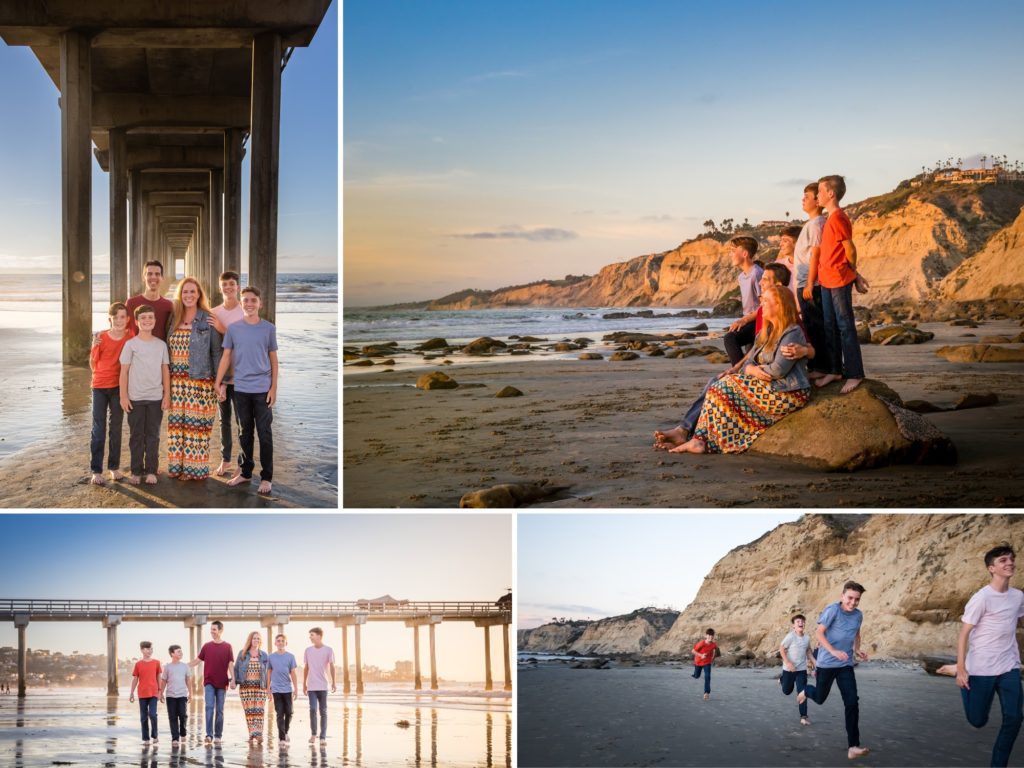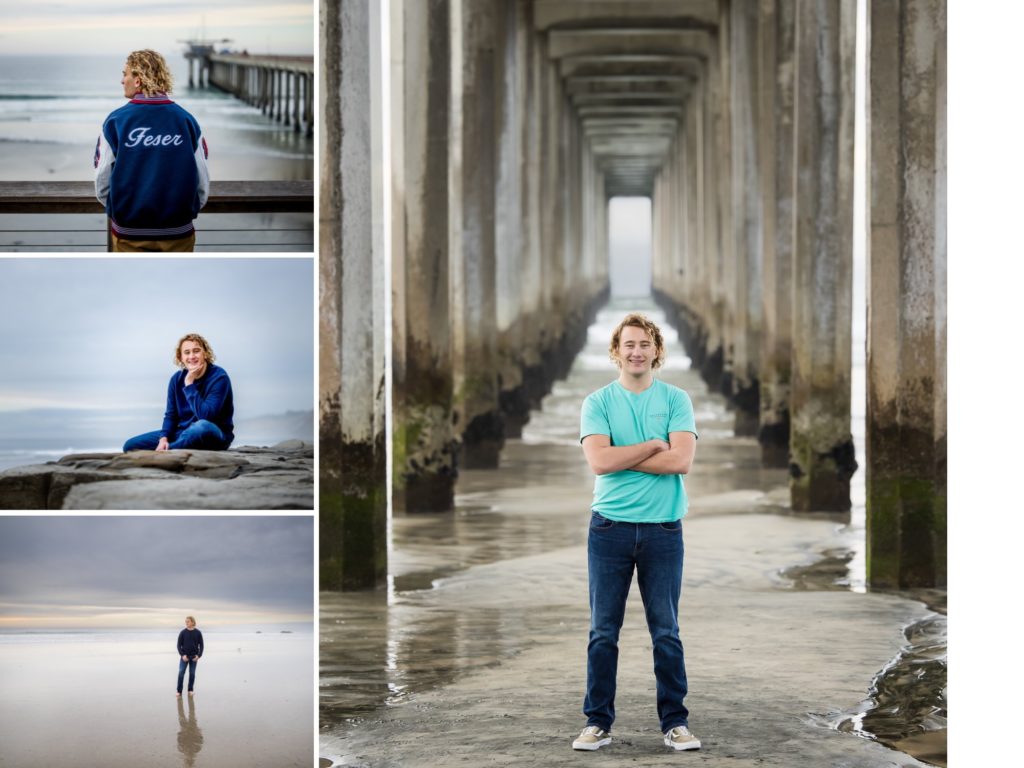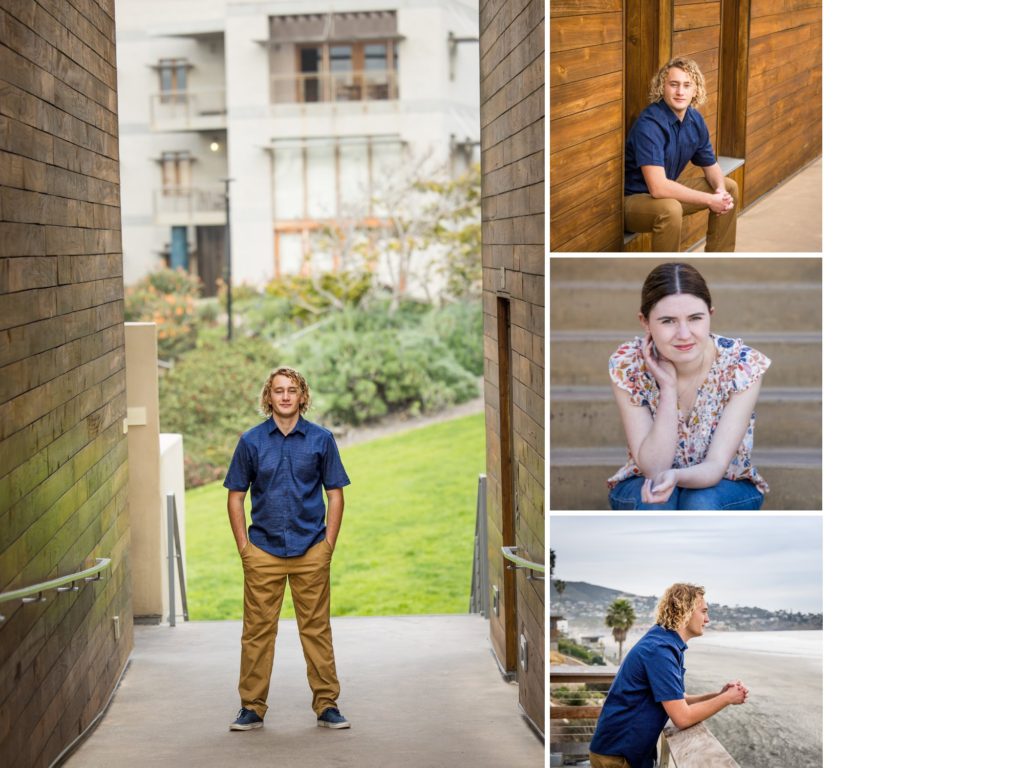 Coronado Island
In terms of sand, the beach at Coronado is the deepest/widest in the city, I think. Because of this we can photograph anytime, high or low tide. With Point Loma in the distance, the Hotel del Coronado offering that iconic red roof and bright white walls, there are plenty of spots to enjoy. Just south of the hotel are boulders that make for a lovely setting as well!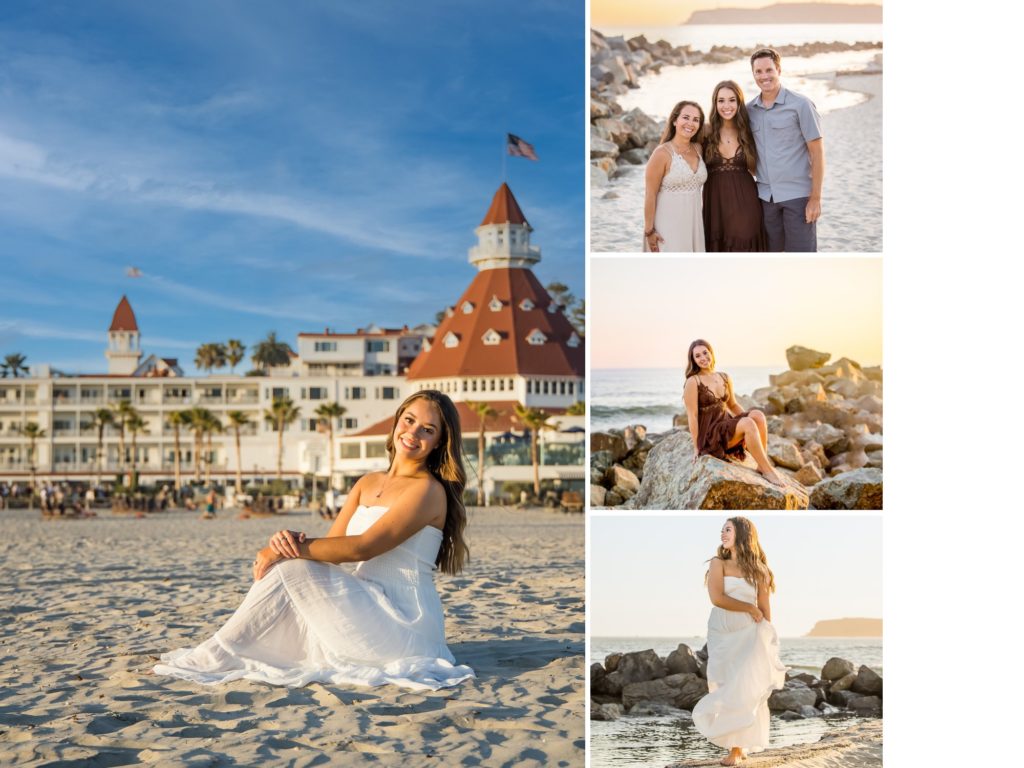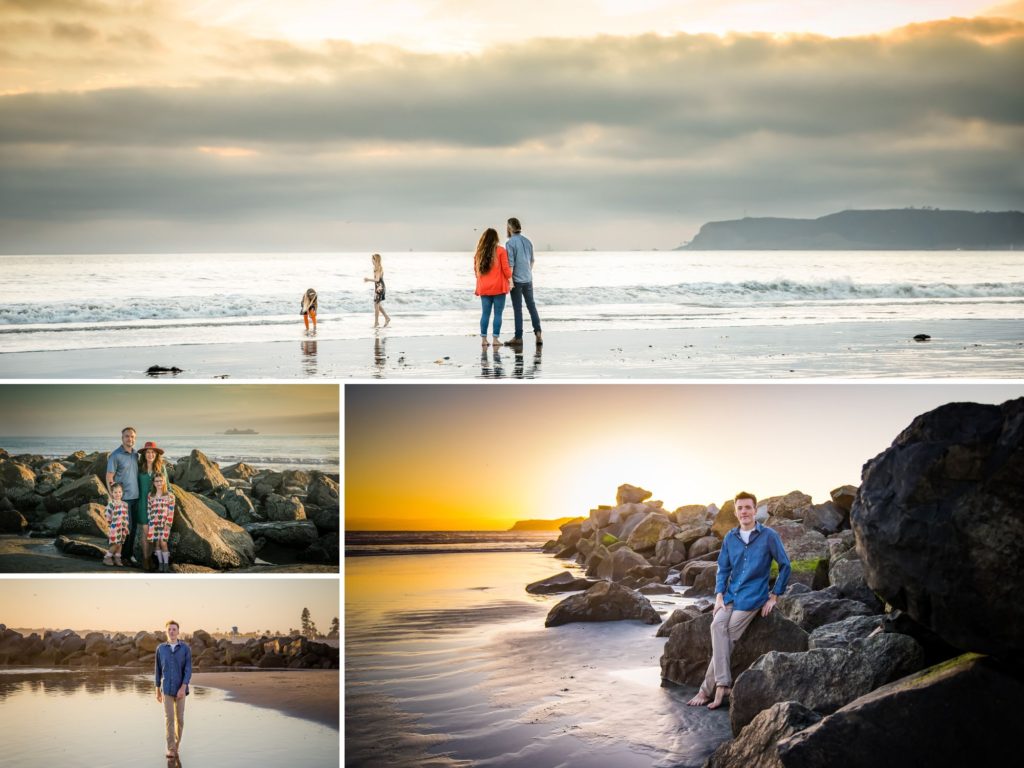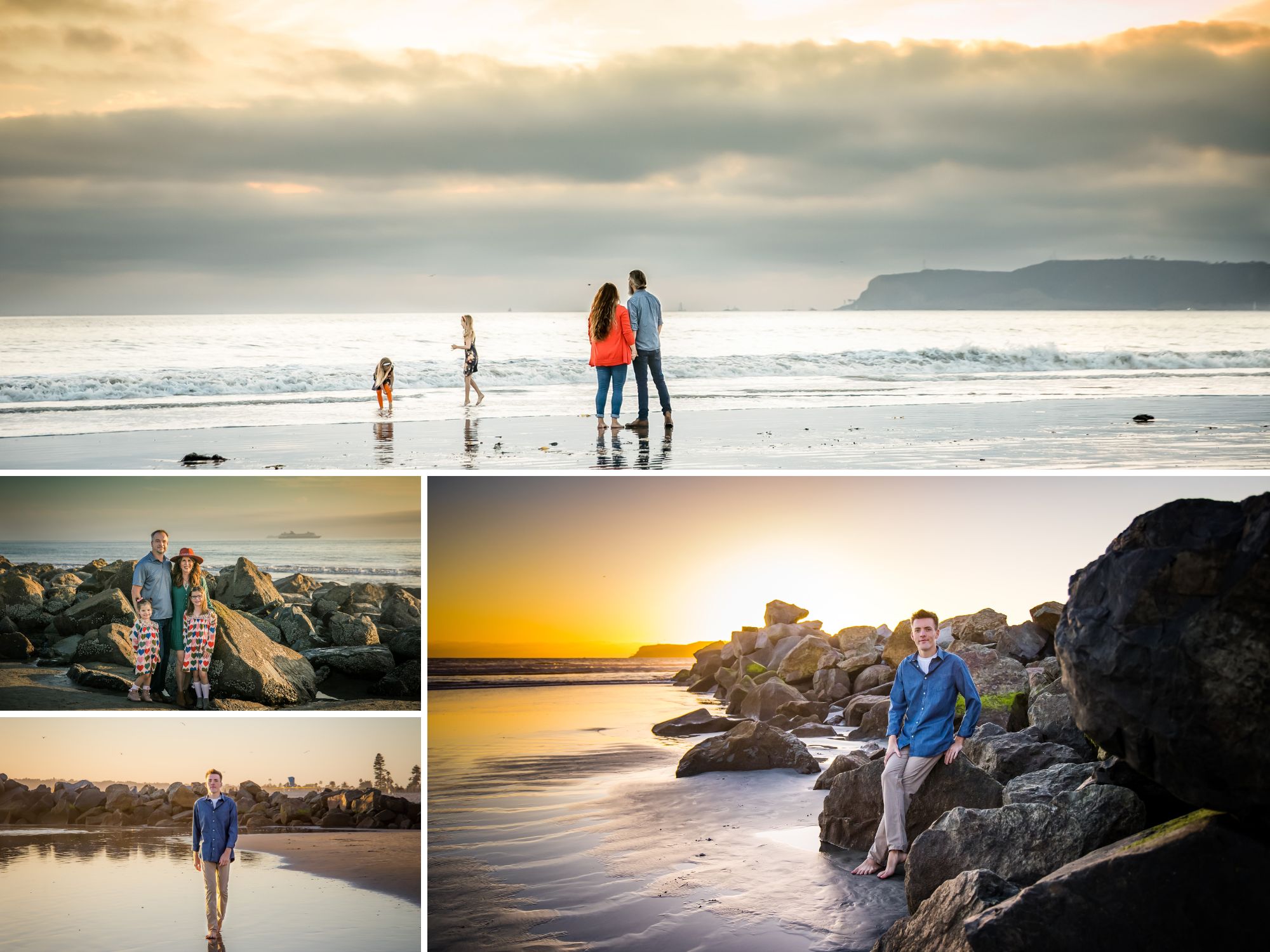 Santa Cruz Cliffs
This spot in Ocean Beach is a lovely gem! I love going here at low tide for the lagoon-like mini-beach, but high tide is also awesome because it means waves crashing against the cliffs at your feet. There is a narrow staircase that leads to the cliffs- it is not super long, but it is also not modern or wide. Accessing different areas of the cliffs would be challenging for anyone with mobility concerns.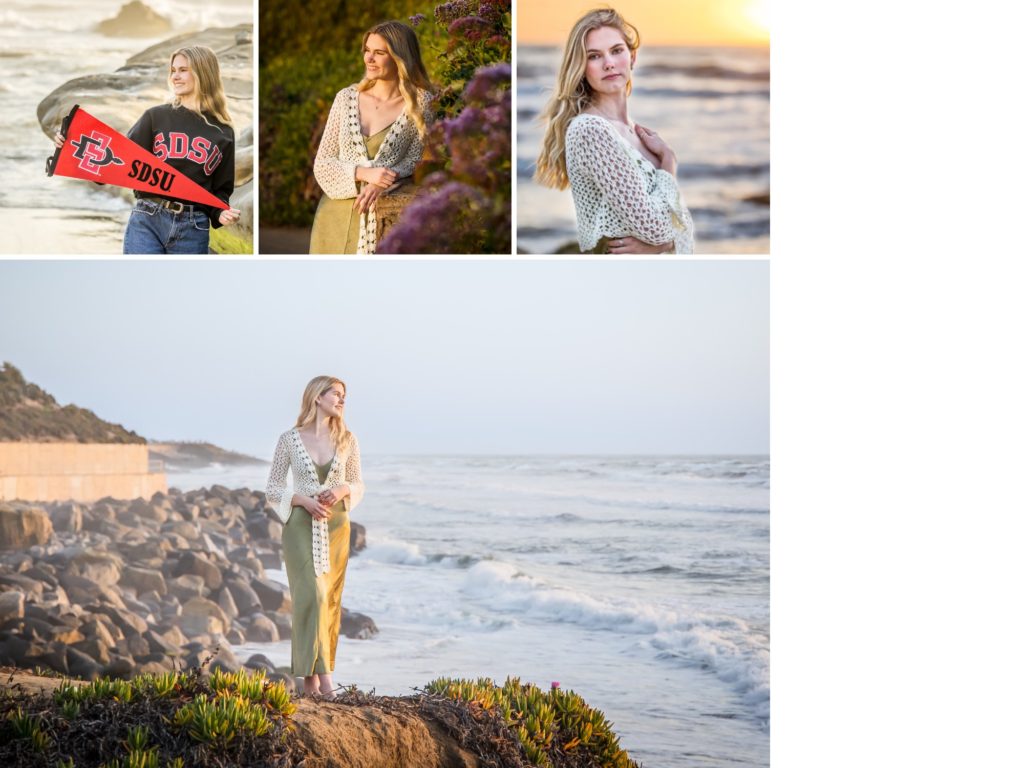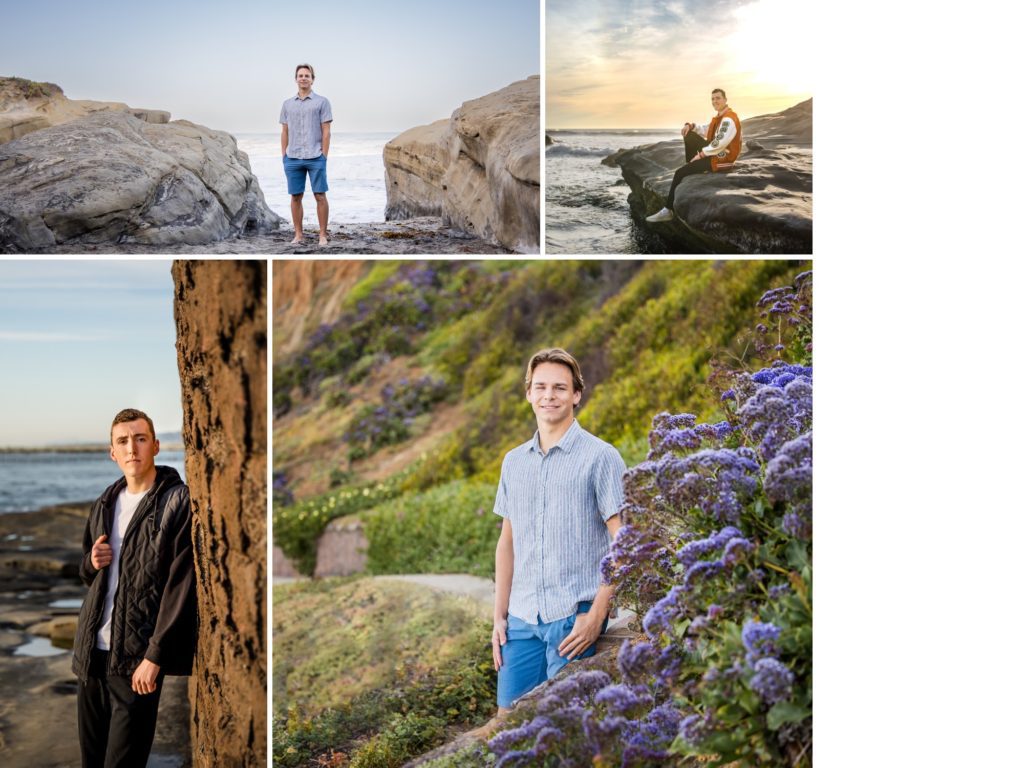 Please note: I do not recommend this location for families with young toddlers/babies. There are many dangerous areas with little/no safety precautions and my mama heart would be too stressed out. We can also look into choosing a non-beach photography location in San Diego that can be safer for your whole family.
What to wear to the beach for your session.
The beach is beautiful! But the beach is also very neutral to the naked eye. If you're wondering what to wear for your family photo shoot, we have a few suggestions. I always recommend, regardless of the session type, that you wear COLORS to the beach. You do not want to blend in with brown sand and cliffs- you want to POP in your favorite happy colors!
What NOT to wear to the beach? This is my own personal preference and you can totally tell me to shush, but I personally recommend to NOT wear shoes at the beach. If you want to look like a local, this is the way to go.
Also? Many folks, when I share this with them, mention that they feel insecure about their feet. This is understandable, but the sand is often stuck to your feet, or if you are in dry sand it covers much of them up, so fear not- the beach literally has you covered!