Maternity photos aim to capture the beautiful, unforgettable moments of pregnancy. However, if you don't choose the perfect time, you may feel uncomfortable posing, or your bump may not be prominent enough for the images.
Since starting Natalie Chiles Photography in 2013, I've guided mothers from San Diego, CA, and beyond in determining the right time to take maternity pictures. In this guide, I'm going to help you pick the best time to take maternity photos and what factors to consider.
Best Time to Take Maternity Photos
The ideal time to take maternity photos is during the seventh or eighth month of pregnancy, around 28 to 34 weeks. This timeframe can highlight the belly's lovely round shape. For high-risk pregnancies or moms expecting multiples, schedule the shoot early, around the second trimester, or around 23 to 28 weeks.
Remember, scheduling your maternity photo session when you feel your best is essential. This guarantees a positive and memorable experience during this special time in your life.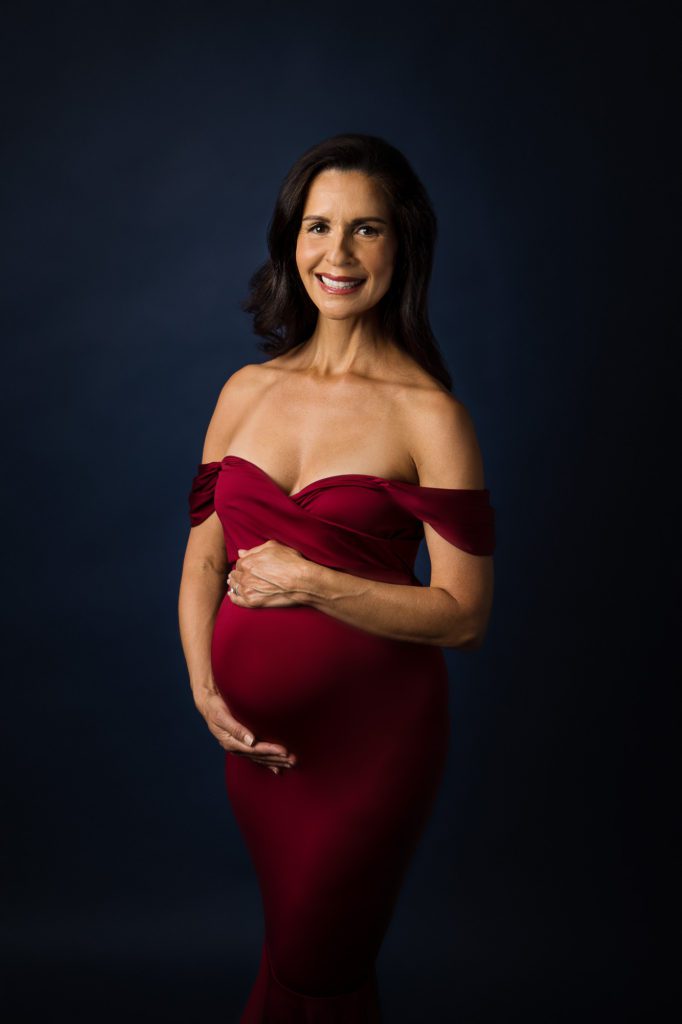 Ideal Timing for Maternity Photos
In my experience as a maternity photography specialist, the perfect time to take maternity photos is generally between the 30th and 36th weeks of pregnancy. The baby bump is nicely rounded and prominently visible during this period, perfect for capturing beautiful images.
Of course, every pregnancy is different, so I recommend listening to your body and considering your comfort level when booking a maternity session. Feeling good during the shoot is vital for capturing those glowing and memorable moments.
| | |
| --- | --- |
| Trimester | Best For |
| First Trimester | High-risk pregnancy |
| Second Trimester | High-risk pregnancy, expecting twins or multiples |
| Third Trimester | Normal pregnancy |
| Weeks before delivery | Normal pregnancy |
First Trimester Maternity Photos
The first trimester is too early for a maternity shoot, as the baby bump may not be very noticeable. However, I've had some clients wanting to document this exciting time. This is because they want silhouettes that hint at the subtle changes in body shape.
If you want maternity pictures during the first to 12th weeks of pregnancy, your photos will highlight your emotions as an expectant mother.
Second Trimester Maternity Pictures
The second trimester brings more visible changes as the baby bump starts to show. Within the 13th and 28th weeks, it's a great time to capture the growing bond between the mother and baby, particularly for those with high-risk pregnancies or expecting multiples.
Third Trimester Maternity Photos
As a mother and photographer, the best time to capture stunning maternity photos is between 32 and 36 weeks during the third trimester. At this stage, I often see mothers with more pronounced belly bumps. Mothers also tend to feel more comfortable during the shoot.
Moreover, it's a great time to incorporate family portraits, mainly if you want your partner or kids to have some pictures with your growing belly.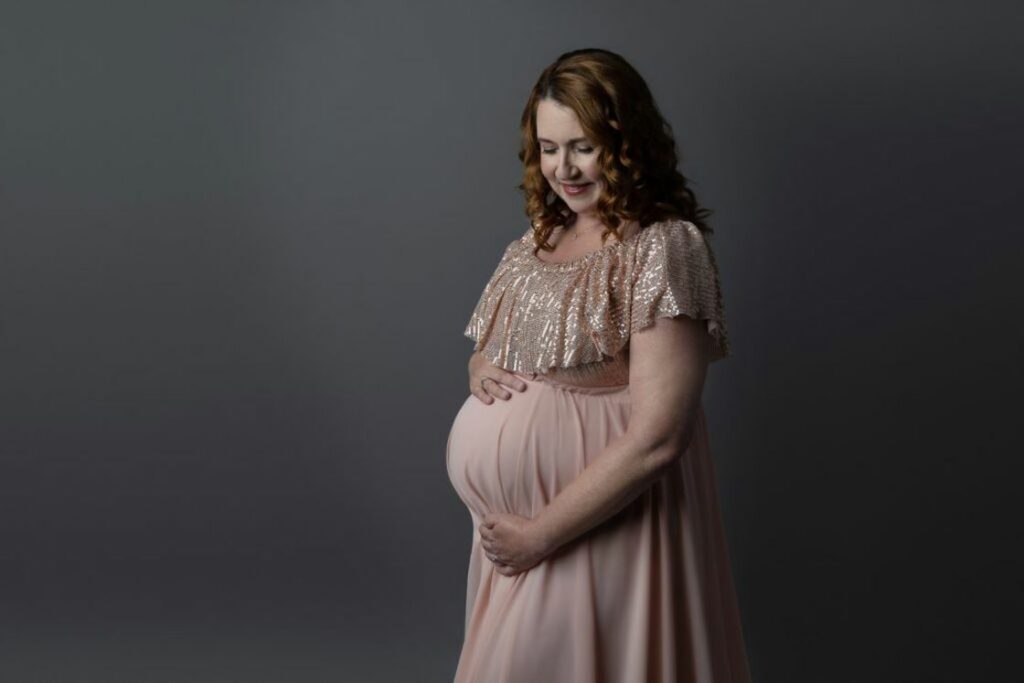 Week Before Delivery Maternity Pictures
I also encounter mothers who want to schedule a shoot about a week or two before the expected delivery date.
For weeks before delivery, I've observed that mothers end up with limited poses since it's not ideal to stand for too long. Physical activity is generally good during pregnancy. However, you should remain cautious about movements that could cause exhaustion or abdominal pain.
Factors to Consider In Deciding When to Take Maternity Pictures
While it's important you get amazing photos during the third trimester, select a timeframe that will make you comfortable enough to pose. Weigh in these factors before booking a maternity shoot.
Personal Comfort
Know that each mom-to-be is unique, so observe how you feel during your pregnancy. Some women may feel their best in the second trimester, while others prefer the third trimester. Be sure to:
Listen to your body
Schedule the shoot when you feel confident and relaxed
Consider your energy levels and overall well-being
Body Changes
Another factor to consider is how your body changes during pregnancy. The ideal time for a maternity photoshoot often falls within the golden period of the third trimester, between 30 to 36 weeks.
This is when your baby bump is beautifully rounded, and you're still comfortable enough for a photoshoot. However, keep in mind that:
Each woman's body develops differently
Your baby bump may be more or less prominent at different stages
Location and Season
When planning your maternity photoshoot, consider the location and the season. While there are several beautiful photoshoot locations in San Diego, the time of year and your preferred setting can make a significant impact on the photos.
For instance, outdoor shoots may be better suited for warmer months. On the other hand, beautiful indoor settings can be perfect when the weather's a bit colder, or you want a studio setup.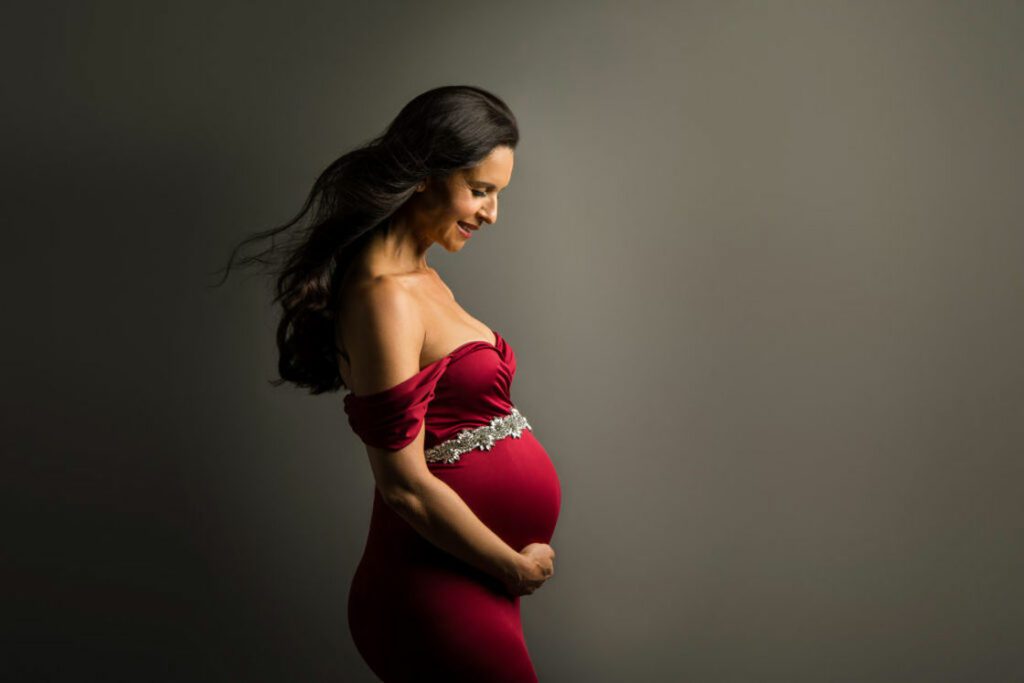 Pregnancy With Twins or Multiples
Expecting twins or multiples calls for a few adjustments in the timeline of your maternity photoshoot. I've noticed mothers expecting twins have difficulty standing too long or becoming uncomfortable during outdoor shoots when they choose the third trimester.
This is why I recommend scheduling a bit earlier, around the second trimester or 13 to 24 weeks. In this way, you can accommodate the larger baby bump and ensure your comfort during the session.
High-Risk Pregnancy
Similar to expecting twins, it's best to take maternity pictures during the second trimester if you have a high-risk pregnancy. Prioritize your health and well-being throughout the photoshoot process. Consult with your healthcare provider before scheduling.
Related Questions
When to Start Planning a Maternity Shoot?
Generally, I recommend starting the planning process during your first or second trimester to allow enough time to find and book a photographer, scout locations, and prepare outfits for a maternity session. However, you should consider your energy levels and comfort, as well as the belly's size and shape.
What Trimester Is Best for a Maternity Photoshoot?
The best trimester for a maternity photoshoot is the third trimester. By this time, the belly has a nice round shape, perfect for taking beautiful photographs. The third trimester typically starts around the beginning of the seventh month and lasts until the end of the pregnancy.
Is It Better to Take Maternity Photos Earlier or Later in the Pregnancy?
It's better to take maternity photos later in the pregnancy, specifically during the seventh or eighth month. This is when your belly has reached its ideal size and roundness for photographs while still allowing you to move around and change positions with ease.
Conclusion
It's best to schedule a maternity photoshoot around 30 to 36 weeks of pregnancy or during the third trimester. Meanwhile, those with high-risk pregnancies or expecting multiples should book a session as early as the second trimester. Maternity portraits are important because it allows you to remember the experience and beautiful memories with your little one.