The right outfit can give you a timeless and beautiful look. However, choosing maternity photoshoot outfits can be a tricky task, mainly due to constant body changes. I'm going to explain what to wear to a maternity photography session, the best colors to use, and how many outfits you should bring.
What to Wear to a Maternity Photography Session?
When preparing for a maternity shoot, you can wear a flowy maxi dress, lace dress, lingerie, bodysuit, blazer, robe, oversized top, or well-fitted jeans paired with a cropped top or bandeau. You should also consider neutral or solid colors to make your outfits look timeless. Make sure to consider comfortable fabrics as well.
Your maternity pictures will capture your beauty and the gorgeous shape of your belly. This is a chance to document this special moment as you transition to parenthood and welcome a new bundle of joy. With the right clothes, you can highlight your figure better and add flair to your images.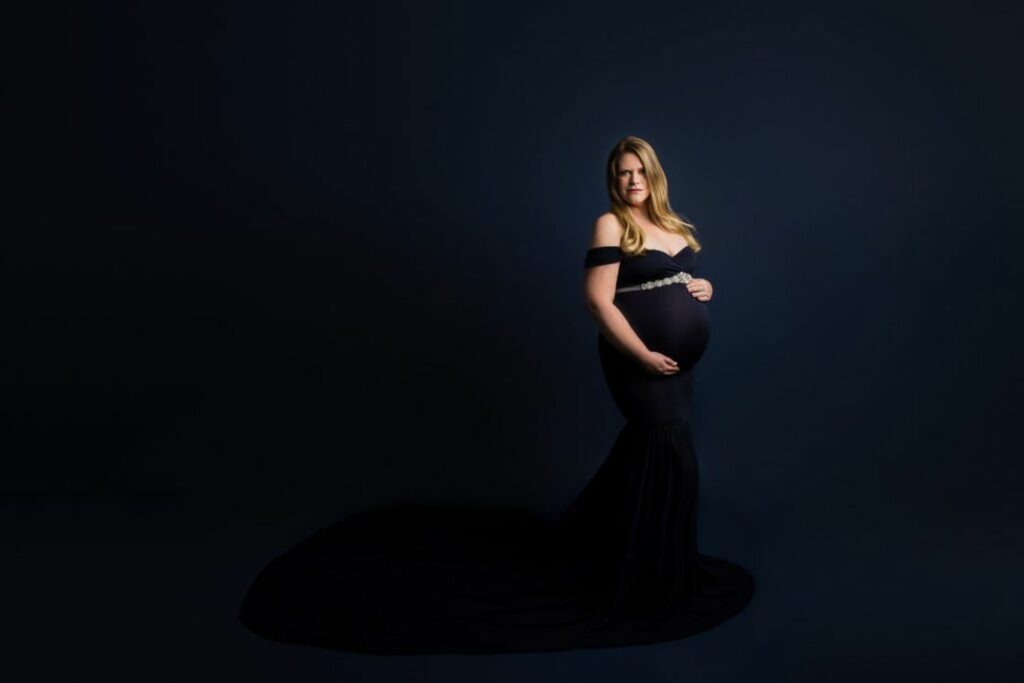 Bandeau Top and Jeans
The classic pair of bandeau tops and jeans is a crowd favorite for maternity photoshoots. This is a great way to flaunt your belly naturally without showing too much skin.
Bodysuit or Body-Hugging Clothes
Wearing tight-fitting clothes, especially bodysuits, is a simple way to draw attention to your pregnancy curves. Aside from defining the bump, the clothing's silhouette looks great in black-and-white shots.
Oversized Tops or Blazers
Perhaps you prefer something tight-fitting than a bandeau or bodysuit. Another way to show off your bare bump is to wear an unbuttoned top or blazer. You can either match it with silk underwear or get casual with jeans.
Maxi Dress or Flowy Skirt
There are days and stages in pregnancy when some women don't feel comfortable with certain clothes. Maxi or empire line dresses with flowy skirts are safe options for a maternity shoot. They can conceal some parts you don't feel comfortable showing while adding movement to your shots.
With mindful dressing, you can improve your mood during the photo session. This style of dress is also perfect for outdoor sessions, primarily if you prefer a maternity beach photoshoot.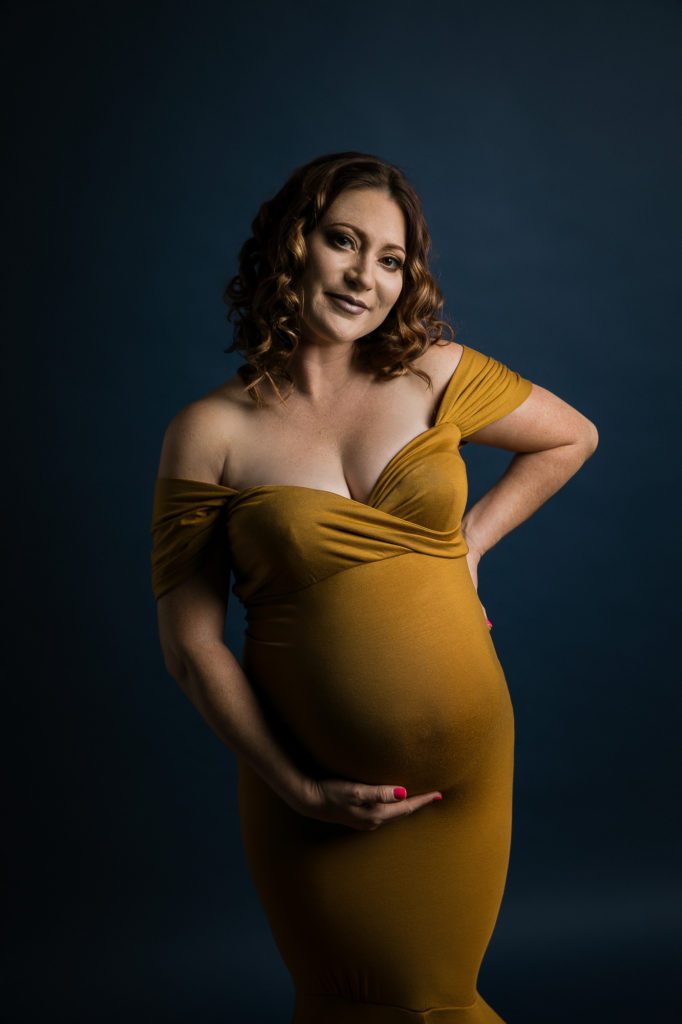 Textured Clothing
You can also wear textured clothing to your maternity photography session to add dimension to the shots.
Knit cardigan or cardigan: Knitted clothing is a versatile outfit, particularly for a winter or fall maternity photo session.
Lingerie: Bring some lingerie or sheer clothing in soft, muted colors if you want a boudoir style or a more sensual shoot.
Lace dress: This is an excellent alternative to patterned or printed clothes.
Silk clothing: Whether it's a robe or gown, silk gives a flowy effect to your shots, creating a dramatic touch.
What Colors Should I Wear for a Pregnancy Photoshoot?
In general, it's best to opt for neutral or solid colors for maternity shoot outfits. These are some of the most universally flattering colors that work well on pregnancy photoshoots.
Neutrals: Clothing palettes with white, tan, khaki, and gray are great options. Neutrals let you complement outfits well, especially when your partner or children join you for some pictures.
Solids: Black, red, and denim are safe options when choosing what to wear for a maternity session. A study shows that black and red gain more extended views of the upper body. In this way, you can accentuate more of your belly.
Pastels: You can also play with pastel colors such as minty teal, faint blue, bubblegum pink, or Indian red. However, you should plan this well and ensure they contrast nicely against the backdrop.
What Should My Partner and Children Wear for My Maternity Photos?
Whether you decide to wear a maxi dress, lingerie, or a bodysuit, the clothes of your partner or kids should complement your outfit without looking matchy-matchy.
For example, suppose you prefer casual jeans and a bandeau top. Retain this styling for your partner and kids. Make them wear jeans paired with a plain-colored shirt so they won't overshadow you.
What to Consider When Choosing What to Wear for a Pregnancy Photo Session?
Regardless of whether you decide to wear a tight-fitting top or a flowy dress, there are still some considerations to make when choosing clothes for a pregnancy shoot.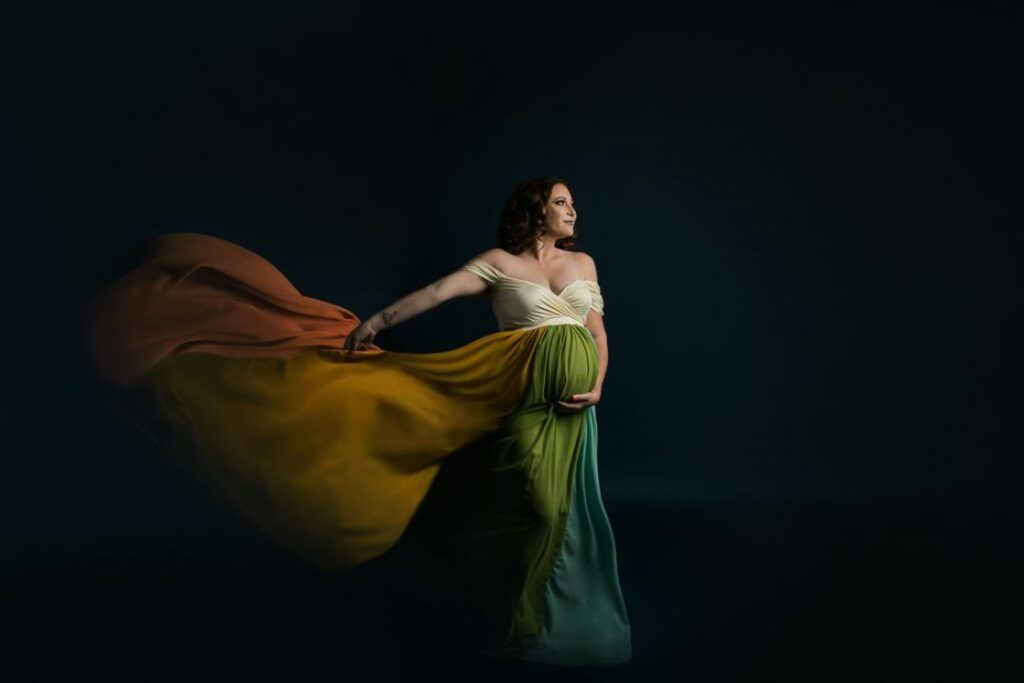 Fabric: Soft knits, silk, cotton, or rayon are the best fabrics for maternity photoshoot outfits. These fabrics feel light and comfortable on the skin, letting you pose with ease while emphasizing the belly bump.
Patterns: If you want to wear patterned clothes, consider timeless designs, not overly-trendy ones. For instance, florals for maxi skirts or polka dots for bodysuits. In addition, opt for medium-sized patterns because bigger designs may overshadow your belly.
Undergarments: Your undergarments should depend on the style and material of your clothes. Unless you'll be having a boudoir-themed shoot, it's best to wear seamless underwear and a neutral-colored bra.
Accessories: I suggest limiting the accessories, particularly if they will only steer attention away from your belly. However, you can use simple ones like crowns, baby shoes, ribbons, or a plain headdress.
Location: Some clothing styles, fabrics, or colors may not work well in some places. If you won't book a studio shoot, be sure to choose your photography session location in San Diego first.
Related Questions
How Many Outfits Should I Bring to My Maternity Photoshoot?
I recommend bringing two to three outfits to a maternity photo session. While my maternity photo sessions only include two outfits, it's best to prepare an extra outfit. This also gives you more options as you try my three backdrop choices.
How Do I Prepare for a Pregnancy Photo Session?
To prepare for a pregnancy photoshoot, you need to consider the session's date, your theme, and your clothing options. I can help you with styling ideas and posing guides to keep you relaxed and well-prepared for the shoot.
How Much Is a Maternity Shoot?
My maternity session sessions start at $250, and this includes access to my growing collection of clothes and accessories. You can purchase the pictures separately in collections, starting at $650.
Conclusion
I've been photographing San Diego maternity portraits since 2013. Since then, I've shared my expertise and experience in choosing what to wear for maternity photoshoots. After booking your session, I'll guide you in preparing everything as we create stunning images you'll treasure forever.