After picking outfits and hiring a photographer, the next step is to choose a location. Fortunately, San Diego boasts a variety of sceneries that make the perfect background for family photos. Let's discover the best places to take family pictures in San Diego to capture memories with your loved ones.
Best Places To Take Family Pictures in San Diego
The best locations for San Diego family photography include the Downtown's urban area, La Jolla's beaches, Balboa Park's zoo and gardens, Coronado Island's beaches and museums, Old Town San Diego, and Seaport Village. You can find beachfront hotels, shops, artistic buildings, graphic alleys, and parks within these places.
As seen in our San Diego family portfolio, these are the tried and tested spots all over San Diego that are perfect for your family pictures.
Balboa Park
Balboa Park combines culture and botanic paradise right in the middle of San Diego. With a 1,200-acre historic urban cultural park, you won't run out of spots to take family pictures in Balboa Park! 
There's plenty of open areas for photos that can add texture, colors, and character to your images. These are among our favorite sites that look great in family pictures.
San Diego Zoo

: The San Diego Zoo and the Safari Park extension are perfect for kids! One of the biggest challenges of a family portrait session is to keep children calm and focused. Letting them see their favorite animals can bring out authentic emotions.

Botanical Building and Lily Pond

: This area is a plant lover's paradise as you can see a variety of flowers, ferns, and other tropical plants. The aura is ideal whether you want to wear casual or formal clothes.

Palm Canyon

: A hidden spot in Balboa Park, Palm Canyon is a 2-acre tropical oasis that is a great shooting spot if you want to veer away from the crowds. Make sure to check out the picturesque wooden footbridge that leads you from the Alcazar Gardens to the Spreckels Organ Pavilion.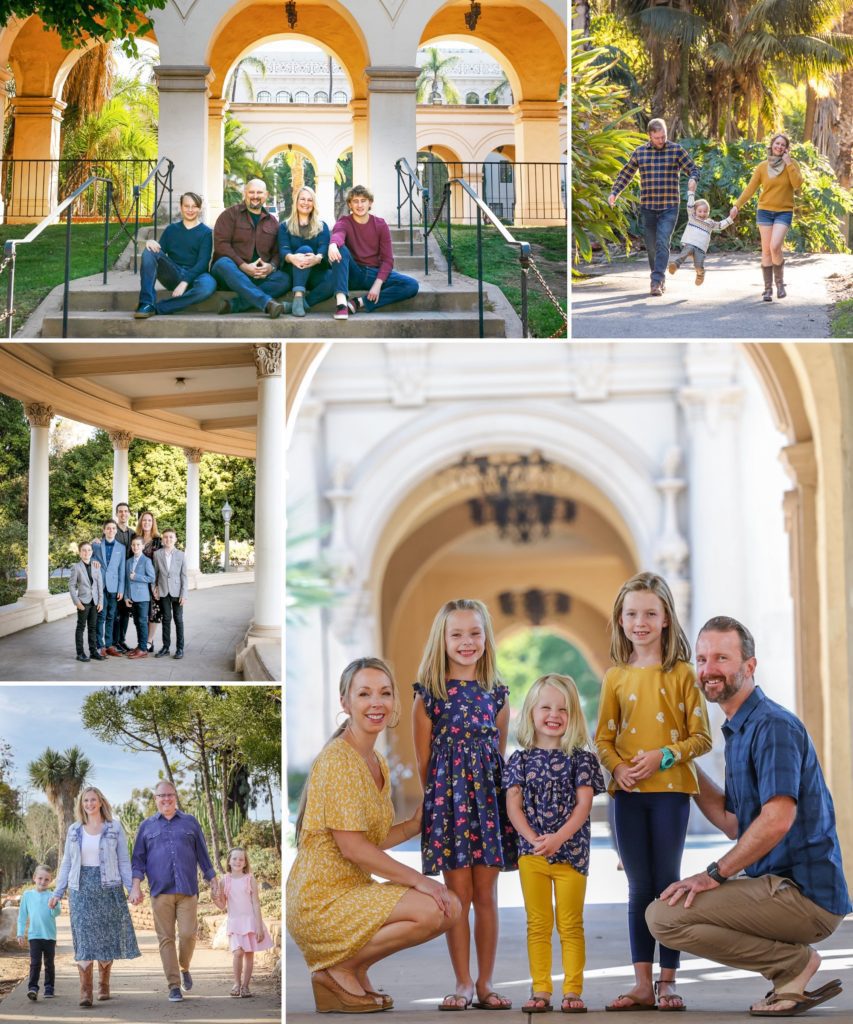 Urban Session/Little Italy/Downtown San Diego
First on the list is Downtown San Diego, a highly accessible urban center that combines Victorian-age buildings and modern architecture. The eclectic galleries, boutiques, restaurants that line the street make the perfect setup for urban chic family portraits.
Here, you can pose in front of cultural attractions such as Gaslamp Quarter, The New Children's Museum, and the waterfront Embarcadero.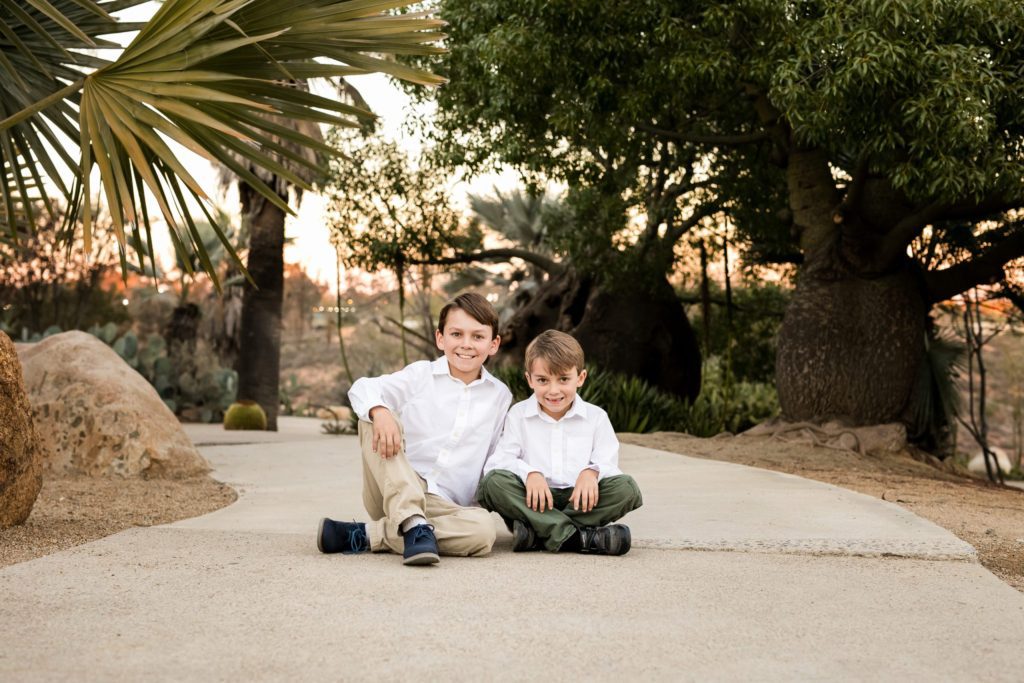 Coronado Island
Located south of San Diego, Coronado Island lets you experience a fun-filled family photo session featuring white sand and gorgeous dunes. The little kids can even slide over the dunes and run along the beachfront.
Dubbed as The Crown City, this charming small town offers visual spots like the Coronado Museum of History and Art and Coronado Ferry Landing.
Meanwhile, Hotel del Coronado can get a bit crowded because of the sand dunes that spell 'Coronado'. However, the area is vast enough for you to enjoy a relaxing yet entertaining family photoshoot.
Iron Mountain Trail Head
Often called "the hall of trees," this spot in east Poway is a gem, but comes with a few "known factors." Namely, this is a trail head. So we need to be prepared to wait for hikers to pass. In addition, it is a popular spot, so we may not be the only session present. There are actually two halls, but the best one is the main one that has a worn path, arching trees and ample shade.
To the south of the path is an open field with mountain views, and to the north is another field with smaller views of the hills. Bring a blanket, shoes that can get dirty, and a sense of adventure combined with a little patience!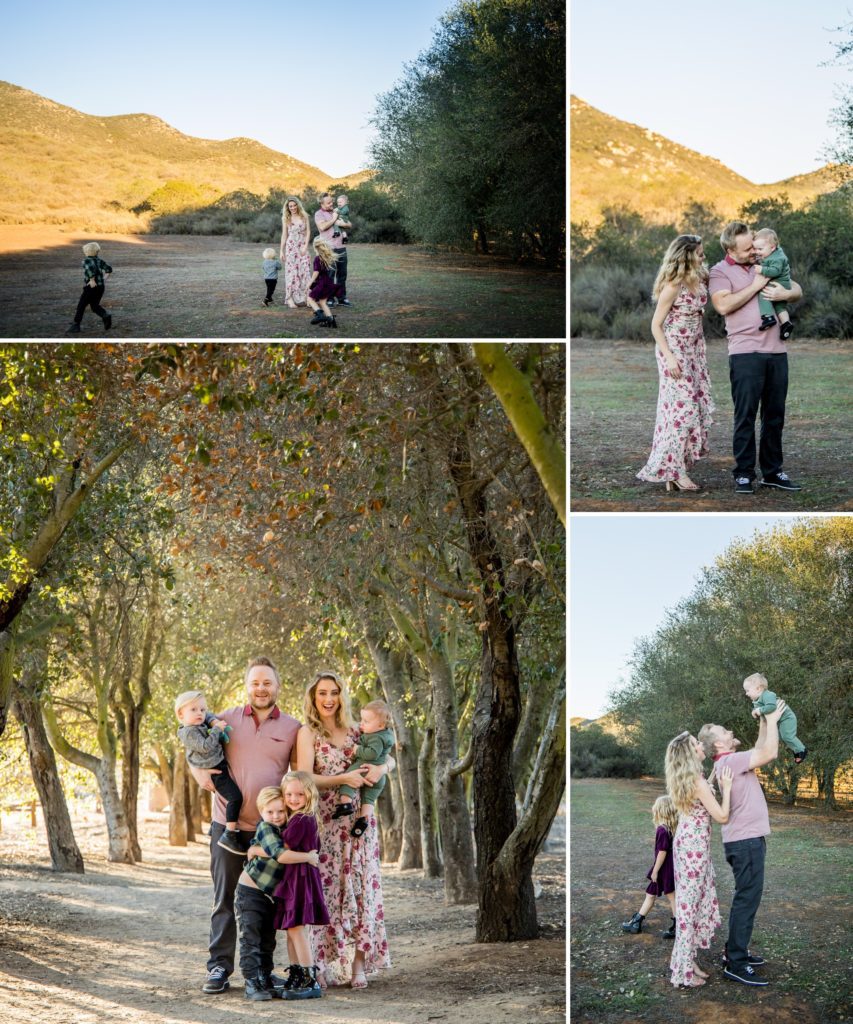 Liberty Station
I have affectionately dubbed Liberty Station "the New Balboa Park" of San Diego. With leading lines, pathways, and even some fall foliage at the right time of year, it's one of the best places to take a family picture in San Diego, as it is really a fun location. The grounds are kept fresh and clean, and it's typically quiet there in the morning hours. It is important to check for large events, but even if there is one, they are most often used in the open park areas on the west side, and do not interfere with the areas I like to use for sessions.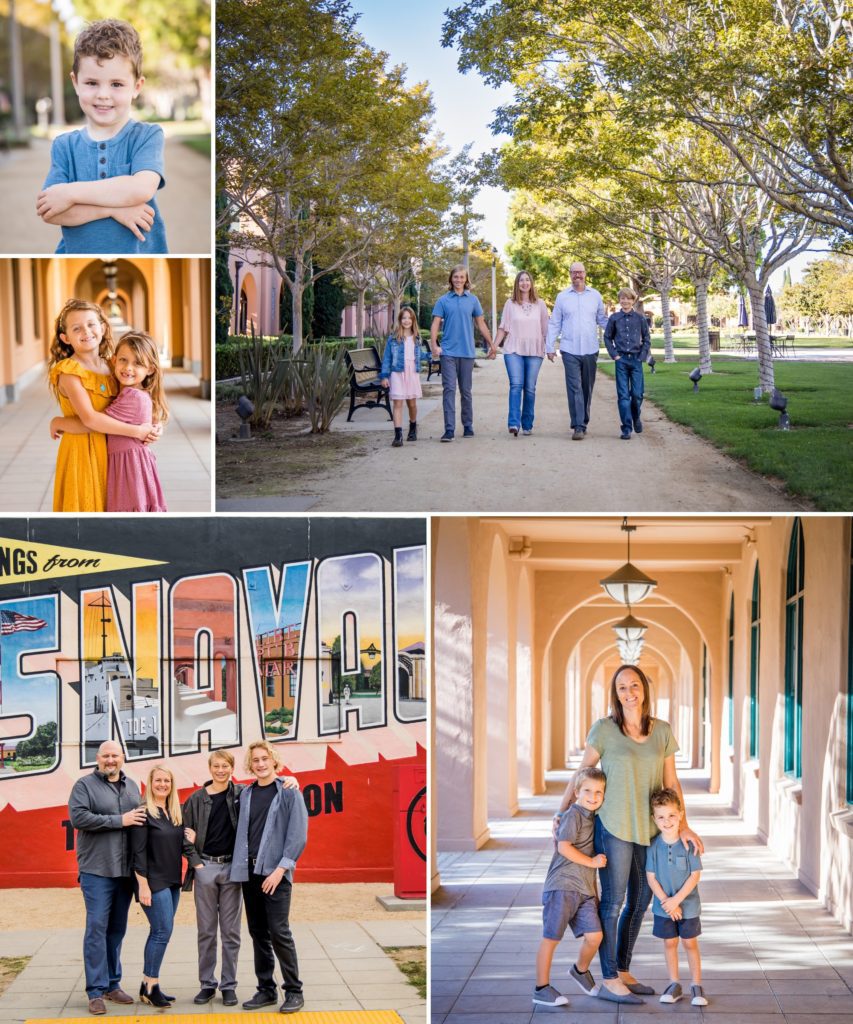 La Jolla
With the sea and Mt. Soledad surrounding La Jolla, this seaside village has an abundance of natural beauty for families with a sunny lifestyle. La Jolla is even among the most voted top beach destinations in the world, and for good reasons.
These are among our favorite spots in La Jolla for a family portrait session.
Ellen Browning Scripps Memorial Pier

: While Scripps Pier is usually close to the public, your trip to this location won't be complete without a group photo under the iconic boardwalk. Besides, this part is generally quieter than the surrounding beaches in San Diego so that you can have a more relaxing family session during sunset.

Windansea Beach: This sandy beach is a California classic, making Windansea Beach an unforgettable portrait photography site in San Diego, especially for locals. The sunset cliffs that turn golden during sunset also make the most stunning backdrop.
Torrey Pines State Natural Reserve

: Did you know that San Diego is one of the only 2 locations

where the rare Torrey Pine grows

? If your family loves adventure and nature, head on to the Torrey Pines State Natural Reserve to enjoy ocean views at every turn.

Marston House
The best kept secret of Balboa Park is Marston House! Why is it listed separately? For one thing, it is not free. This location comes with a permit fee, but it's 100% worth it. While it is part of Balboa Park, it is tucked away and not easily accessed from other areas of the park, so this is also why I consider it a separate location from the main park.
Well maintained with rose gardens, green grass and an abundance of brick, this historical house is a playground for lovely light, rich colors and "you can't go wrong" backdrops. Ideal for families with little ones who like to move, we typically just circle the grounds which makes for lots of things to see and do, so it's not boring for those with short attention spans. Marston House must be reserved in advance, but because of this we can do morning or late afternoon/evening.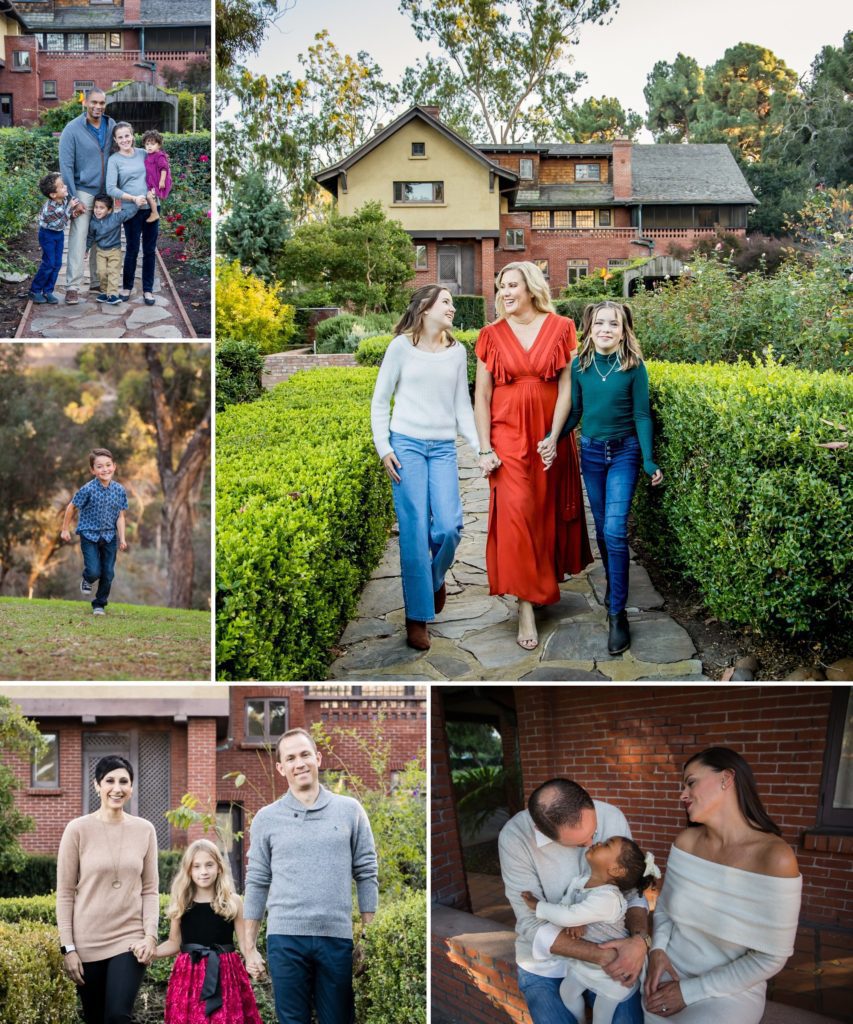 Old Town San Diego
Deep in the heart of San Diego lies Old Town, which lets you explore history and culture. Set a festive mood in your family pictures as you stroll along alleys and photo-worthy backdrops. You can even experience the best Mexican food scene in town.
Aside from the culture, Old Town San Diego has no shortage of architectural sites, including the Presidio Park, Junipero Serra Museum, and La Casa de Estudillo, which makes them a great non-beach photo location in San Diego.
Seaport Village
Does your family love to eat and shop? You can do both while taking pictures in Seaport Village. Located in downtown San Diego, Seaport Village is a waterfront dining and shopping complex home to almost a hundred restaurants, stores, and art galleries.
Grandparents, adults, teenagers, kids, and even pets would have something to do in Seaport Village. You can hop from one shop to another, include food and items as props, and use the waterfront as a glorious backdrop for your family photos.
UCSD: Eucalyptus Grove
One of my favorite spots for that "middle of nowhere" look, this grove is located steps from a parking garage, making it easy to access and easy to leave. While it is used by joggers and walkers there is rarely a time when it seems busy, so it's a wonderful escape from busy locations. Sticks a plenty for toddlers, hidden teepees throughout the grove… it's a fun spot!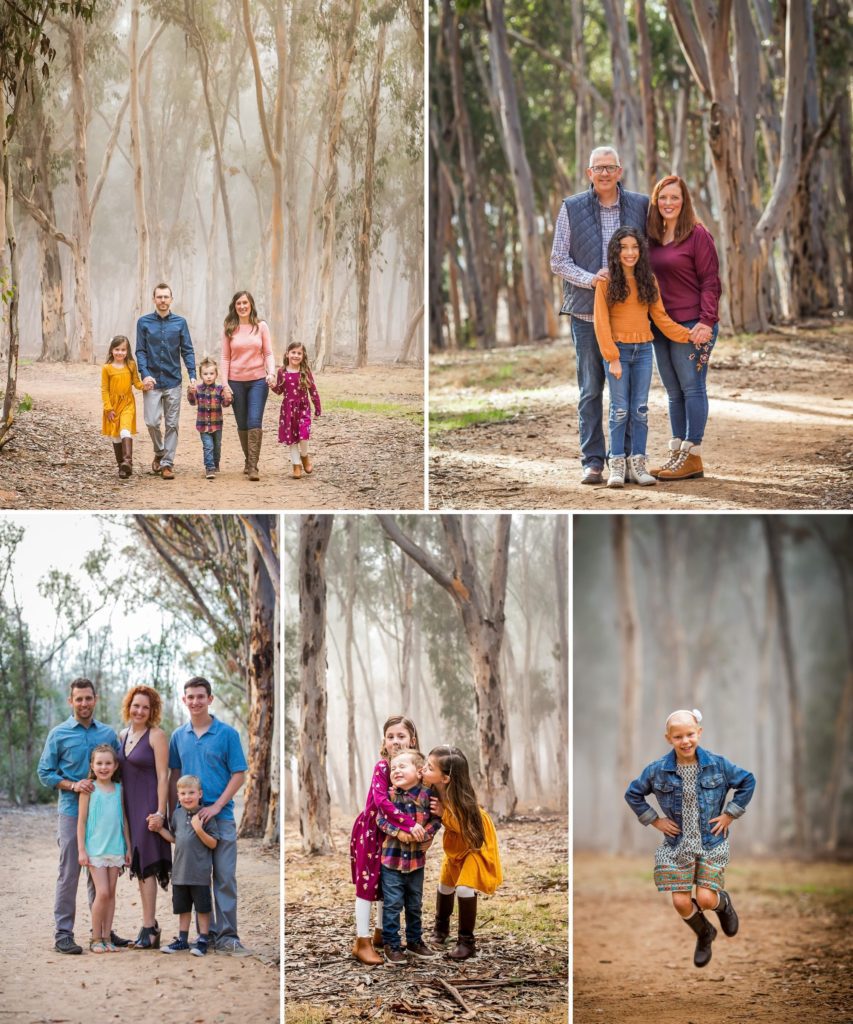 UCSD: Geisel Library
Geisel Library is a short walk from the grove, and worth every step. This modern spot provides an amazing canvas on which you can explore, pose, and you may even come across the Cat in the Hat! Beautiful in the morning or evening, there is always good light to be found here.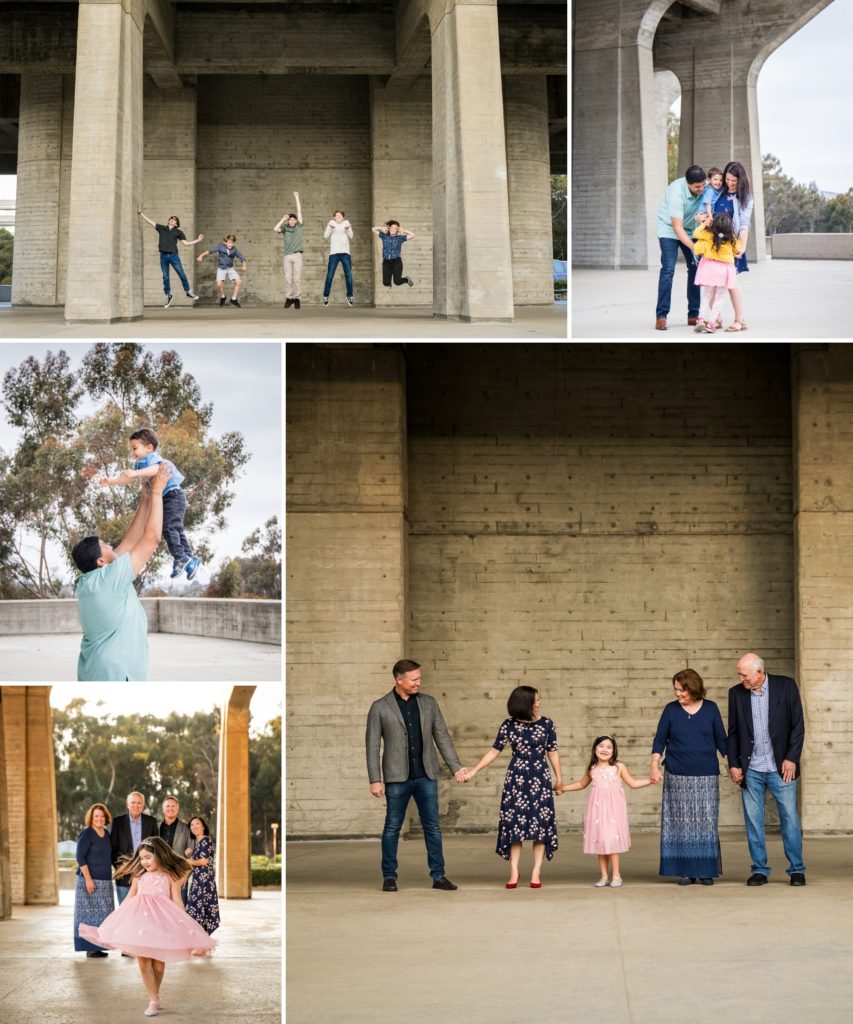 Solana Beach/Cedros Avenue
A lovely beachy-urban setting, Cedros is made for morning sessions before the shops open and the sun gets too high.  The train station to the north is a great meeting spot, and we can venture south alongside Belly Up, and other fun spots along the way.  Color, leading lines and modern looks- there's always something new to be found here!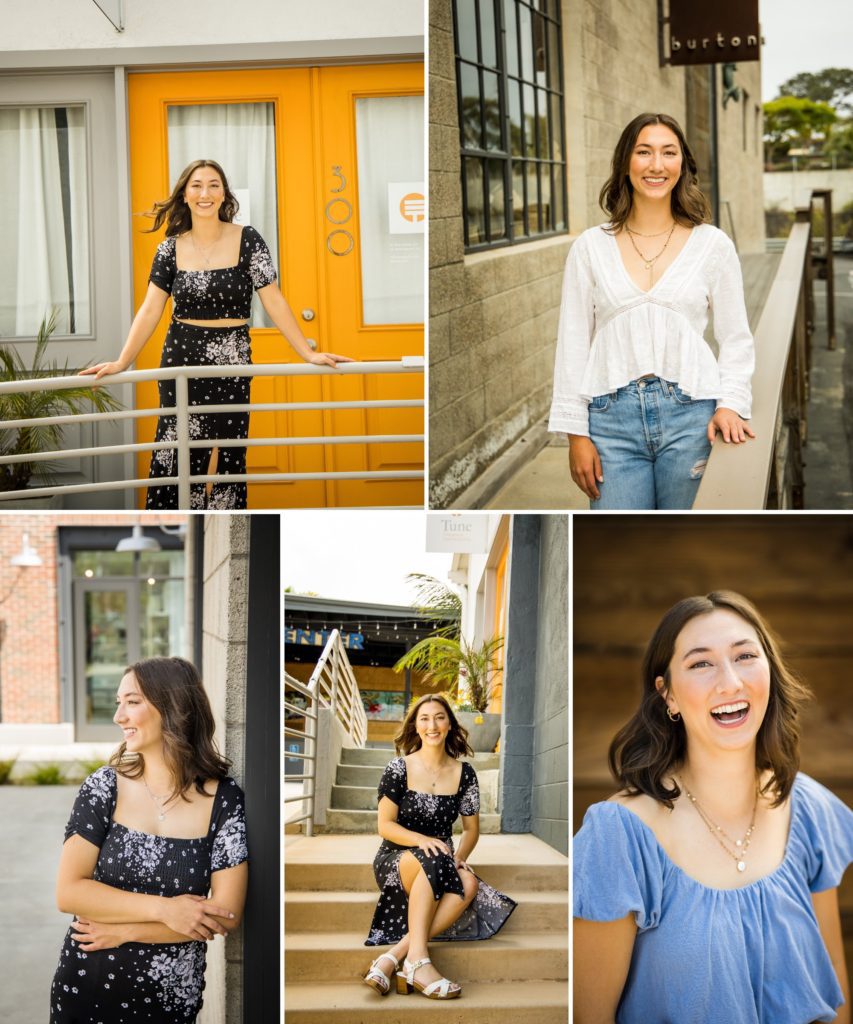 SDSU
I've had many Aztec families and grad sessions here- it's lovely! If you are an Aztec and want to use a specific part of the campus that holds meaning to you we can, or we can use the most common spots- Hepner Hall and the surrounding areas.
We do have to ensure that it's not "grad season"- if it is we will compete with many cap and gown sessions, but this is not typical in the fall- only spring and just before. Due to it's location, the sun does need to be in the right place for this spot, so we'll want to consult sunset/rise times to ensure we aren't blinded.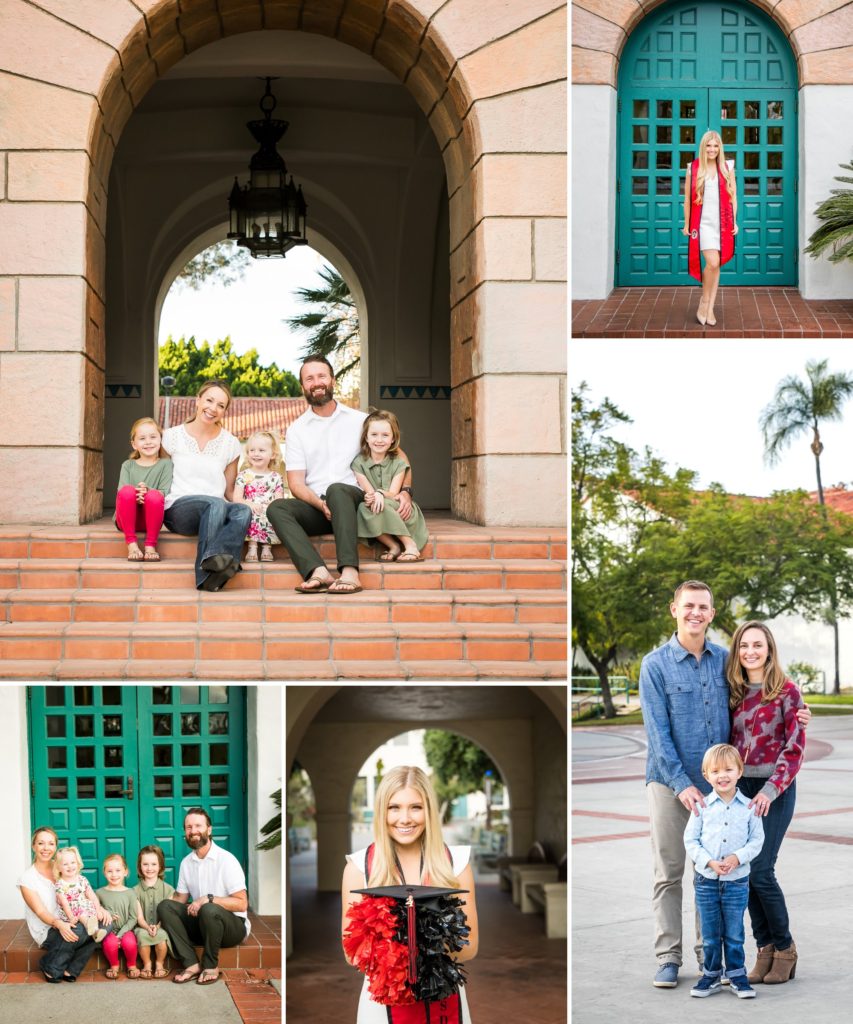 Torrey Pines Overlook
Nature + views of the ocean = love! This location is just north of Torrey Pines State Reserve and offers stunning panoramic views. It takes some patience when it comes to parking, but I have excellent parking tips at the ready. One note: this location is not for families with small yet mobile children who like to explore unattended, as there are no safety rails of any kind, and the Surfliner train runs just below this spot- very dangerous.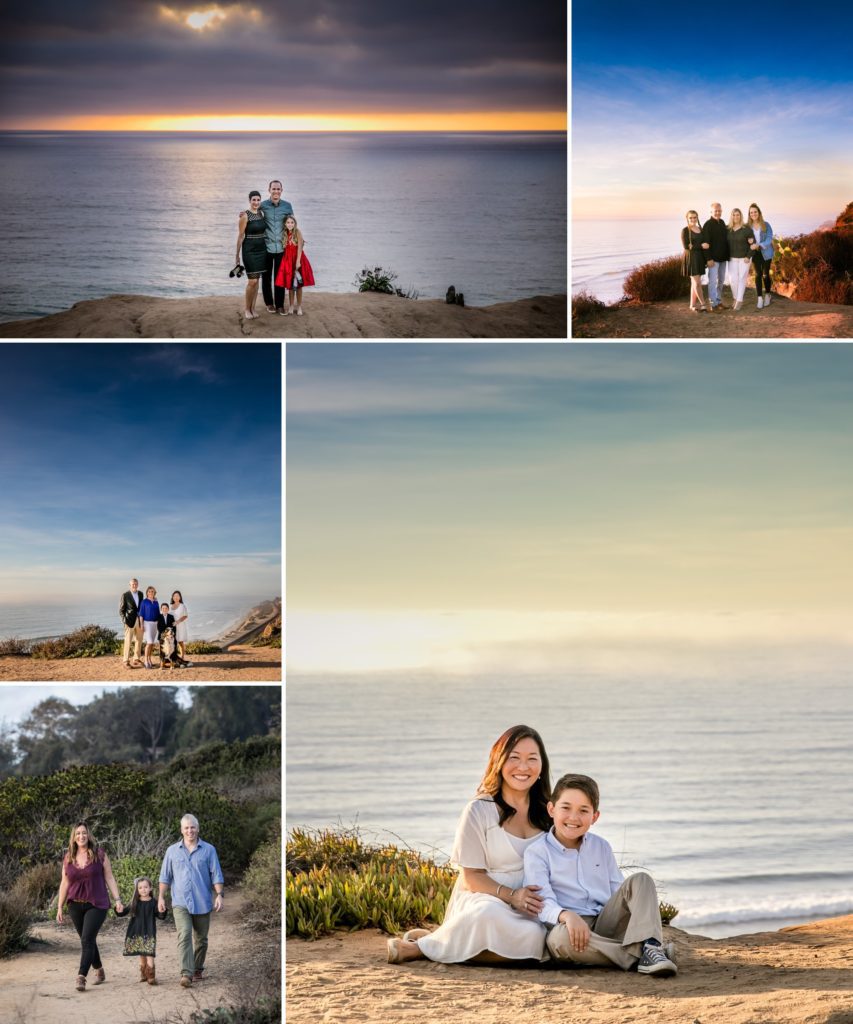 Last but not least: YOUR San Diego Home!
Yes, this can be a great idea on several levels. First and foremost, it can be easier. Getting ready- everything is there, so if you forget something, no biggie! If you are having a family session, they can be nice for little ones who need to feel a little more secure, and for grad portraits- you entire wardrobe is at your disposal, and your surroundings are totally familiar.
Regardless of they type of session, we don't have to worry about crowds, either! Many folks will say, "Oh, our house isn't nearly nice enough for photos." To which I want to respond, "Trust me- it probably is!" Every San Diego photography location has a "sweet spot", or at the very least, a neighbor with a green yard to borrow! If this is something you'd like to do, reach out and let's plan!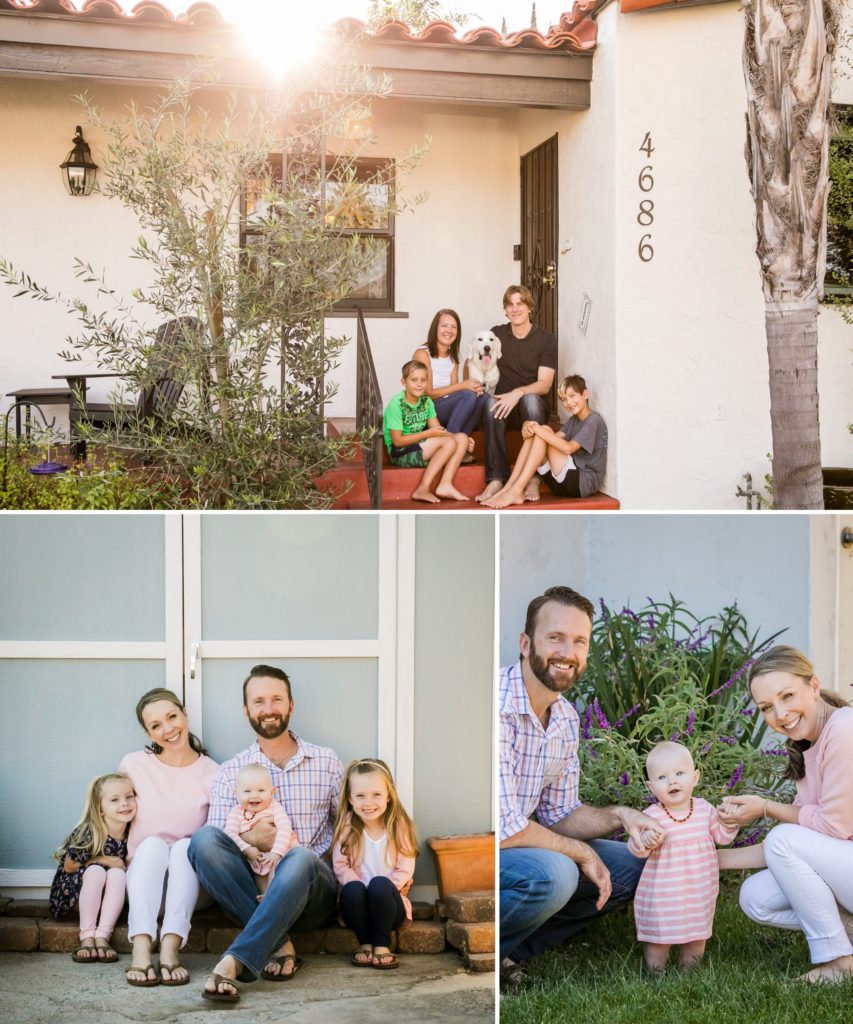 Conclusion
Aside from hiring the best photographer and planning outfits for your family session, you also need to choose the most scenic spot for your photo shoot. With these beautiful places in San Diego, you'll get to bond with your family while collecting timeless images.