As a San Diego local, Liberty Station is one of my favorite spots for taking family pictures. The location is rich with diverse settings, providing a perfect backdrop for capturing priceless memories. However, some families and visitors still don't know about this area, missing out on a great photoshoot opportunity.
Since starting Natalie Chiles Photography in 2013, I've taken the stress out of planning family photoshoots. Here are examples of my Liberty Station, San Diego family photos for your next photo session.
Liberty Station San Diego Family Photos
Liberty Station in San Diego is particularly ideal for families with young children as it's not overly crowded, and parking is a breeze. This location offers a beautiful blend of architectural appeal, manicured lawns, and waterfront views, making it perfect for creating memorable snapshots.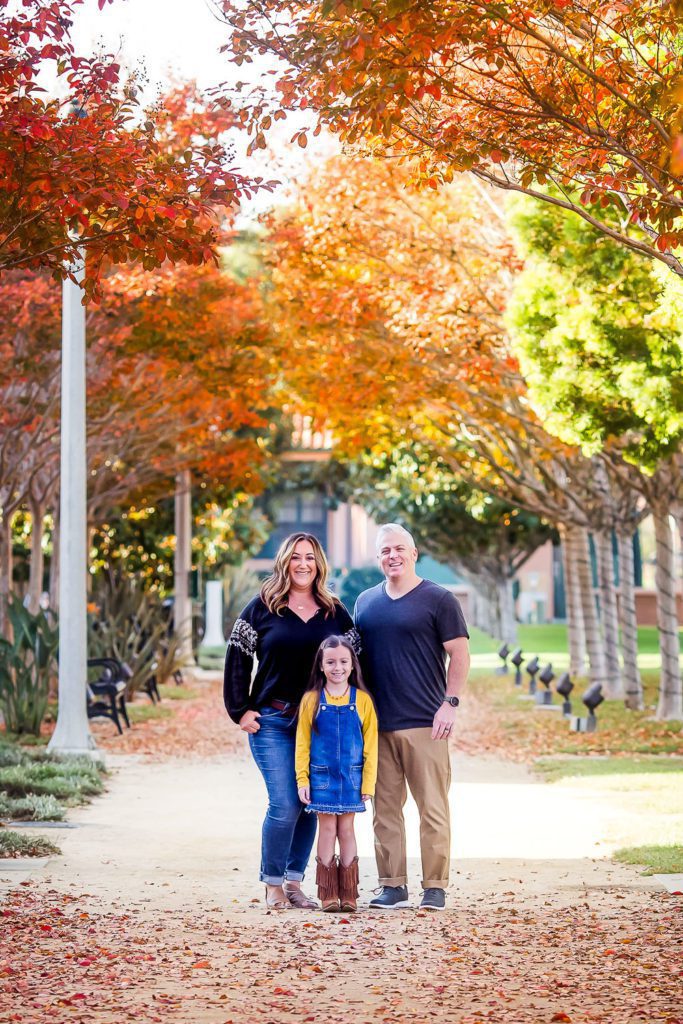 Its beautiful mix of architecture and natural views makes it a go-to destination for various photography styles. I genuinely enjoy photographing those precious moments at this thriving hub and highly recommend it to anyone looking for a stunning family photo location in San Diego.
A Guide to Liberty Station Family Photography
I have captured stunning images of families in various areas of Liberty Station, showcasing this place's endless possibilities. Here's a quick guide to planning family portraits in San Diego.
| What to Plan | Details |
| --- | --- |
| Where to shoot | Central Promenade, NTC Park, The Luce and Court Legacy Plaza, The Quarter, Arts District |
| What time to shoot | Golden hour, weekday mornings |
| What to prepare for the photoshoot | Theme, outfits, props |
Best Family Photo Locations at Liberty Station
I adore taking family photos in San Diego. With its diverse settings and abundant natural beauty, finding the ideal spot for a photoshoot is incredibly easy.
Central Promenade
I find the Central Promenade a fantastic spot for family photos at this historic site. Here, I lead families to beautiful water features, art, and architecture, providing eye-catching backdrops. Additionally, the area isn't too crowded, giving you ample space for perfect shots.
NTC Park
Whenever a family asks for beautiful natural backdrops, I typically recommend NTC Park. This is another ideal place for family photos within the area because it offers:
Open green spaces
Stunning water views
Picturesque walking trails
Here, your family can enjoy the great outdoors while taking memorable photos.
Arts District
The Arts District is a treasure trove of creative inspiration for your family photoshoot. Filled with vibrant murals, artist studios, and galleries, this area adds an artistic flair to your pictures.
Studies show that highlighting the quality of family relationships affects the well-being of adults. One way to do this is to capture your family's personality and beauty through photos using these colorful and stunning backdrops at the Arts District.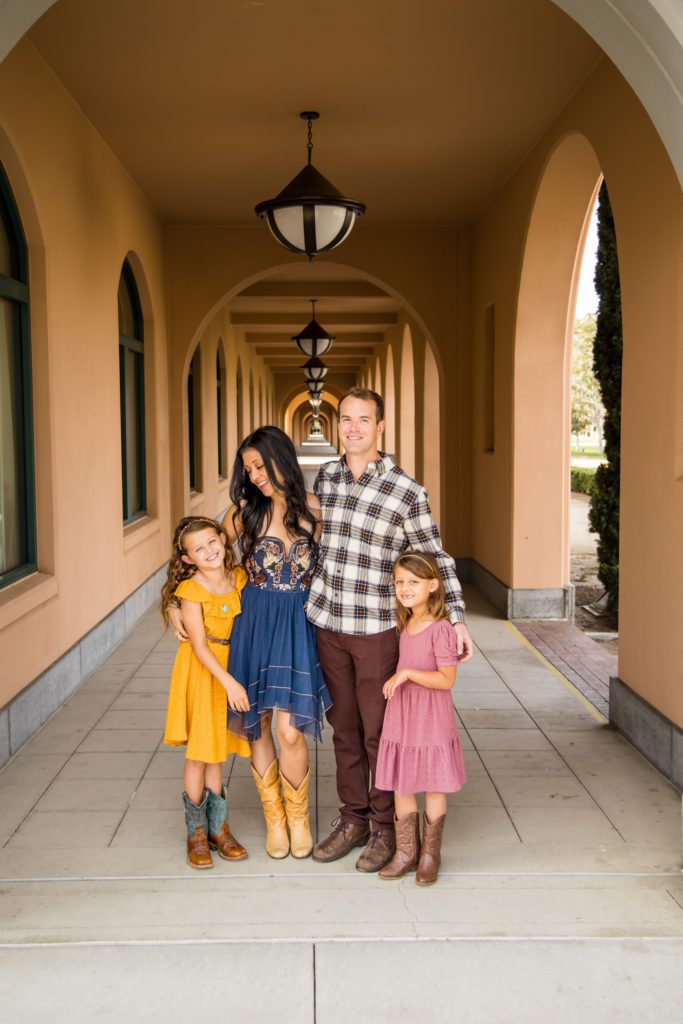 Luce Court and Legacy Plaza
The Luce Court and Legacy Plaza boast magnificent fountains, sculptured gardens, and historic architecture that will give your family photos a unique touch. This is one of my go-to spots when families want to incorporate interesting features to create artistic shots and beautiful portraits.
The Quarter
Finally, The Quarter is a perfect choice if you're looking for stylish and modern backdrops. You'll find trendy eateries, galleries, and boutiques spread across the area, offering a chic urban atmosphere for family photography.
Ideal Time for a Family Photoshoot
The ideal time for a family photo session is during the golden hour, about an hour before sunset. I use soft, warm lighting to shoot beautiful portraits without harsh shadows.
In addition to golden hour, I've found that weekday mornings are another wonderful option, especially for families with younger children. It's also a great time because the location is less crowded, making it easier to shoot candid moments. Nine million visitors visit this neighborhood yearly, so expect crowds, especially during the weekends and holidays.
Here are a few factors to consider when planning your family photoshoot:
Golden hour for soft, warm lighting
Weekday mornings for a peaceful environment to keep kids comfortable
Avoid peak hours and weekends for less crowded spaces
Tips and Tricks for Great Family Pictures
Now that you know the best spots and time to take your family pictures, I'm going to round up with some tips on wardrobe, themes, and props.
Themes and Concepts
Consider incorporating themes and concepts that reflect your family's interests and personality to make your family photos memorable. This historic setting offers a unique backdrop to showcase your creativity.
For instance, you could incorporate a nautical theme to complement the area's Naval history or choose a theme that represents your family's favorite pastimes.
Wardrobe Choices
When planning what to wear for your family photoshoot, it's important to consider your wardrobe choices.
Choose outfits that complement each other without being too matchy-matchy
Think about coordinating colors and patterns for a cohesive look
Consider the weather and choose comfortable clothing that allows for natural movement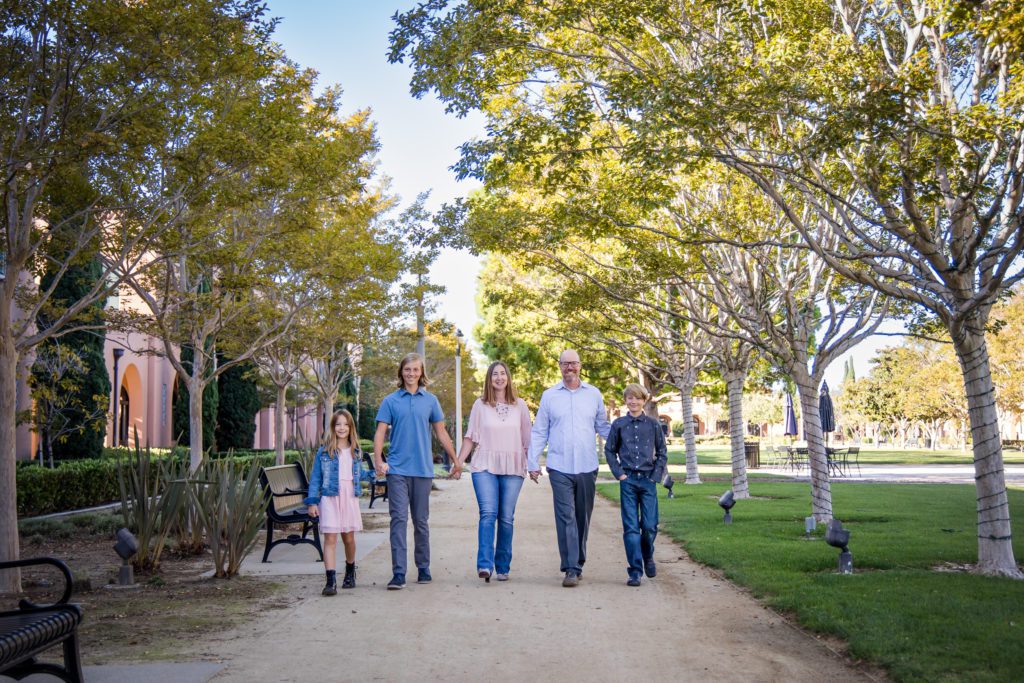 Props and Accessories
Incorporating props and accessories in your family photos can add a fun and personal touch to your images. I commonly recommend these as props:
Sentimental items
Interest-based props
Pets
Keep it simple so the props won't distract the eyes from the main subject: your beautiful family.
Related Questions
Why Should I Take Family Pictures at Liberty Station in San Diego?
You should take family pictures at Liberty Station in San Diego because the location offers a variety of picturesque backdrops. This means you'll have plenty of space to find the perfect spot for your pictures.
Do I Need Permits or Fees for a Liberty Station Family Photoshoot?
While specific permit requirements may vary depending on the size of your photoshoot and individual circumstances, casual family photos at the site generally do not require a permit. Before your shoot, it's a good idea to check the current regulations and permit requirements on their website.
How to Prepare My Family for a Liberty Station Photo Session?
To prepare your family, especially kids, for a photoshoot, the first step is to book a professional family portrait photographer who can discuss your preferred settings and background options. Coordinate your outfits, practice poses, and ensure everyone is well-rested before the shoot.
Conclusion
Throughout my experience photographing families in San Diego, I've found that this center for commerce, history, and arts is a timeless San Diego location for stunning family pictures. With a friendly atmosphere and versatile backgrounds, Liberty Station should be a top consideration for your next family photoshoot.