Coronado Island in San Diego is an idyllic location for capturing unforgettable family pictures. However, some people have yet to discover this breathtaking waterfront location, missing out on picturesque sceneries, beautiful shorelines, and historic landmarks as the perfect backdrop for family pictures.
Since moving to San Diego in 2001, I've been photographing families with Coronado's diverse landscapes as the background. Whether you're a local or a traveler, here is the ultimate guide on Coronado, San Diego family photos to plan your session successfully.
Coronado San Diego Family Photos
When planning family photoshoots in Coronado, I strive to find the perfect balance between candid, heartfelt moments and well-composed portraits to showcase each family member's unique personality. Whether exploring the sandy shores or the lush greenery of local parks, I ensure every photograph tells a story to leave an everlasting impression.
I love capturing moments for families in beautiful Coronado, San Diego. My family photography portfolio showcases some of the captivating memories I've had the pleasure of creating for families visiting or living in Coronado.
Reasons to Take Family Pictures in Coronado
With its gorgeous scenery and charming strip of shops, this San Diego coastal area offers various reasons and countless picturesque spots for a family photo session.
See Stunning Landscapes
Coronado is known for its beautiful, striking scenery that serves as a perfect backdrop for family photography. I love capturing families amidst the vibrant colors of the setting sun or the serene blues of the ocean. The opportunities for fantastic shots are endless in this stunning locale.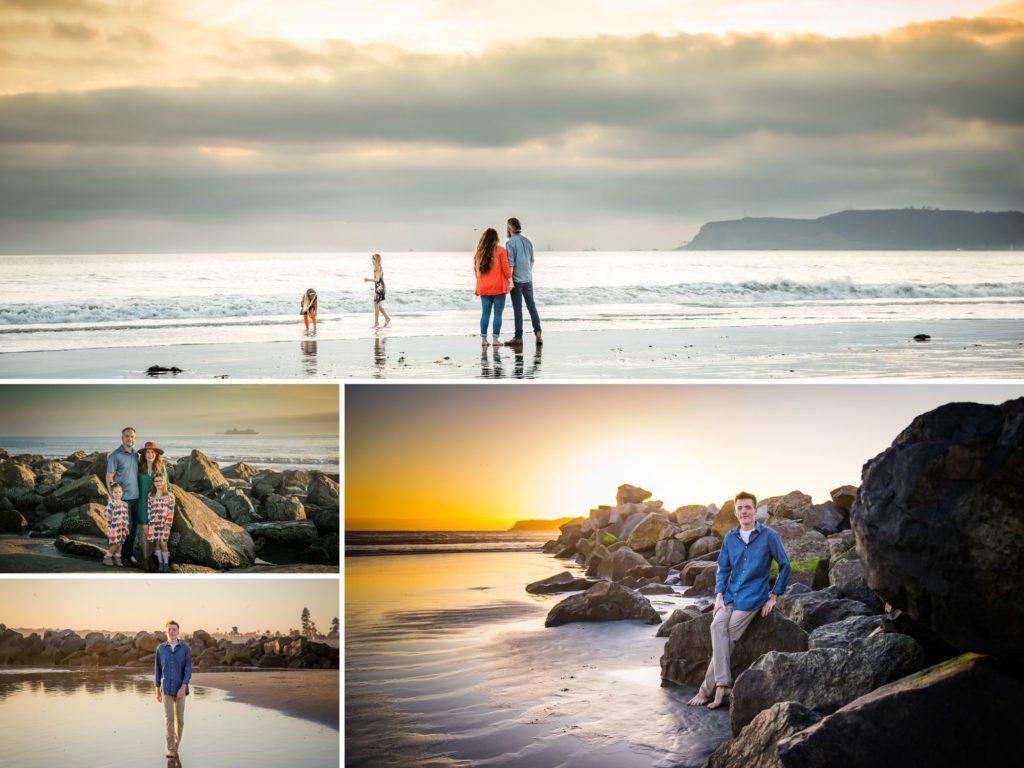 Explore Beach Spots
Coronado Beach is among my favorite beach spots for family portrait shoots because of its versatility. I use rocks for posing, views of the sand and water, and the historic Hotel del Coronado to add colors and textures to vacation family photos.
Have Fun at Parks and Playgrounds
Coronado's parks and playgrounds provide excellent opportunities for natural and casual family photos. With lush greenery and play structures to choose from, I can capture the true essence of a family enjoying their time together.
Visit Historic Sites
Some families want me to add the historic charm of Coronado for a touch of elegance. I typically bring them to Hotel del Coronado, the Coronado Ferry Landing, and the Coronado Historical Association to incorporate that alluring and vintage feel to family pictures.
Spend Time Eating and Shopping
Family portrait sessions can normally last anywhere between 45 minutes to one hour. It makes for a perfect day spent together, creating memories in front of and behind the camera.
After the family shoot, you can enjoy the numerous family-friendly food and shopping options available in Coronado. I can also take pictures while you dine or shop along Orange Avenue.
Top Family Photoshoot Locations in Coronado
Coronado is a scenic San Diego location with impressive backdrops for family photos. Here are my top recommendations for Coronado family photoshoot locations.
| Location | Best For |
| --- | --- |
| Hotel del Coronado | Charming and elegant themes |
| Coronado Beach | Mesmerizing sunsets |
| Centennial Park | Playtime and relaxing concepts |
| Coronado Tidelands Park | Artistic flair |
Hotel del Coronado
The iconic Hotel del Coronado is an excellent setting for your family photoshoot. The captivating Victorian architecture and lush gardens offer a charming and elegant background for your cherished family portraits.
Coronado Beach
Consistently ranked as one of the top beaches in the United States, Coronado Beach has earned the eighth spot in Tripadvisor's Travelers' Choice Awards for 2023. With its glistening white sand and mesmerizing sunsets, this location provides a spectacular backdrop for family images.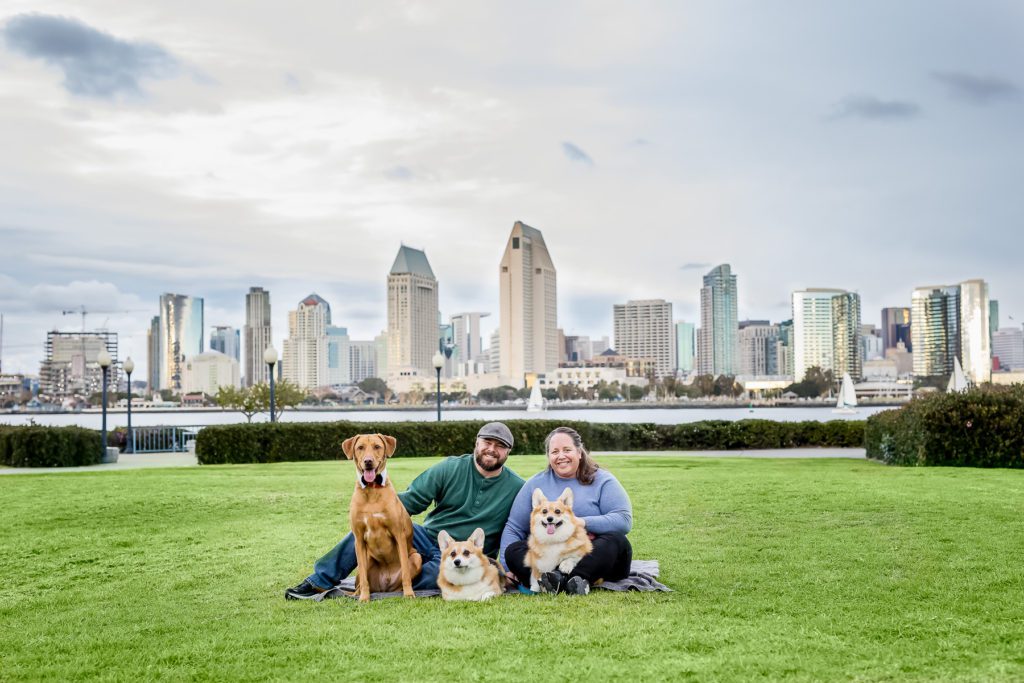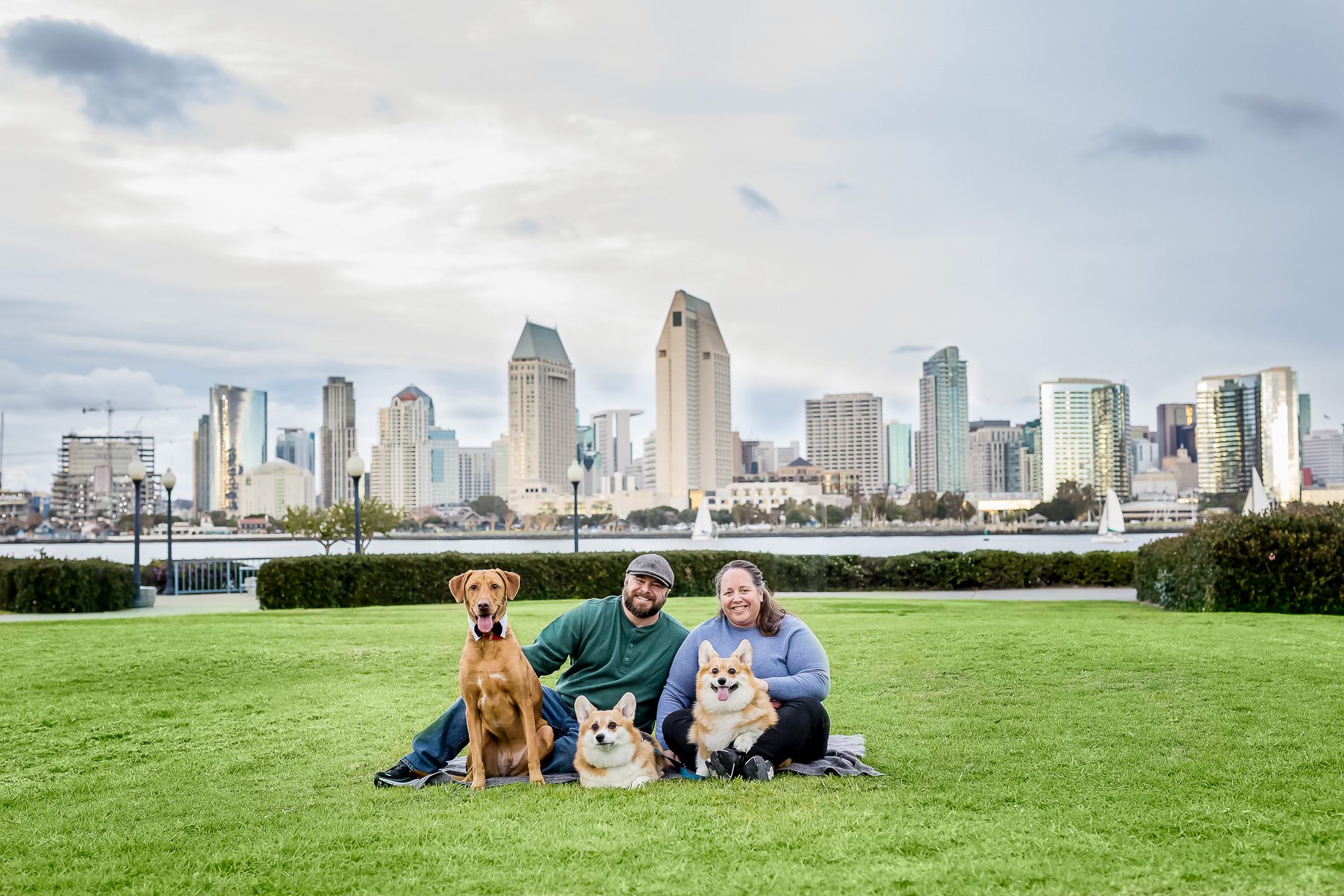 Centennial Park
Centennial Park boasts unbeatable views of the San Diego skyline and green spaces for picnics and relaxation. If you prefer a non-beach photoshoot location, this park is the perfect place for family photos, offering a peaceful and tranquil setting that easily complements lovely family portraits. This is also a great spot to bring your pets if you want to include them in your session!
Coronado Tidelands Park
Coronado Tidelands Park offers a serene environment for family photography. With its wide-open spaces, unique sculptures, and beautiful views of the Coronado Bridge and the San Diego skyline, your family photos will be infused with natural beauty and artistic flair.
Tips on Planning a Coronado Family Photo Session
Here are some tips to create lasting memories with your family in beautiful Coronado, San Diego.
Book a Local Photographer
When planning your family photo session in Coronado, I recommend hiring a local photographer familiar with the area. My local knowledge allows me to help families choose the perfect location and provide valuable insight into the best spots for amazing photos.
Consider a Theme
Having a theme in mind can make your family photos more cohesive and interesting. To ensure the success of your Coronado photo session, here are a few popular themes for family photography:
Beach vibes: Capture the essence of Coronado's beautiful beaches, like the iconic Hotel del Coronado's beachfront area.
Nautical theme: Incorporate nautical elements such as anchors, sailboats, or even a lighthouse backdrop.
Casual outdoors: Show off your family's fun-loving side in a local park like Centennial Park.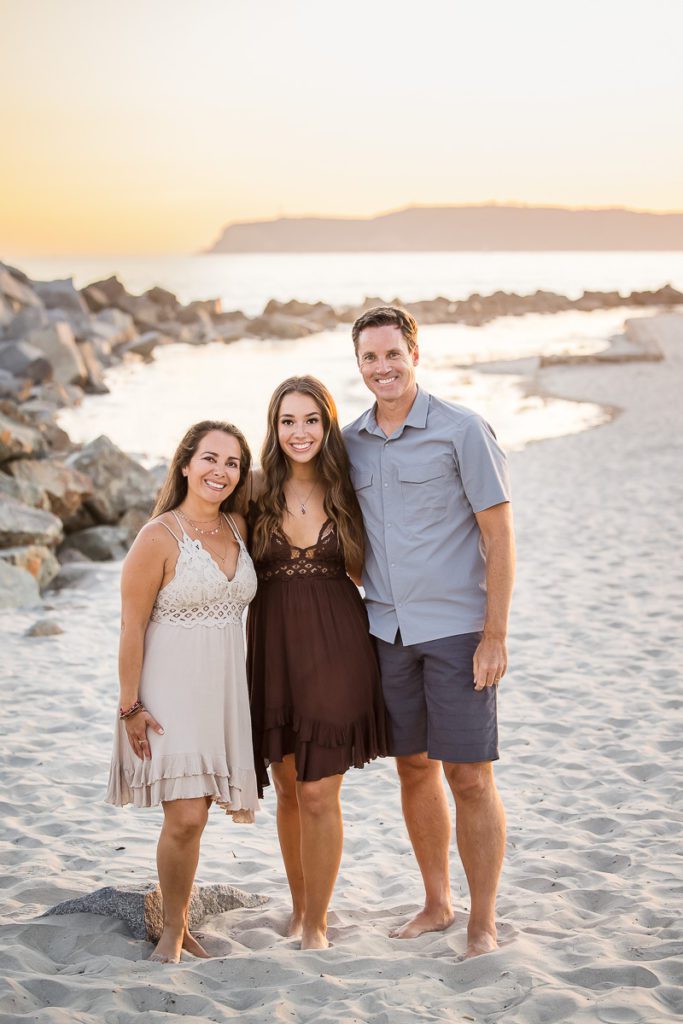 Prepare Outfits
Summers in Coronado are can get hot with a slight breeze. Meanwhile, winters can be cool and partly cloudy. Considering the Coronado weather, here are a few pointers for selecting the best outfits for your family photos:
Choose a color palette that complements your chosen theme and location.
Check that everyone's clothes are comfortable and suitable for walking or sitting in various poses.
Opt for clothing without visible logos or graphics to keep the focus on your family and not your wardrobe.
Choose the Ideal Time
The time of day plays a crucial role in capturing the perfect photos. I usually take pictures during the golden hour. This hour before sunset provides the most flattering natural light for outdoor family photography in Coronado.
Related Questions
Where Can I Take Professional Family Photos in San Diego?
Beautiful locations to take family pictures in San Diego include Coronado, Liberty Station, La Jolla, and the Downtown area. I recommend exploring the enchanting island of Coronado for lots of scenic nature spots.
When Should I Schedule a Family Photoshoot in Coronado?
Coronado has fantastic weather year-round, so anytime is a great time to schedule a family photoshoot. However, I would recommend avoiding the busiest tourist seasons if possible.
How Should I Prepare for a Family Photo Session in Coronado?
You can prepare to make the most of your family photoshoot in Coronado by communicating with your photographer. Discuss your vision, desired San Diego locations for your shoot, and any specific poses or arrangements you have in mind.
Conclusion
The memorable scenery, historical landmarks, and captivating atmosphere in Coronado, San Diego, create a perfect setting for capturing priceless memories. You will find a superb collection of Coronado family photos that showcase the beauty and charm of this exceptional destination.