What to wear to a senior portrait is a common dilemma among those planning a senior year photo shoot. Your clothes can enhance your appearance and aura in the images. In this guide, you will learn how to plan senior portrait outfits so you'll have beautiful photos to cherish for years.
What to Wear to a Senior Portrait
You can wear casual, formal, and lifestyle-inspired outfits to a senior portrait shoot. It's best to prepare clothes that you feel comfortable wearing and that best represent you. Sundresses, polo shirts, khaki pants, tuxedos, slit dresses, and clothes based on your culture are great options for a senior shoot.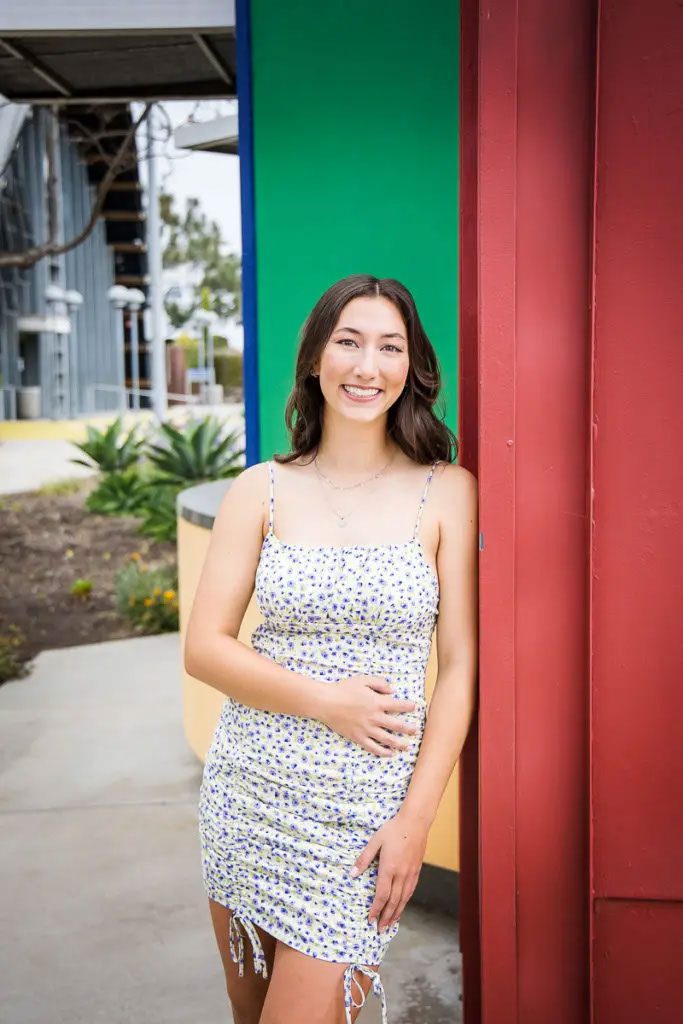 Since 2013, I've worked as a professional senior-year photographer in San Diego and learned what clothes could make you look your best in pictures. These are some high school senior picture outfit ideas for every theme and location.
Casual Clothes
These days, most senior high school students enjoy flaunting an urban look. This means you don't necessarily have to shop for new clothes, and you can wear your favorite casual clothes as long as they suit the background or location.
Casual Styling for Girls
These are some casual senior portrait styling ideas for girls.
Light-colored blouse and dark jeans with white shoes.

A sundress and a denim jacket with low-heeled sandals.
Casual Styling for Boys
Boys can consider these casual senior photo outfit ideas.
Button-up shirt and jeans with non-athletic shoes.

Polo or long-sleeved shirt and khaki shorts with boat shoes.
Formal Attire
It's much better to prepare formal attire for school portraits if you want to appear dapper or more elegant. However, make sure that your clothes won't restrict your posing options, whether you're standing or sitting.
Formal Attire Ideas for Girls
Girls may wear these formal clothes for senior portraits.
A structured dress with a flattering neckline.

Blazer and pants set with blouse.
Formal Attire Ideas for Boys
Boys may consider these formal clothing ideas for senior photos
Tuxedo jacket, trousers, dress shirt, vest, and leather shoes.

Black pants, button-up shirt, dress shoes.

Lifestyle and Personality-Inspired Clothing
After spending a considerable part of high school discovering talents and honing your skills, what better way to pose for senior portraits than to showcase what you enjoy doing outside the classroom?
A uniform or jersey from your sports team with a ball, racket, or bat as props.

Wrap tops, dance leotards, tights, and ballet shoes for your ballerina-inspired shoot.

What you will typically wear during a musical program, a painting class, or a baking session.
Trendy Outfits
Wearing trendy outfits of your time can also show the context of what fashion is like during your senior year. However, it can be quite tricky to wear the trendy clothing, as some styles may either make you cringe or laugh in the future.
These are some classic yet trendy clothing ideas to wear for senior photos.
Denim

: Denim clothes add great texture to senior year pictures. You can make denim pants with a silk blouse or your favorite long-sleeved shirt.

Florals

: Floral-printed clothes make a striking effect against plain backgrounds. Dresses and shirts with florals look lovely during spring and summertime senior photo shoots.

Faux leather

: Whether you wear jogger pants with a leather side detail, a full leather jacket, or a dress with a faux leather hemline, this style can give you a posh look for senior pictures.
Cultural and Traditional Clothes
Fashion can be part of a person's self-realization, as different colors and patterns show a person's historical background and cultural heritage. Your traditional clothing can serve as a powerful storytelling instrument.
While you may not normally wear cultural clothing to school, your senior portrait session is the perfect time to showcase your heritage.
Sari

: For high school seniors with family ties to India, Sri Lanka, or Bangladesh, a gorgeously embellished sari might reflect the coming-of-age stage of your life.

Shúkà

: A

shúkà is a decorative sash wrapped around the body. Its bold colors let you be proud to show your Kenyan or Tanzanian roots.

Kilt

: While this traditional Scottish garment is usually worn during ceremonies and festivities, wearing it for your senior photos allows you to express centuries of Gaelic customs.

Huipil

: Wear an intricate, decorative huipil to show off the exceptional craftsmanship of those of Mayan and Hispanic descent.
Clothes With Solid or Muted Colors
Solid colors work well with most backgrounds, especially for close-ups. Consider neutral or muted colors if you want to focus more on your face rather than the outfit. Colors like black, white, gray, light brown, cream, blue, and green are also timeless choices.
Blacks

: Black clothes don't go out of style. You can go effortlessly chic with a black dress or polo shirt.

Whites

: White clothes reflect light on the skin very effectively, making them an excellent choice for senior portrait sessions on the beach or in a studio.

Muted shades

: Choose a solid color as long as it's suitable for the location or studio backdrop. Shades of blue or lavender go well with nature-inspired senior shoots at gardens or parks. 
Related Questions
What Should You Not Wear for Senior Pictures?
As a general guideline, avoid wearing anything that may make you uneasy when posing. Avoid clothes that can cause you to sweat excessively, especially if the San Diego photoshoot location is outdoors. Finally, don't wear overly branded or graphic clothes.
How Do I Look Good in Senior Pictures?
Aside from preparing your outfits, you can look good in senior photos by wearing a hairstyle you're familiar with and applying natural-looking makeup. Make sure to get plenty of rest the night before the shoot, so your eyes don't look puffy. Lastly, smile and pose confidently.
How Many Outfits Should I Prepare for a Senior Portrait Shoot?
When you've scheduled your senior shoot, it's a good idea to have at least two outfits ready for a senior session, although it will depend on your shoot timeline. Bring at least one formal outfit and one set of casual clothes. Add clothing showing off your hobby or interest if you have a themed shoot or more time.
Conclusion
Whether you choose casual, formal, trendy, or lifestyle-inspired clothes, it's essential you feel comfortable and stunning posing in them. Whatever you wear, a professional senior portrait photographer can help make you look flattering in every picture. Let's plan your outfits today so you can be fully prepared for your portrait session.