Have you ever noticed how easy it is to feel deflated after surfing around the blogosphere?  Or even the internet in general?  Don't get me wrong- I love a good Pinterest session as much as the next person, especially when I'm looking for ideas and inspiration.  But there are moments where I have to catch myself and say,
"Whoa, there, Nelly.  Simmer down."
It is so easy to look at all of the beauty that people create, organize and put out there, and then walk away thinking, "I'm not enough.  I'm not doing enough, I'm not making enough, I'm not DIY-ing enough, I'm not _______ enough."  And you know what I think?
Enough is enough.
So I've decided to start a new series here on Crafting Crazy.  It's called "Nobody's Perfect."  In this series, I'm going to share with you my imperfections.  Things in my house that look horrible/crazy/disorganized/imperfect.  Projects that fail.  Anything that isn't perfect is fair game.  My goal?  To help dispel the perfection myth that seems to be so easy to buy into.
I want to make things because I like making them.  I like the process.  I like the journey.  And if, in the end, I come out with a beautiful project to share, rad.  If I don't, it's okay.
So for our first installment of Nobody's Perfect, I give you… our front yard.  If you're new to CC you may not know that we live on about 2 acres of land.  A lot of it is  undeveloped and we have grand plans for it once we win the lottery can afford to make it into something useful like a raised garden extraordinaire, or add more citrus trees, or something- anything, really.  This part of our yard is what you see as you pull up to the house or drive on the lane that runs the length of the property.  Needless to say, we've been a bit busy with a big project in another area, and our yard… well… just have a look-see: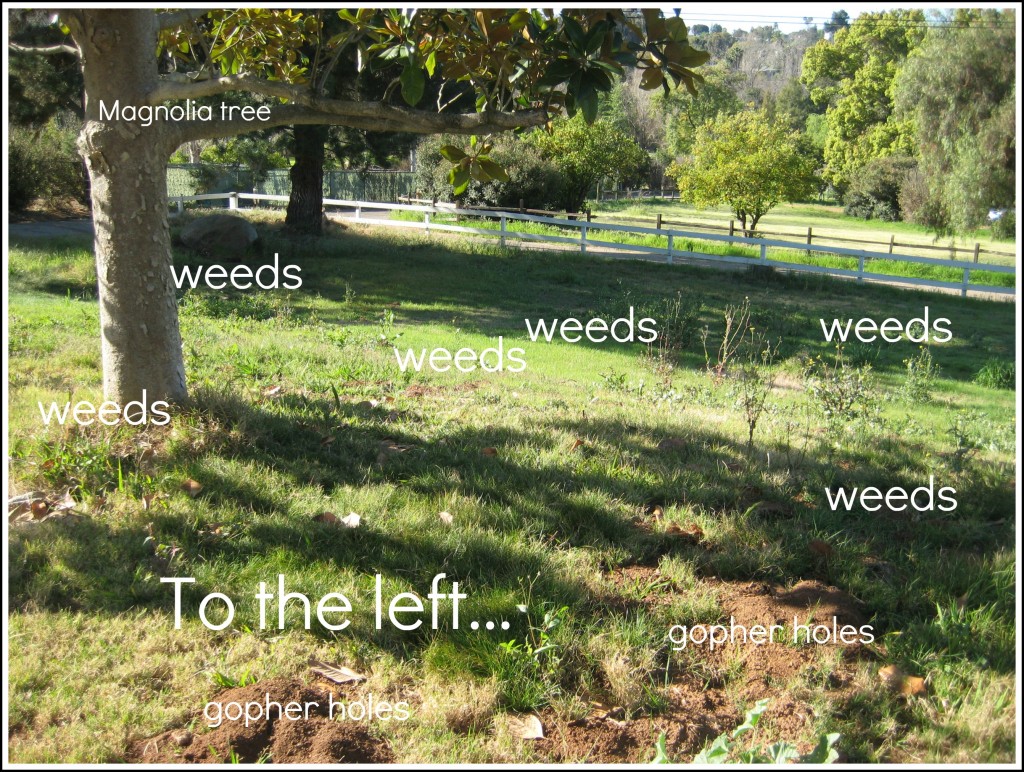 Some of the weeds are taller than my son.  For reals.  He's almost 3.   When he and my daughter go out and play right now, I have to remind them, "Watch out for the gopher holes!"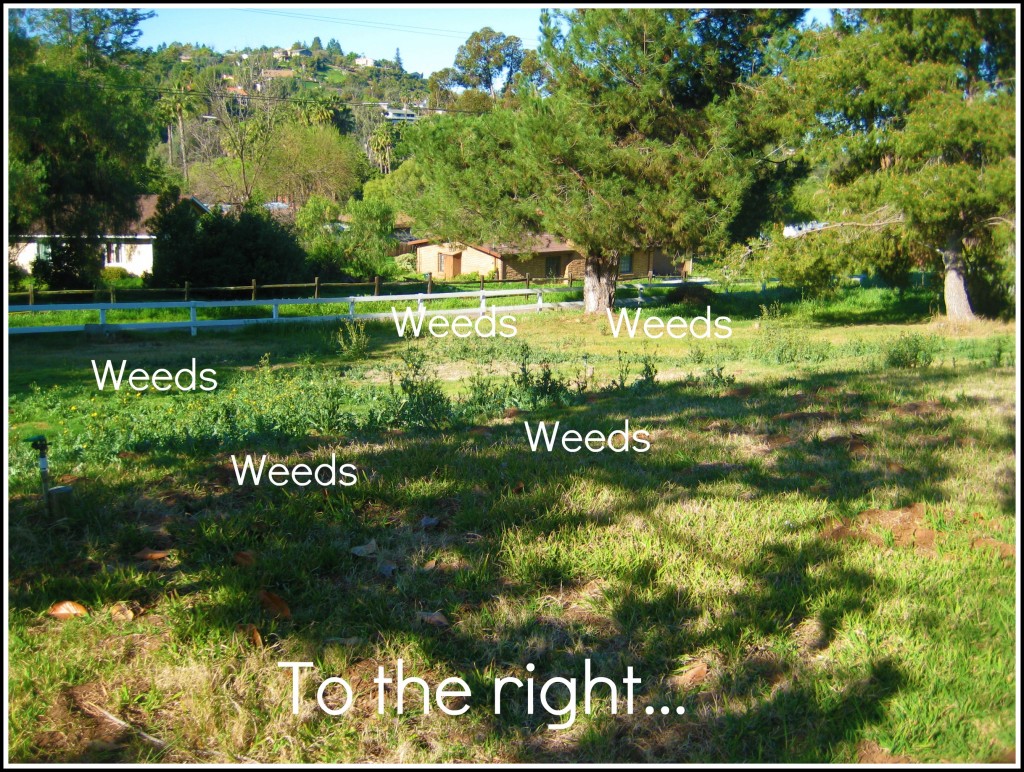 I think I've seen our neighbors actually shake their heads in dismay as they drive by.  Really.  They love us.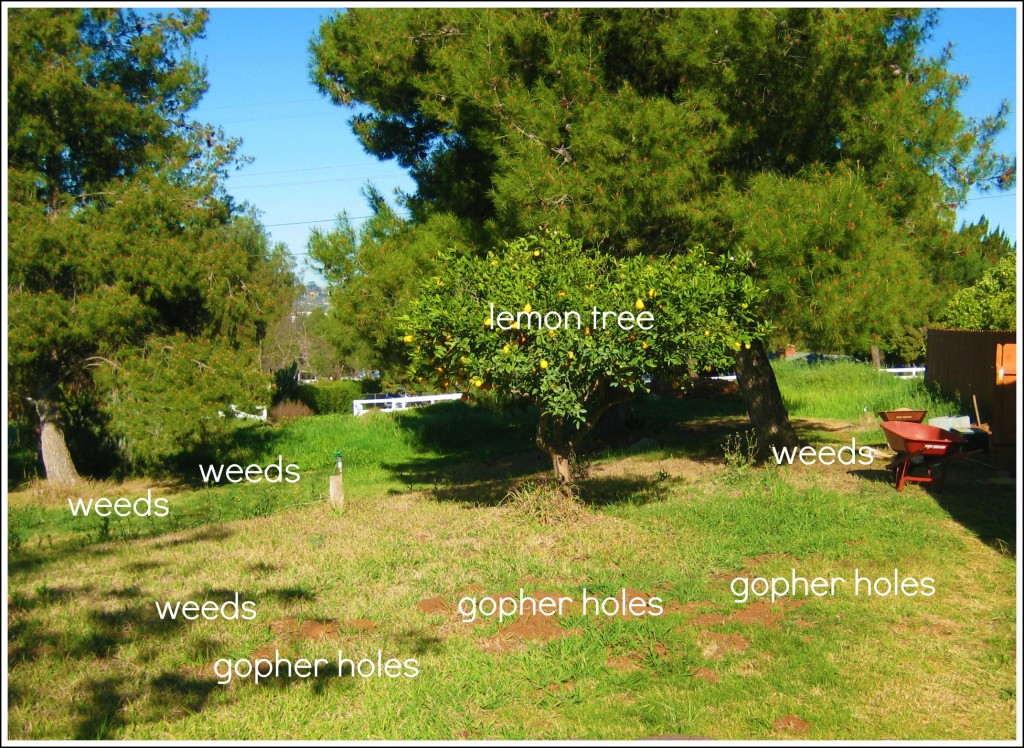 Here's a wider shot of our lemon tree, which I wrote about recently.  We also have six pine trees on our property- all of them are Torrey Pines, and they all started as Christmas trees when my husband was growing up in the very same house we're in.  Cool, huh?
Here's something else that's not perfect, but I'm totally in love with it.  This wagon.  My husband got it from a neighbor's garage sale last week. It's OLD.  Rusty.  It's probably been so lonely, and now it has a new life.  Right now it's primary job…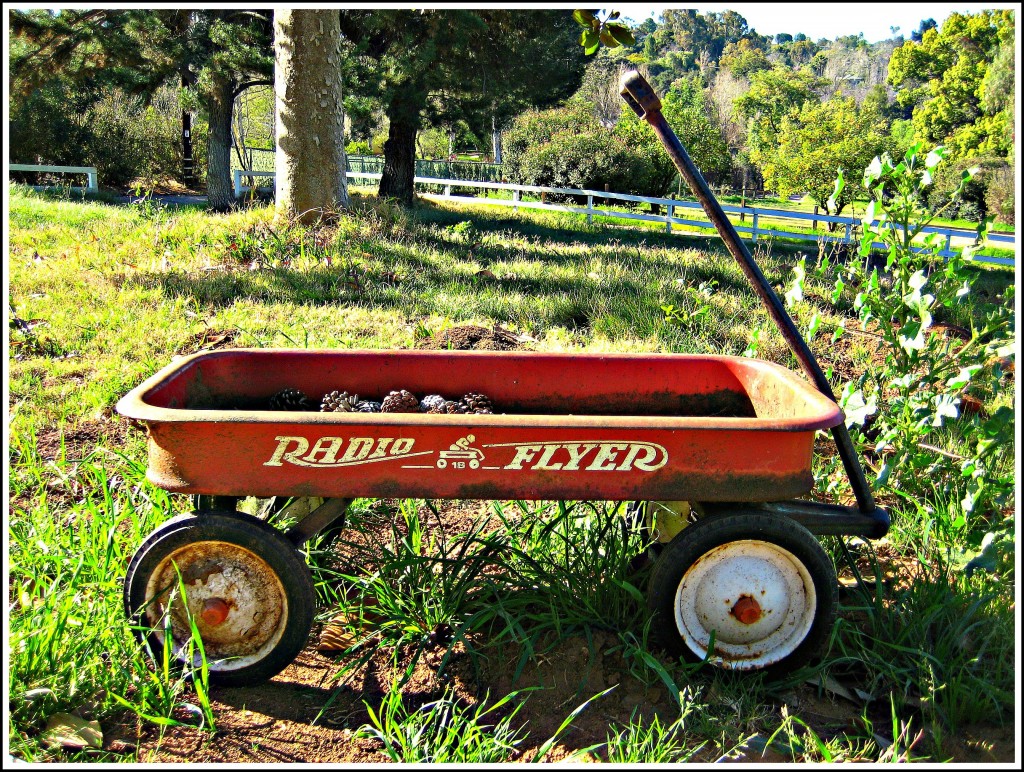 Pinecone holder.
And one last bit of imperfection.  I thought this was a really strong weed.  Nope.  It's a baby tree.  Poor thing.  We'll have to cut it down because it's too close to our entry sidewalk.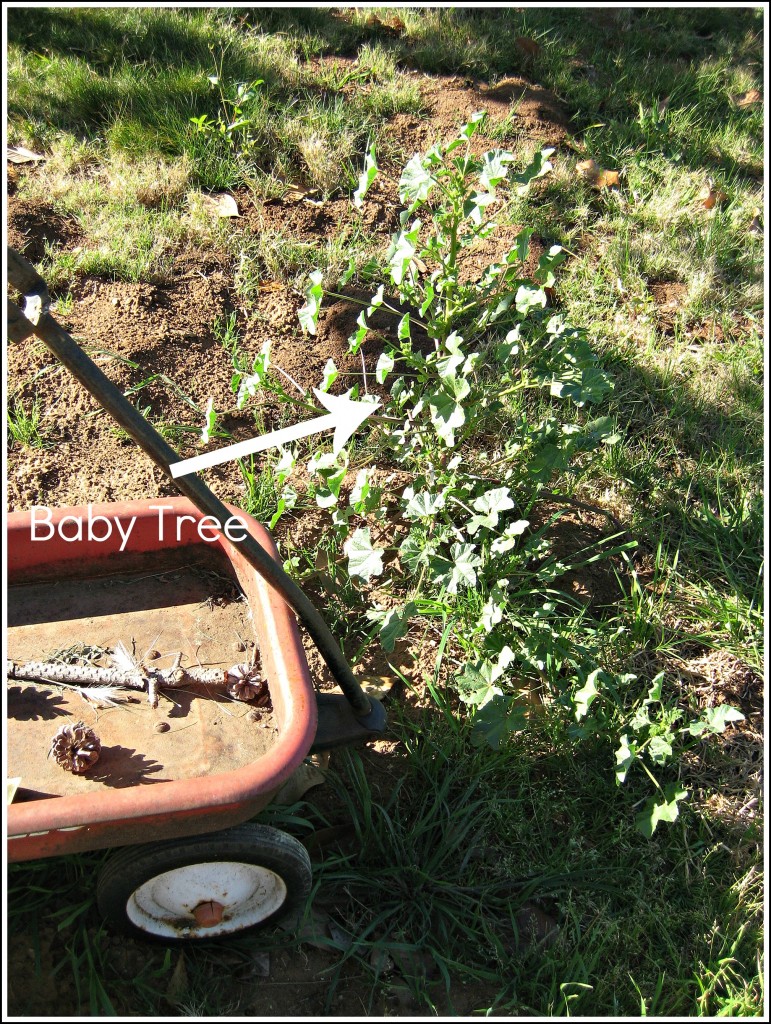 *I should mention that I was most inspired by this post from Heidi of Crafterminds.  I read this post when it came out and it's stuck with me ever since!  Thanks, gals!