Nobody's Perfect: Countertops!
If you're new to Crafting Crazy, check out this post to find out about my new series, Nobody's Perfect.
I have said numerous times how much I despise flat surfaces sometimes.  All they do is attract clutter. And more clutter.   One of my biggest aspirations is to live a life free of clutter. To have systems that work for our family in not only keeping us organized, but also clutter-free.  Note:  I said aspiration.
The reality is that clutter comes with kids unless you really stay on top of it and make it a priority.  I do make it a priority when I know we're having people over in large numbers, or especially people we don't know well.  We can't have them thinking we're normal, right?!
So here's my imperfection for this post:  our kitchen counter.  We have an old, circa 1970s kitchen, complete with avocado-green oven and cooktop, wood paneling, and white formica countertops.  My husband grew up in this house, so there's lots of history here.  History, however, comes with tired appliances and countertops that stain if you don't clean them up immediately.   We are blessed, though- we have a home.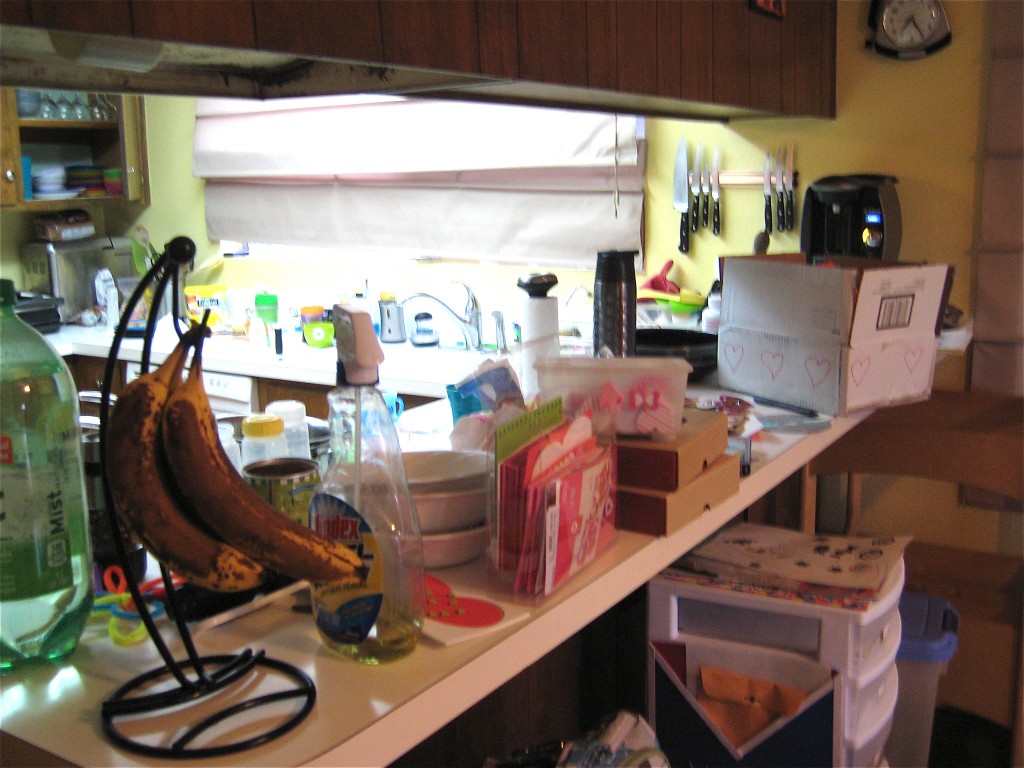 This photo was taken just before Valentine's Day.  For some reason I thought it would be fun to have Anna make all of her Valentines, complete with letter stickers for each child's name.  Yeah- nice idea in theory.  I also love the over-ripe bananas.  The box at the end of the counter was a lovely Valentine goodie box from my sister in Kansas.  There are craft bowls, water bottles… you name it.  Ooo- I even see some pipe cleaner creations.
On a good day this counter has lots of space.  And it's clean.  Those days, however, are rare. It's the catch-all of the house.
Where is your clutter zone?