Martha! I Made It! (…or, I made more of it.)
This is a continuation of my original post in this series.  I made some baby shoes way back when for Miss Clare.  Then another friend of mine came to mind because she has a little girl about the same age, "V."
When I made the first pair of shoes I was quite excited to make them.  They were easy and quick.  I also noted, however, that the buttons were hard to do when they were on Miss Clare's kicking feet, so this time I decided to do snaps and elastics to give them a whirl.  What did I learn?  I hate sewing on snaps and I hate sewing elastic.
In Martha's book they show the shoes with these perfectly sewn squares on the elastic.  Can anyone tell me how they did that?  Impossible. And the snaps?  Oh, the snaps. They took forever, too.  Once I finally got them on I was also left with ugly shoes, so I had to get a bit creative and cute them up.  Here's the finished product (I made two sizes since V's measurements were a bit bigger than Clare's):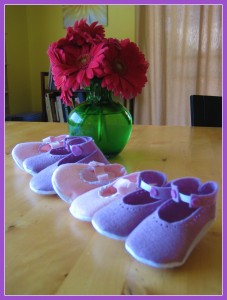 And here's a picture of the pink ones on Miss V's feet: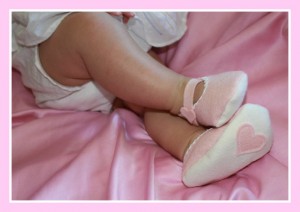 I just love the heart on the bottom.  And I put hearts over the snaps- that was part of the "cute them up" I was mentioning.  My other feat with this project was sewing on the rick rack.  In the book they tell you to use fabric glue.  Using fabric glue on baby rick rack is like ironing a noodle.  It's very unproductive.  So I sewed them on very carefully and it turned out much better.
My other accomplishment with this was that I altered the pattern in Photoshop to make them bigger for Miss V.  Lots of accomplishments for such a small project.
In other news, I am back to work.  Meh.  So I will be posting less, I'm sure, though I can't seem to stop sewing.  On our first day we had to write what we needed to "let go of" on a paper plate and throw it in the trash. As we threw it away we were supposed to tell the rest of the group what was on the plate.  My plate said, "I'd rather be sewing."  I made more pouches of my own design, so I'll have photos of those up soon.
If you are awaiting paper from my post on the Beer Makeover, I am going to mail them tomorrow!
I am officially rambling, so I'll sign off for now.  🙂