Le Diner à San Diego: An Experience!
…
A few months ago I heard about this amazing evening event in San Diego:  Le Diner à San Diego.  It sounded surreal, to say the least.  The location was withheld until hours before it started- and I love a good mystery!  Everyone was to wear white, dress elegantly, and bring a delicious three-course meal to share with friends.  The only thing provided would be tables and a beautiful location (and they also had a bar). I was totally hooked!
My first step was to find someone to go with us.  This proved to be challenging.  I think a lot of friends didn't like the idea of having to wear all white.  Bummer!  Soon our friends Jen & Brent were signed up, though.  Thank goodness for friends who like an adventure (and wine).
In the days and weeks leading up to the evening I planned texted with Jen and we figured out our menu, talked about what we were going to wear, etc.   Finally, the day arrived.  The location was to be revealed at 3:00.  Our biggest concern:  weather.  It had been chilly the night before, and rainy that morning.   I was determined, however, to make a go of it.
I had visions in my head- it would be elegant, it would be serene.  I would be well-dressed, in heels, even!  Everyone would be nice, we'd make new friends and have lovely chats with Jen & Brent.  It would be like My Fair Lady, only modern.  I would come home with beautiful photos of a wonderful, once-in-a-lifetime evening.  I would post on my blog about it, and it would look perfect.
In reality:  we froze our asses off.
It was FREEZING.
The location?  The Embarcadero.  If you're not familiar with San Diego, this is a beautiful, waterfront park in downtown San Diego.  Ships go by, seagulls fly overhead, and there's a marina on one side full of luxurious yachts and such.  The San Diego Symphony plays there in the summer months.  It's gorgeous….when it's warm.
Jen texted me soon after the location was revealed and said, "Uh…We are gonna freeze our nuts off."  I remained optomistic.  "I'm from Kansas!" I thought. "How cold could it be?"  It was too late to buy white pants- we were leaving in just a little while as soon as our sweet babysitter, Rosy, showed up.  So, I added some quilts to our pile of stuff and off we went.
As we got there, it was obvious that people were in the same mindset as us:  "We want this to be cool, but it's DAMN COLD."  We persevered, though, because this event was just such a neat idea.  Here are some photos.  I took a ton, and then just as we were sitting down to eat my camera crapped out.  Very odd.  Now it's fine.  Maybe the camera was cold as hell, too.  Some photos of our evening…
The view of San Diego from the Embarcadero.  Sort of makes me want a boat.  Sort of,  but without the taxes and dock rental fees.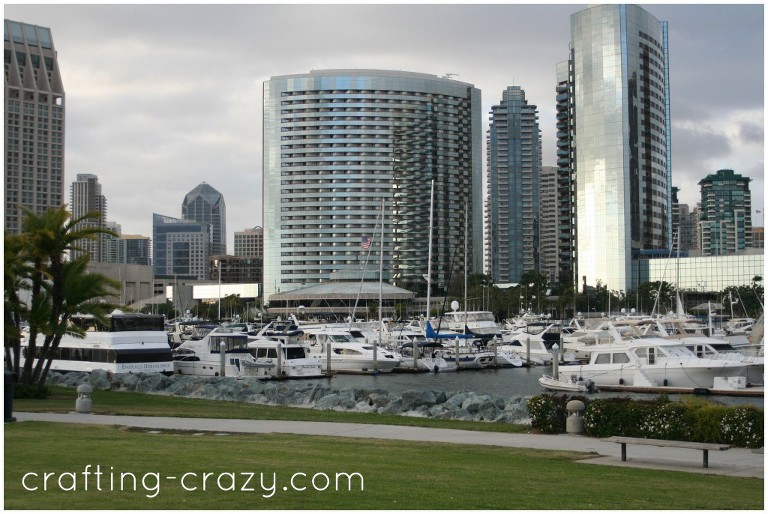 Jen & Brent.  [Jen, your hair looks fine.  It was windy.]  Brent runs a very cool company called Groovy Like a Movie.  He's rad.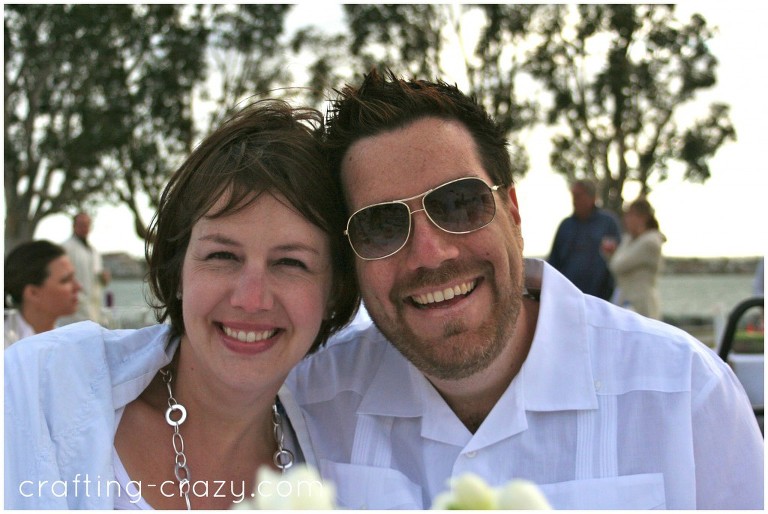 Brent took this with his iPhone.  He was asking Siri questions all night, like, "What's the temperature right now?"  It was 61.  It felt like it was 45.  I can't wait for an iPhone 4.  Maybe even an iPhone 5?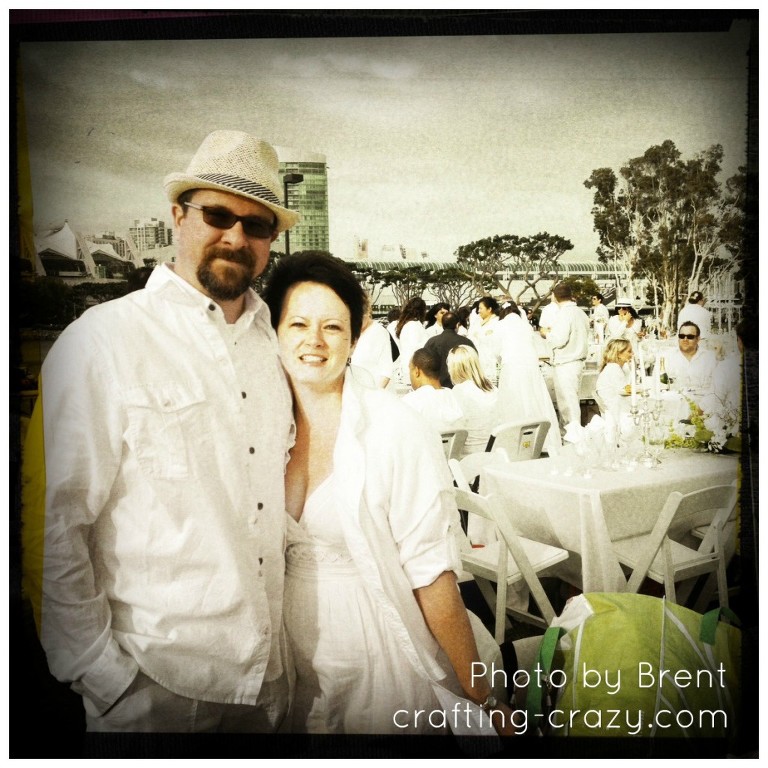 There was a competition for best table decor.  I didn't go too crazy- lots of tables went all out, but I just brought a tea light thing from IKEA (I've had it for years, but you can put it in a line, a circle, anything.  12 total- love it.), sea shells, rocks, and a few small vases with freesia.  Simple but pretty.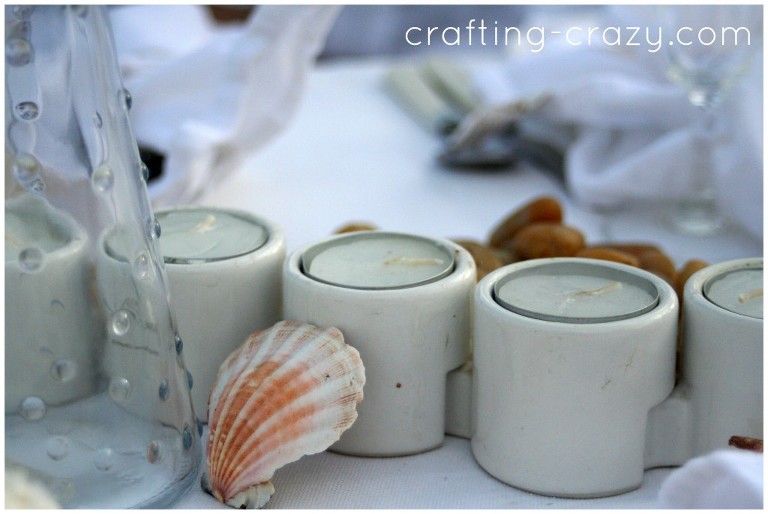 This drink was lovely.  It had coconut milk and lime in it, and it tasted like a coconut-lime-mojito.  I can't remember what it was called, but I was hoping a little liquor would warm me up.  It didn't.  But I still drank the whole thing.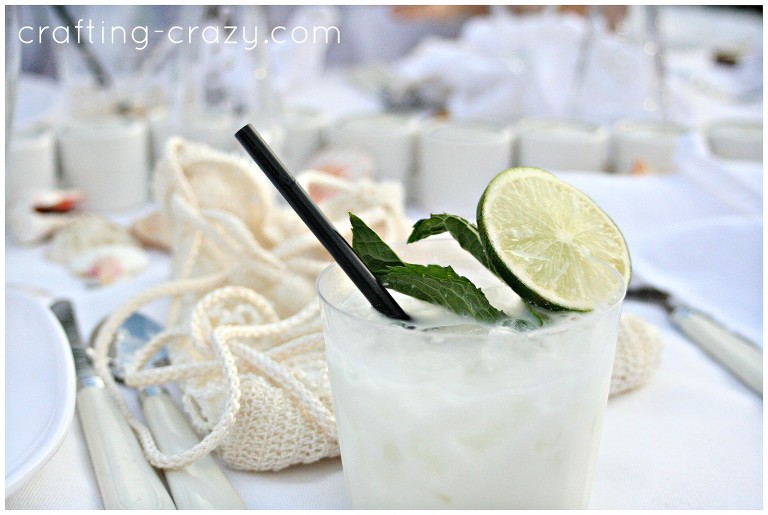 At 7:00 there was a napkin wave to start off the meal.  We were already eating, but it was fun to see everyone in white standing and waving their white napkins.  Very cool.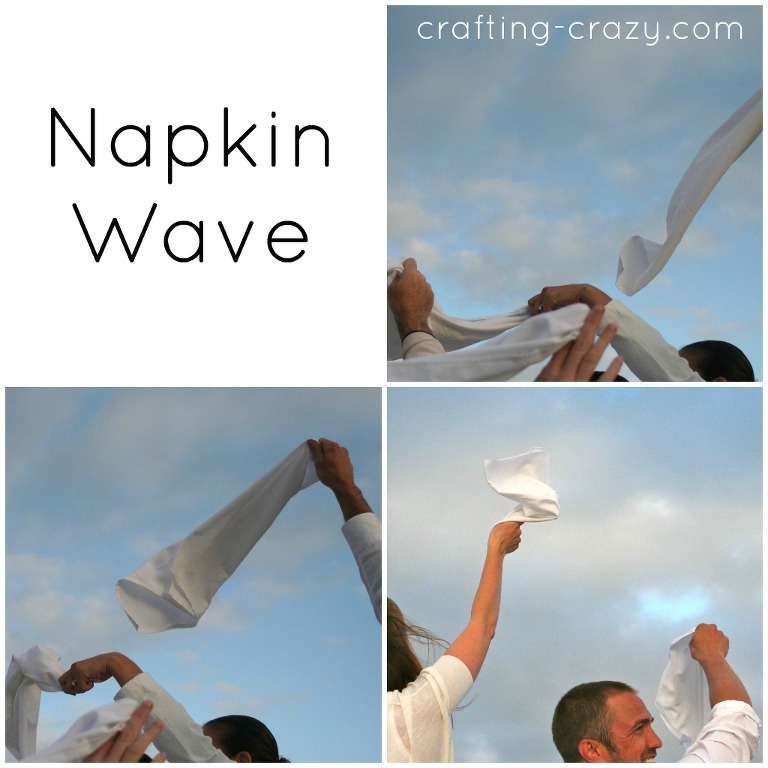 Jen made appetizers- crostini with tapenade, and shrimp cocktail.  Yum.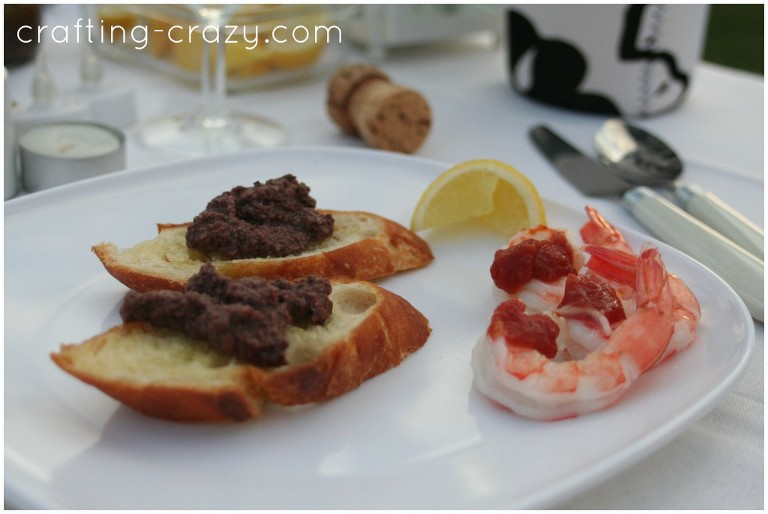 I brought a pasta salad for our entree.   This is an iPhone pic, since by this time my camera was done.  Note the portable trash bags in the background- classy, eh?  One of the tenants of the evening was to "leave no trace," which included taking all of your trash with you.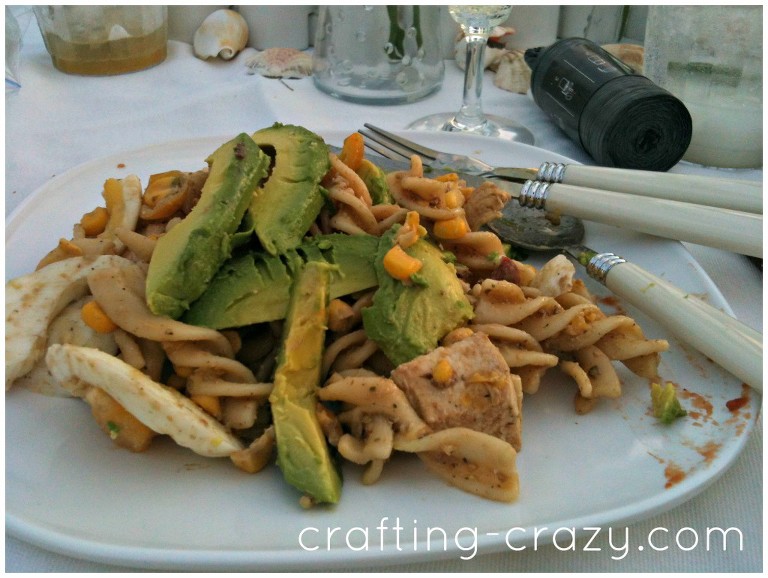 Brent saw the sun getting lower and all of sudden grabbed my camera.  I thought he disappeared, but then realized he was right next to me.  Cool, huh?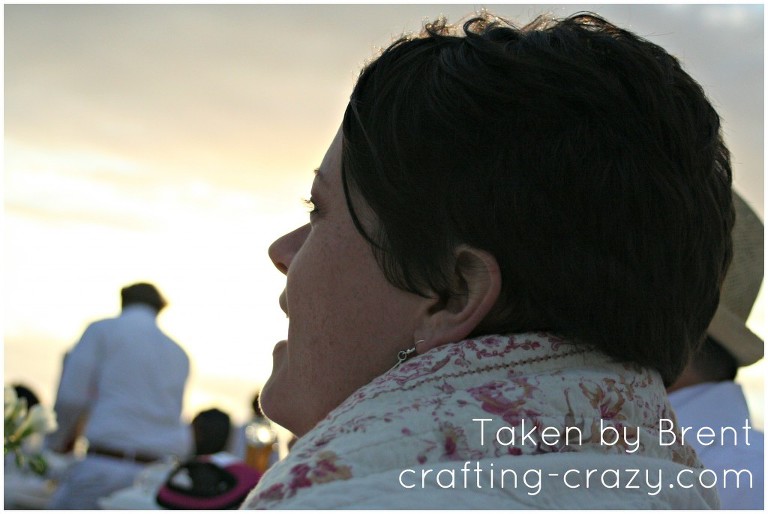 My  man in his dapper hat, drinking Prosecco.  Have you had Prosecco?  We like it better than champagne.  It's basically the same thing, but it just tastes better.  Props to my dad for introducing it to us.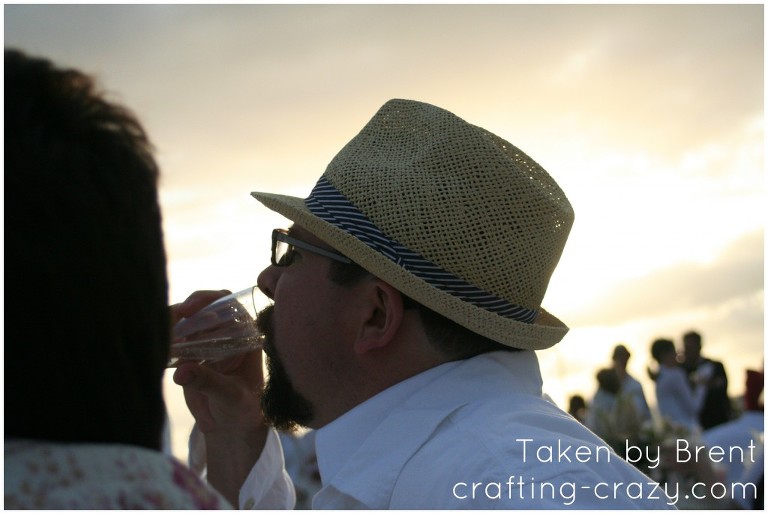 Be sure to click this photo below- Brent took it with his iPhone 4, and it's a very cool panoramic shot of our end of the event.  You can really see how neat everything looked.

I'm glad we went to this event- I just wish it had been warmer.  By the time we finished our entrees we couldn't feel our hands, so we opted to head to Jen & Brent's for wine and dessert.  I made pots de crème- more about them soon.  Yum.
Thanks to Jen & Brent for being so adventurous.  I love the concept of this event, so I was pleased to receive an email from them the next morning that said they'd see us next year… in the summer.  Right.  Lesson learned.