Jack's Party: Decorations
Jack doesn't really like any one particular character enough for me to be able to say, "Oh, we'll have a _______ party."  He is just now getting into Toy Story, he loves helicopters and motorcycles, but he's not totally obsessed with any one thing just yet.  Well, except one thing. Balloons.
About six months ago Jack got a balloon.  We went to the dentist.  He screamed the whole time because of a chipped tooth trauma from a while back.  He hates the dentist.  But when he got that balloon his whole demeanor changed.  And when we got home, all he wanted to do was play. with. his. balloooooon.  And so, the love affair began.
The balloon obsession, combined with the fact that about 90% of the time Jack is one happy boy, I decided to just throw a party with some fun balloon decorations and keep it happy.  That is, after all, my theme this year.
Just a reminder that I'm saying thank you to my friend, Tonya, for all of the pictures she took.  You'll be able to pick her work out because I thank her in all of the pictures that she took. 🙂
First, I made this balloon wreath.  If you search "balloon wreath" on Pinterest you will see lots of examples, but I was particularly drawn to this one at Landee See, Landee Do (say that three times fast).  I decided that I want this wreath to be a family tradition.  We are going to hang it on our door for each child's birthday, and I'll make a new center circle for it for each child on each birthday.  Now that the main work of making it is over, I think it will be easy to keep up with.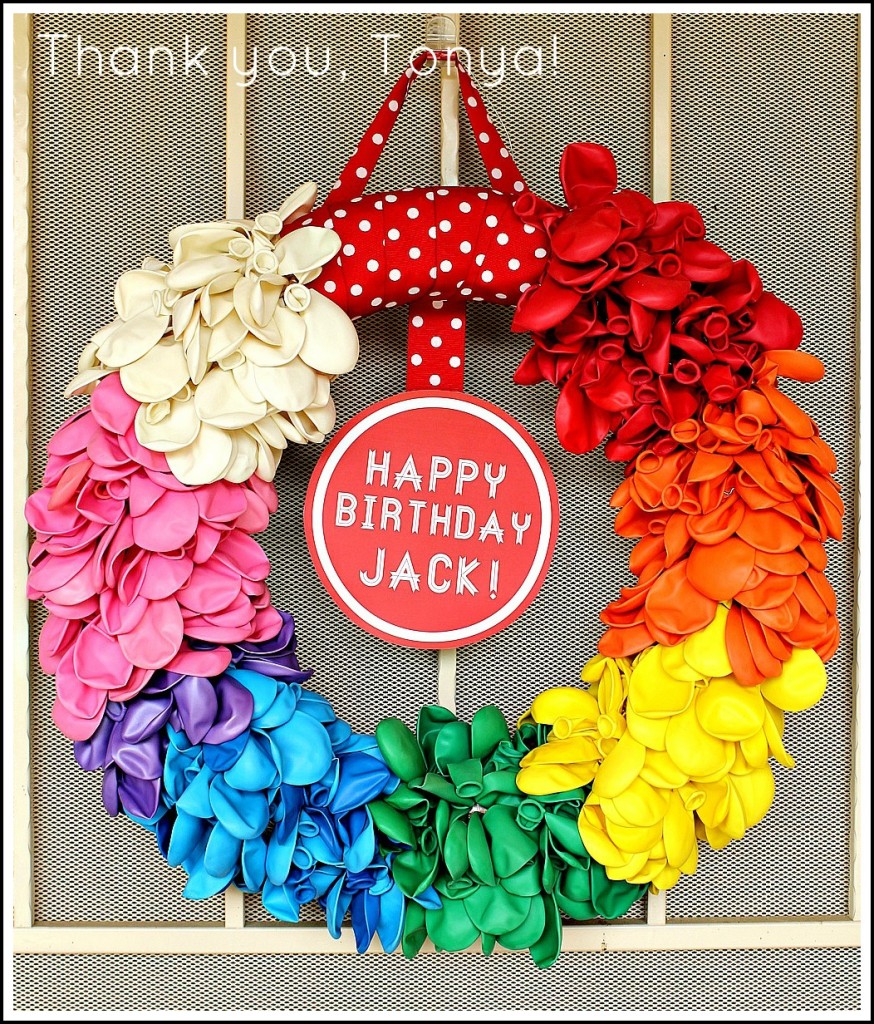 I didn't use ribbons the way Landee did and like the simplicity of it.  I may go back and throw in more purple- we'll see. I ended up with very few purple in my bags for some reason.  I bought the balloons for this wreath at Dollar Tree; I think I bought 8 bags but only used about 7.  These balloons are cheap for a reason- if you blow them up they are super tiny.  Doesn't matter for the wreath, though. 🙂
In her post Landee says her thumb was sore for days- I must have tough thumbs.  However, I did make this over a few nights, not all at once.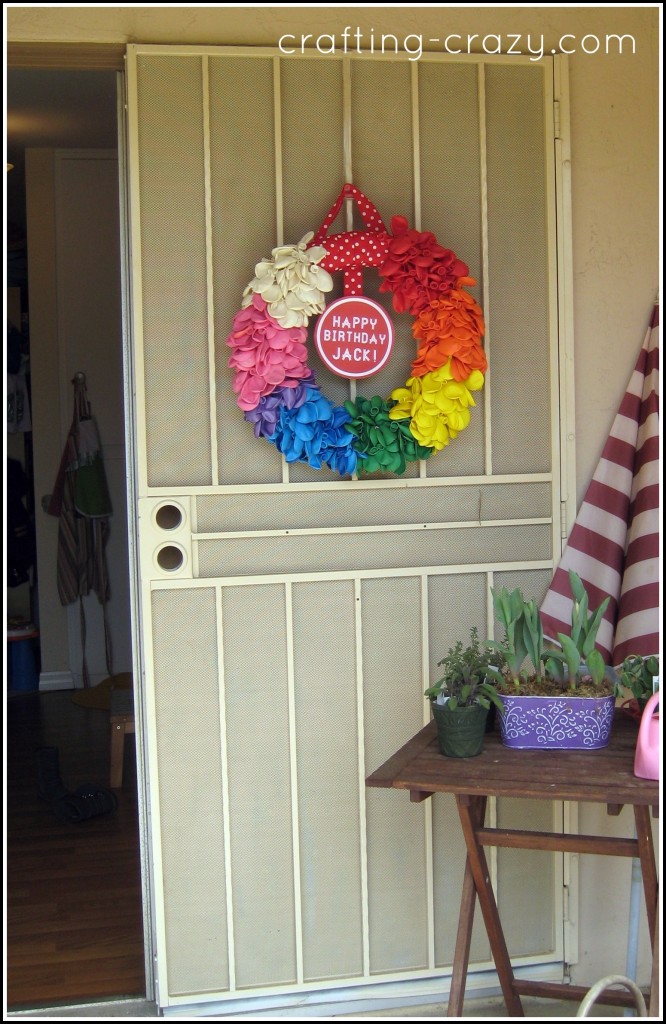 For the center circle I just made a graphic in Photoshop Elements and cut it out with a circle cutter.  The font, if you're interested (I love it) is Ribbon from Lost Type.  I used the coordinating ribbon and attached it with more floral pins to the top.  I also hung the wreath with wire and covered it up with ribbon- it is rather heavy and I wasn't sure if the ribbon could hold it alone.  Just looking at this wreath makes me smile, and Jack loved it.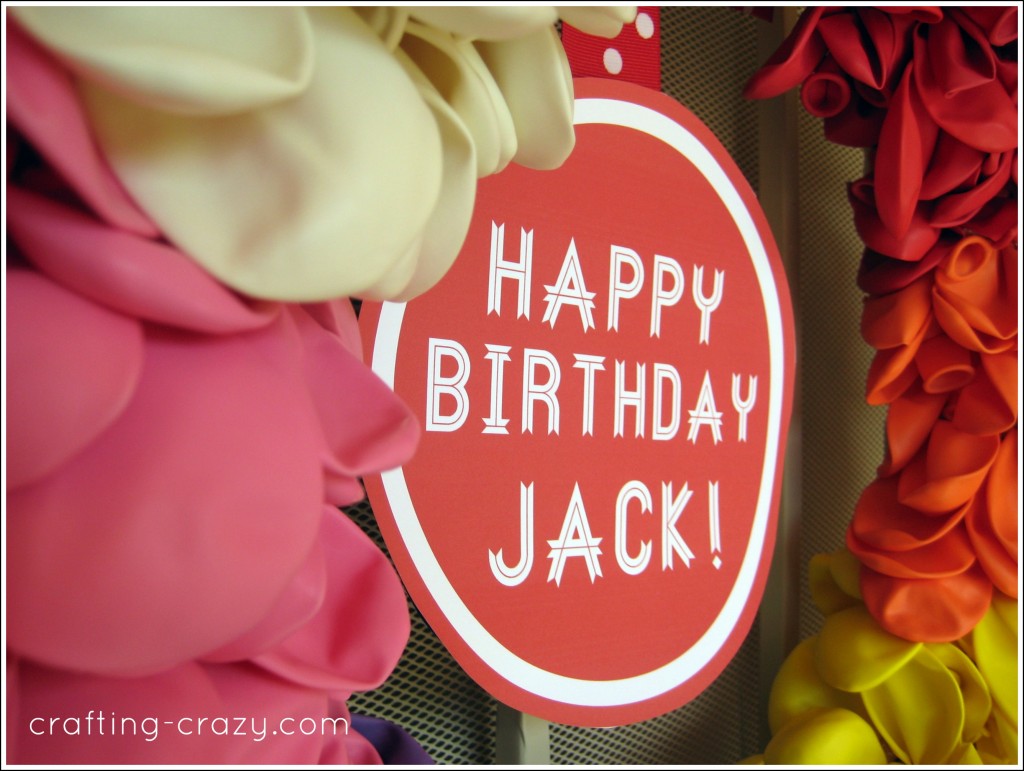 The other decor that I just loved were the balloons themselves.  I've seen these big balloons so many places and just loved how different they looked.  They are HUGE.  I got them at Shop Sweet Lulu.  They ship very quickly- both orders I placed for this party were shipped the same day I ordered them, and each order came with a piece of taffy.  Yum!  I'm sold.
One thing I will say: these balloons took all the helium I had.  How much did I have?  I had two Balloon Time tanks*; one was used from a previous party and one was brand new.  By the time I filled up all three of these balloons, the helium was g-o-n-e GONE.  I think next time I will call Party City and see how much they'd charge to fill them up.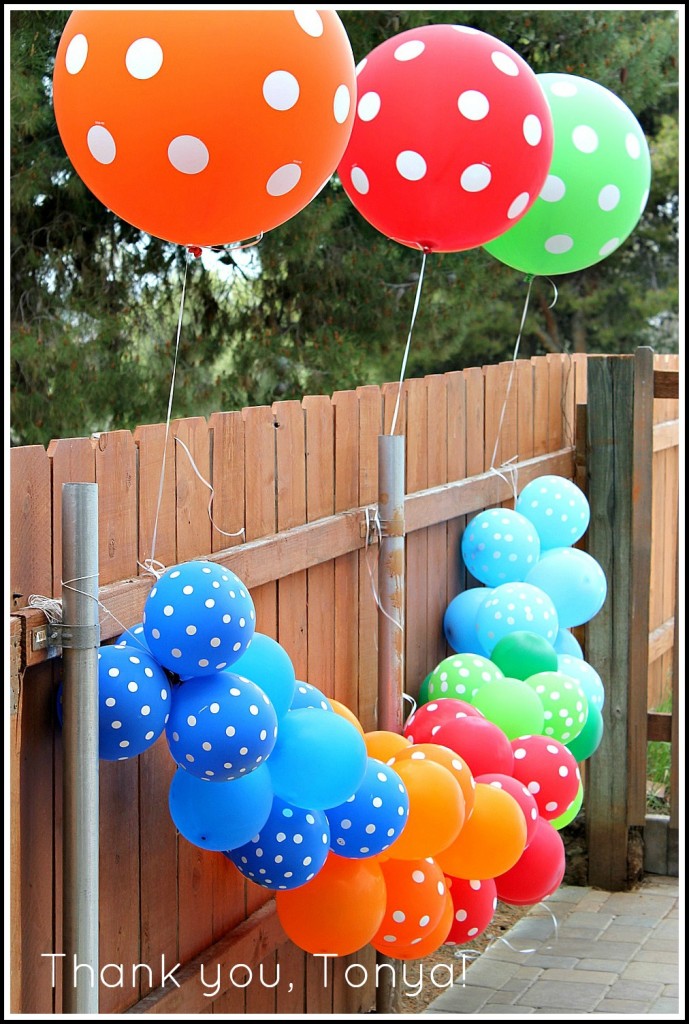 The balloon banner was made the night before and slept in our playroom.  I woke up before the kids and hung it outside on our newly-paved patio (my husband is awesome) and was elated with how bright and cheery it was.  I was inspired by Design Mom, and you can find her tutorial here.
While I didn't get a raw thumb from the balloon wreath, I did get raw fingers from tying off all of these balloons!!!  My husband would have helped but he came home with back spasms the night before Jack's party so I let him rest so he could be my work mule the day of the party.   It was really easy to make.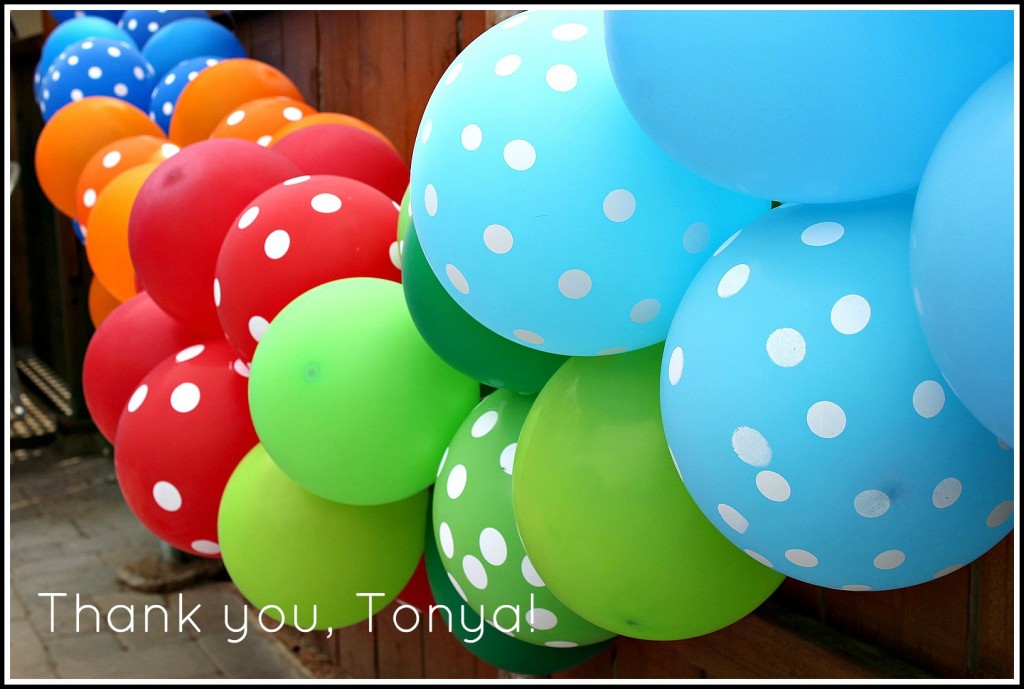 In Design Mom's post she uses an upholstery needle.  My moment of desperation was laying out all of my balloons, getting my string (she used waxed twine but my plain ol' string worked great, too), and realizing I wasn't sure I had a needle that would work.  Then I went through my knitting supplies and found my plastic yarn needle and it worked perfectly.  What's even better- I didn't have to worry about popping the balloons because there was no sharp metal tip to wield.  Hooray!  Time-wise, start to finish, I think this took me about an hour and a half to make.   Totally worth it- when Jack saw it he said, "Mommy, my balloons! My balloons!"  He loved it.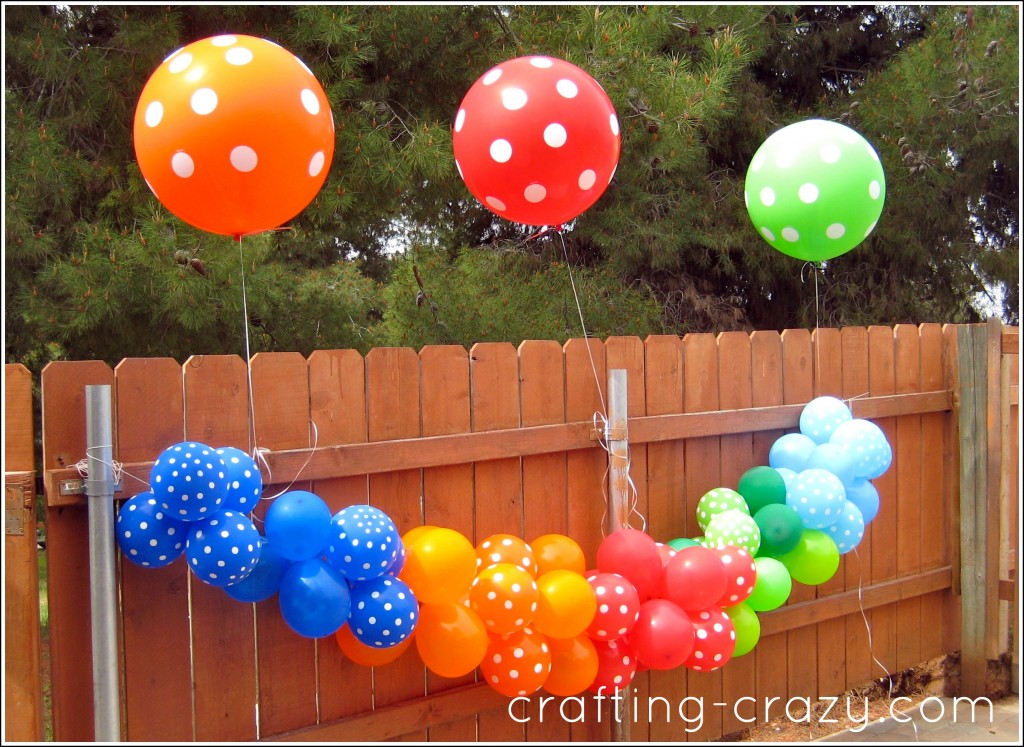 Lastly, I made these streamers: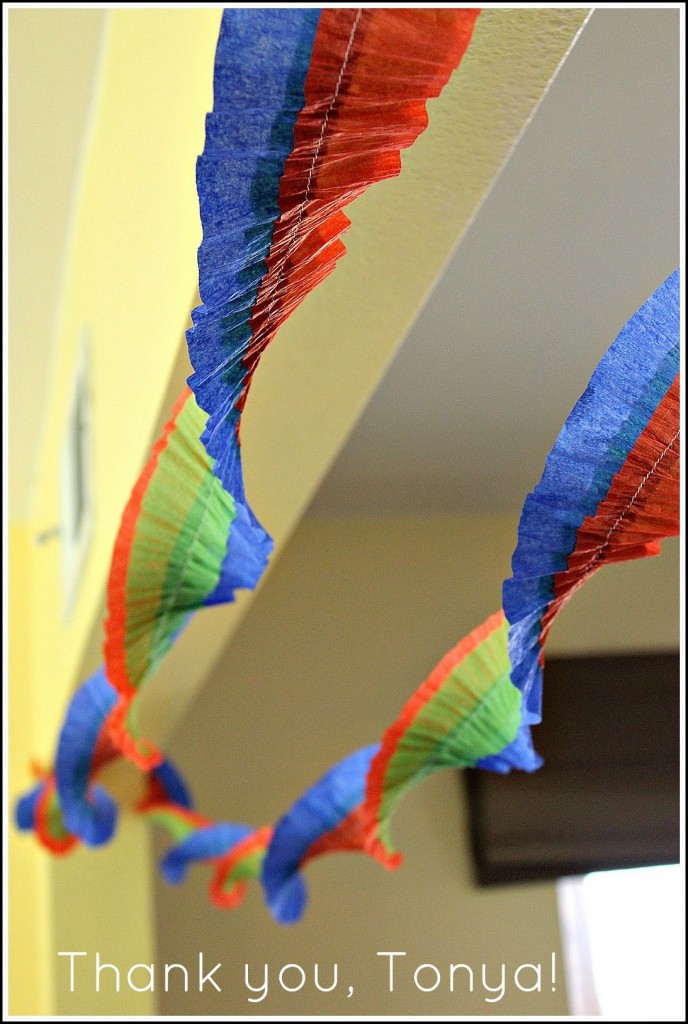 I saw these on Made, and Dana's tutorial was great.  I could spend hours on her tutorials alone.  I wasn't even planning on making them and then when I was at Walmart getting a few things I saw them and thought, "Oh, what the hey, I'll give it a try."  It was a bit cumbersome at first and then I found my magic tool:  a wooden spoon.  Dana had a dowel, I think, in her tutorial, and she used it to keep her streamers from getting tangled up.  I didn't have a dowel, so I went with my longest wooden spoon and it was perfect.  You hit a rhythm after a while, and then just as you think, "Hey!  I've got a rhythm going here…. "  …your bobbin runs out of thread.  I rolled these up and will use them for other parties.  They are so cheery and fun!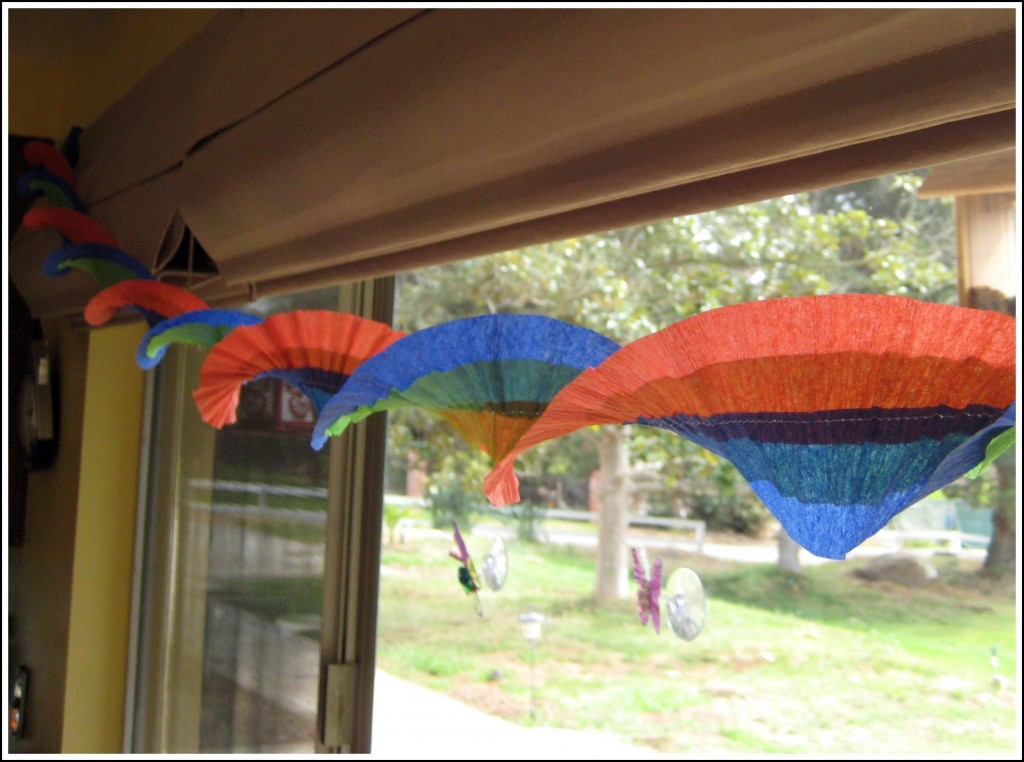 In case you're wondering how long the big balloons lasted in terms of float-i-ness…  the green one popped in the wind the next day, but orange and red lasted from Saturday to Monday night.  We brought them inside and the kids were in heaven playing with them.  This is them on my birthday on Sunday: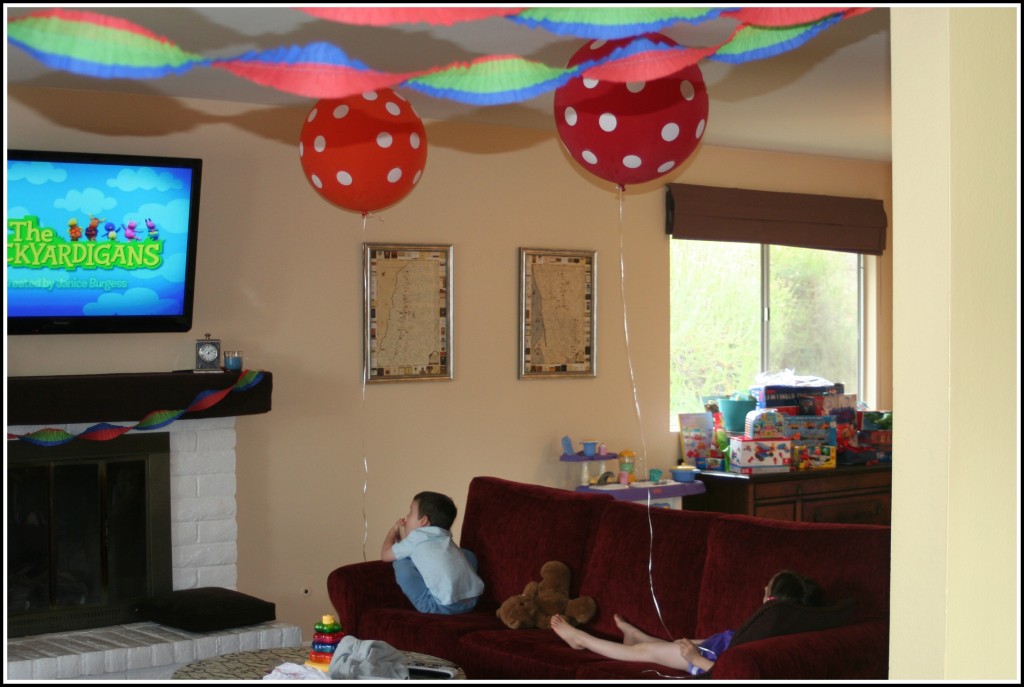 Up tomorrow: the scavenger hunt!
*I did NOT pay the price you see in that link to Walmart for my tank. If you get them in-store they are much cheaper!