Evolution of a Blogger from Hearts and Laserbeams
Blogging.
Such a funny word.  Like so many other words that have cropped up since this rush of technology, it's one that people have opinions about.   I'm in a super-awesome blogging group; it's small, interactive, supportive and so many things.  We were having a conversation a few weeks ago about what it's like in the different phases of blogging, and we tossed around an idea.  Just a little nugget.  My amazing and uber-special graphic designer (take a moment and look up at that fab header- yeah- that's her work) took that nugget and drew this hilariously accurate rendition of what it's like to become a blogger and then come into being a blogger.  Check out the Evolution of a Blogger: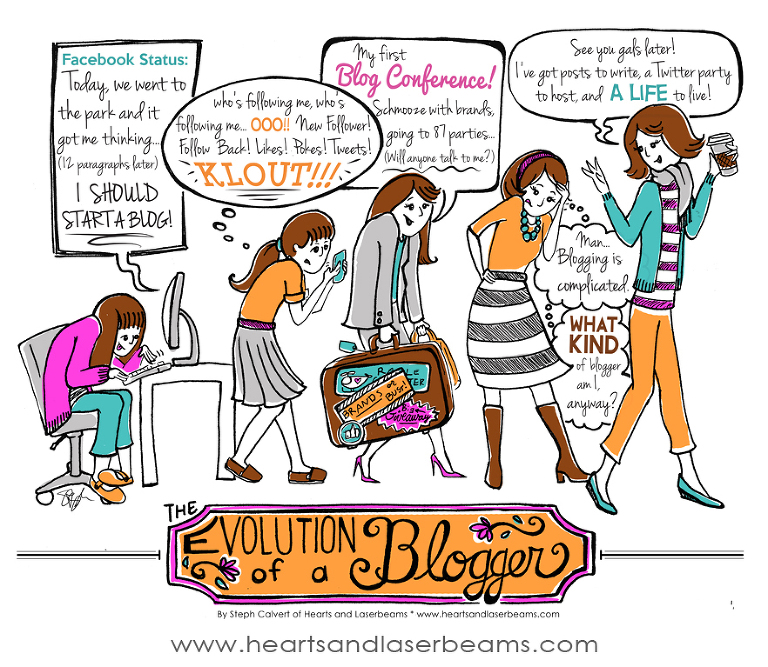 Blogging can be really isolating at times, and then at others you can feel like you have the world behind you, cheering you on.  Still others, it's like crickets chirping, or like a firestorm of negativity at your screen.
Blogging is what you make of it- you get out of it what you put in.   My personal opinion is that people who have never started their own website or blog have no idea how much hard work, time, and patience goes into just getting a site to LOOK decent, let alone writing content that is worthy of someone else's eyeballs.  Whether you blog about food, crafts, photography, kids, motherhood, business, law, entertainment… it doesn't really matter.  Blogging is hard work.
So where do I fall in the photo above?  I think I'm the girl in the stripey skirt, questioning why she's blogging in the first place.  I am in a life transition right now, as I type this, starting my own photography business and letting go of my previous profession as a music teacher.  I have a lot to learn.  I'm back at square 1.  But I'm thankful that I have been blogging as long as I have (about four years) because if I had to learn WordPress and photo editing & organization and SEO and all the other things that come with blogging on TOP of photography- I think I'd throw up.
 There are some great posts about this drawing, starting with the illustrator/graphic designer/totally cool Steph Calvert's at Hearts and Laserbeams:  her post is here.
Then there is my new blogging friend Stephanie Totty's of Froggy & the Mouse; her take is here (we're in the same spot but for slightly different reasons).
I'll post more as they creep up!
And for you, dear reader:  Have you gone through a similar evolution?
Maybe it's not about blogging, but maybe you have transitioned into something else.  I'd love to hear about it- tell me about it in the comments!
About the Illustrator
Steph Calvert is the work at home mom and illustrator behind Hearts and Laserbeams. Her work has been seen worldwide on apparel, in print, and online. She's been writing the Hearts and Laserbeams blog for over 10 years, and is a current blog contributor to Moonfrye.com.
Steph lives in Savannah, Georgia with her hilarious partners in crime, husband Josh, son Phil, and mom in law Carole. She enjoys coloring with her son, karaoke, and a good glass of wine every now and then. (But preferably now, thanks.)
Click here to purchase this original illustration on Etsy.