DIY: IKEA Chair Makeover, Part 2
I am so excited!  The chairs are done!  IKEA chair makeover is complete!  Read here if you missed Part 1.
If you are considering doing this yourself, be sure to read to the bottom- I link up to a few posts that really helped me out.  And if you like what you see, feel free to leave me some comment love!
Here they are- check them out: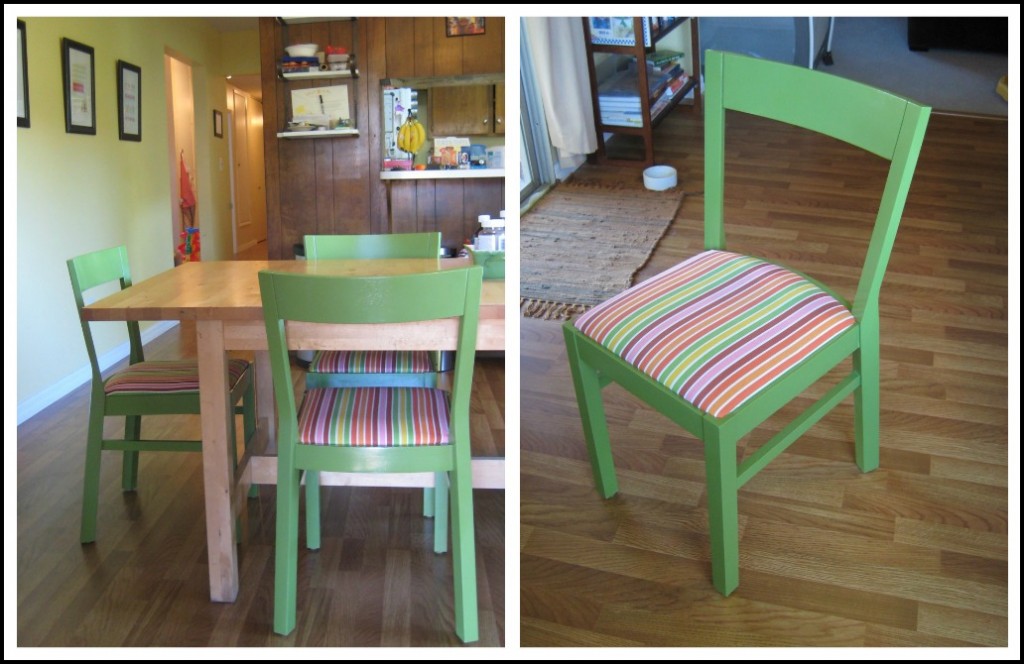 And here's a "before and after" comparison- doesn't it look sooo much better?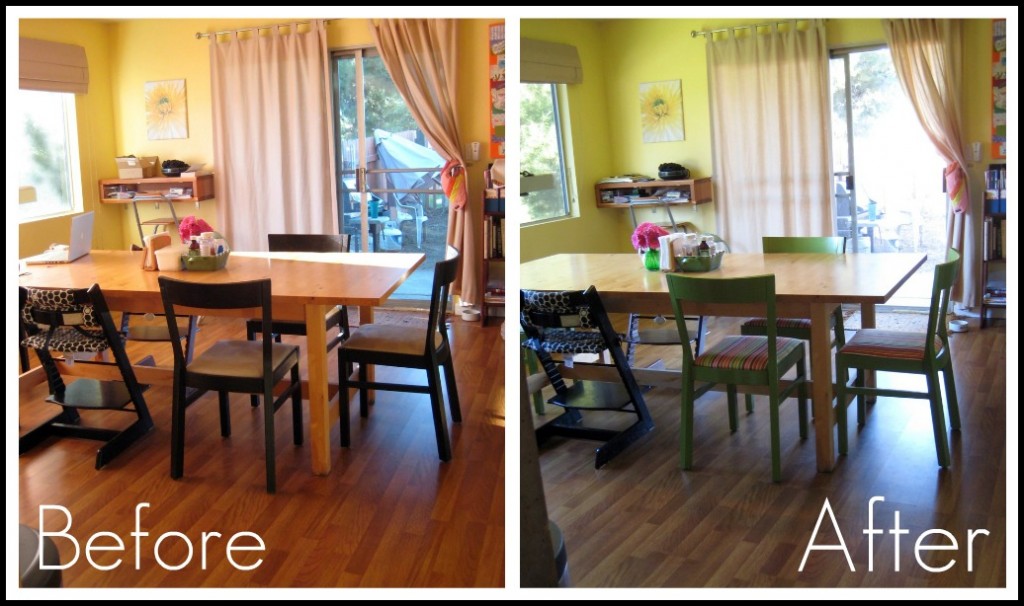 Side note:  the light in the "before" picture is 3:30 p.m.-ish.  The light in the "after" picture is 9:30 a.m.-ish.  Interesting, eh?
I've decided that I am a color person.  I like rooms, especially rooms with light, to have color.  It helps my eyes dance around and it makes my heart happy.
So a few things about my process/what I did:
I bought my fabric at a local upholstery fabric store.  The guy I spoke with at the store thought I was crazy for my fabric choice.  It's cotton, and he seemed a bit car salesman-ish to me.  It was the only thing I liked in the store, so I bought it anyway.   I Scotchguarded the crap out of it- I think there are 4 coats on it.  We'll see how they hold up.  The nice thing is that even if the fabric doesn't hold up, I love the color, so I can just find new fabric and redo the seats if needed- that won't take much time at all.
I used Rustoleum primer and paint.  I believe the green color is called "Eden."  I did two coats of primer, two coats of green.  I think I probably should have done 3 coats of green for good luck, but I didn't.  Oh well.  I used every drop of every can I bought, which was 3 cans of primer and 3 cans of paint.
I sanded the chairs lightly and wiped them down before priming.  I'm not sure it was necessary, but I did it just in case.
I've never been entirely sure how long I had to wait between coats, but I had one morning to bust this out while Anna & Jack were in preschool from 8-12.  So after reading the directions on the can, I came up with a plan.  It took me about 20-25 minutes to do one coat on all 4 chairs, which is about how long the can said to wait.  So I just worked my way around the chairs, checked my watch when one "round" was complete, and then moved on.  I started at 9:30 and finished at 11:45.  I will say this:  it was VERY hot the day I did this and the sun was VERY bright.  This actually made it harder to see any missed spots when I went from white primer to green.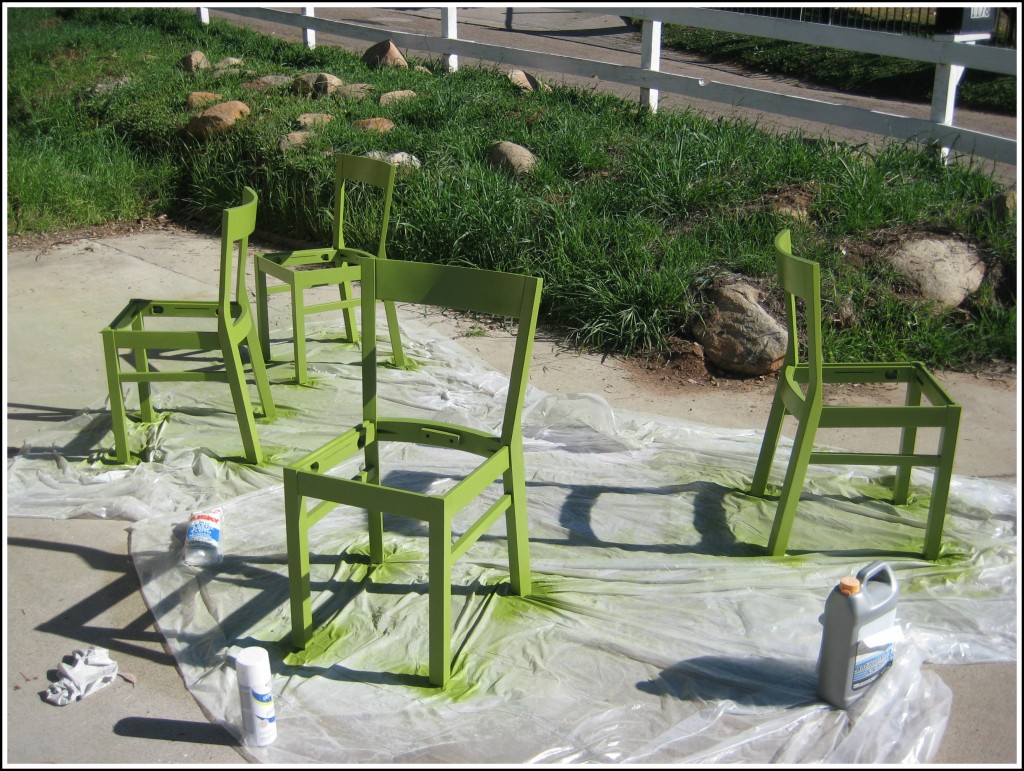 After letting the chairs dry for 24 hours, I coated them with one coat of Polycrylic (I used Minwax).  I HATE that stuff.  It was not fun to use at.  All.  I'm hoping it really does help because I was cussing inwardly a lot.  It did give the green a nice sheen, as the finish of the paint was "Satin" and it wasn't quite as glossy as I wanted.  But you can see below that the chairs have bubbles in a few places.  Oh well.  I still love them.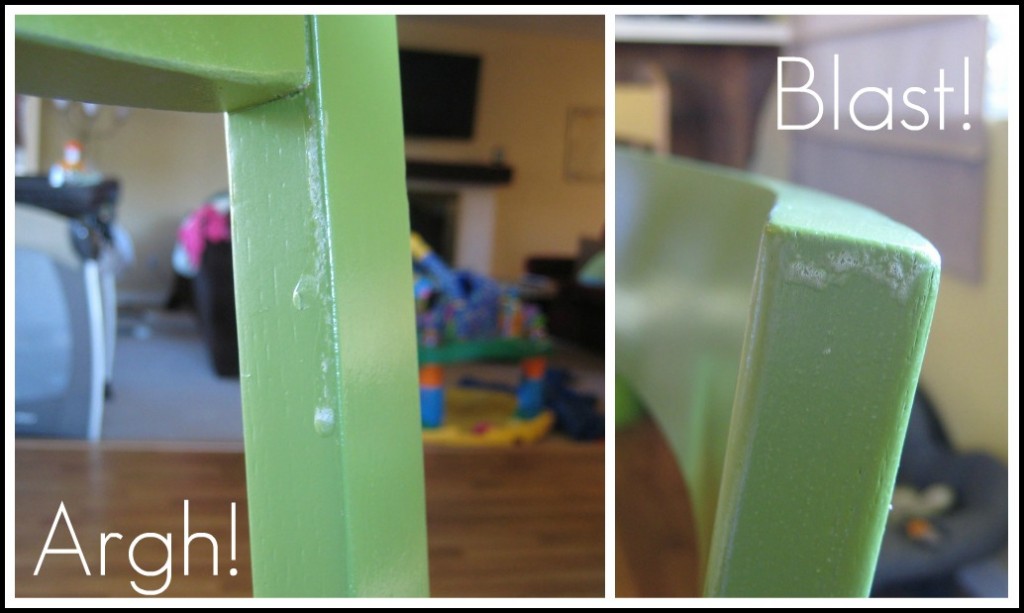 I did ponder sanding the bubbles down, but it seemed like I would go through the paint and have to repaint again.  Not gonna go there- I am DONE painting furniture for a while. So, we'll live with the bubbles and it will be fine.  They are just in a few spots, anyway.
The seat cushions were easy.  I did two coats of Scotchguard to the fabric before cutting and stapling it to the seat pads (I did it several days before actually doing the pads).  As you can see below, I stapled all four sides down in the center, pulling tight, then I worked on each side, and then folded in the corners.  It doesn't look as neat and tidy as the original Ikea fabric, but I bet that was done by a machine or a person who does a bazillion a day, and no one is going to look underneath my chairs, so… I don't care. 🙂  Once the fabric was attached, I Scotchguarded it two more times with very light coats.  I'll keep you posted with how the fabric holds up- I'm curious to see how it does.

One final view.  I just love them.  They're so bright and cheery.  The first time we used them we talked about sitting on rainbows.  Ha!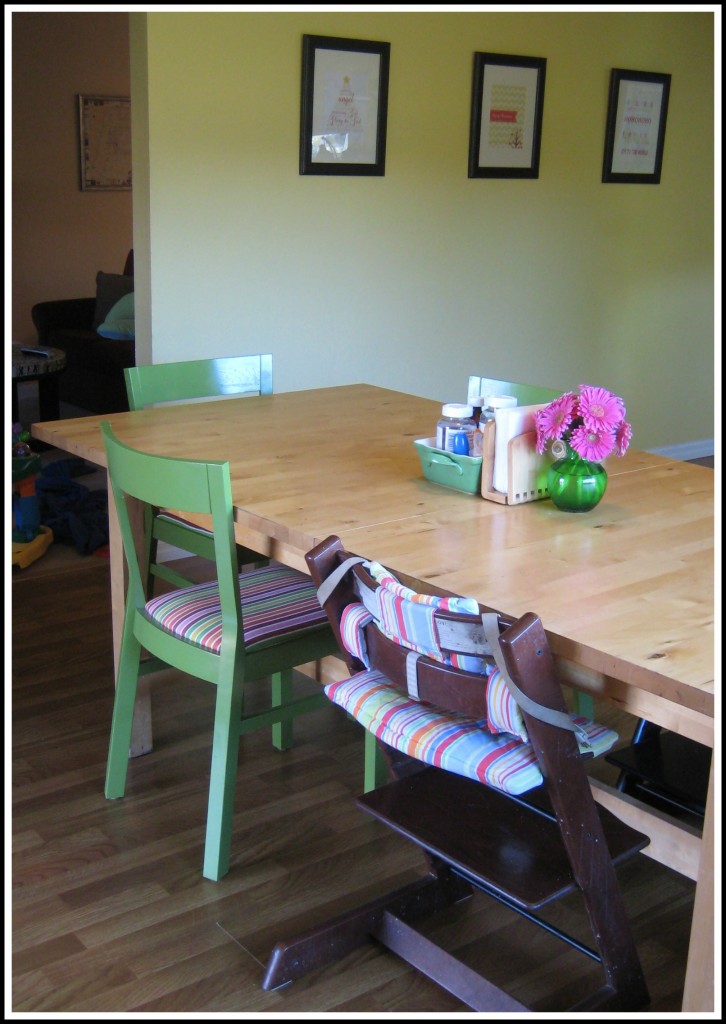 The following links proved very helpful to me in this process:
All Things Thrifty posted here about her spraypaint knowledge- uber helpful.
She also posted here with a Spray Painting 101, which includes a video of someone spray painting the correct way.
Lovely Nest's post here about her dining chair makeover helped in terms of learning about Polycrylic.