Coffee Table Upgrade with Mod Podge and Fabric
What else would I use to upgrade something?  I mean, really.
So we bought this table from West Elm right after we got married in 2005.  I cannot say that I recommend West Elm furniture for families with small children- it just didn't hold up.  I loved the table when we first got it- it's not too big, round (I love round tables for some reason), looked cool for a long time.  But our first condo faced west and the sun hit it during sunset, which took its toll.  Then Anna came, and she did a doozy on it.  I didn't help either, what with my in-home-acetone-using-French-pedicures (ahem).  So, it was looking pretty sad.  We are now in abode #3, and it was really looking bad.  But we didn't/don't have the budget for new furniture right now.  We do, however, have a budget for craftiness and fabric- couldn't possibly cost as much, right?!  Hmmm… not so sure, but I sure do like how this turned out.  Here's the before:

I went to my local JoAnn Fabrics, spotted the fabric and loved it right away, so I bought 3 yards, and some black upholstery/pillow trim.  I stocked up on staples for my staple gun, made sure I had plenty of Mod Podge (fabric and hard coat) and a brayer (new fave tool!) and off I went.  In case you aren't in the mood to scroll, here's the finished product: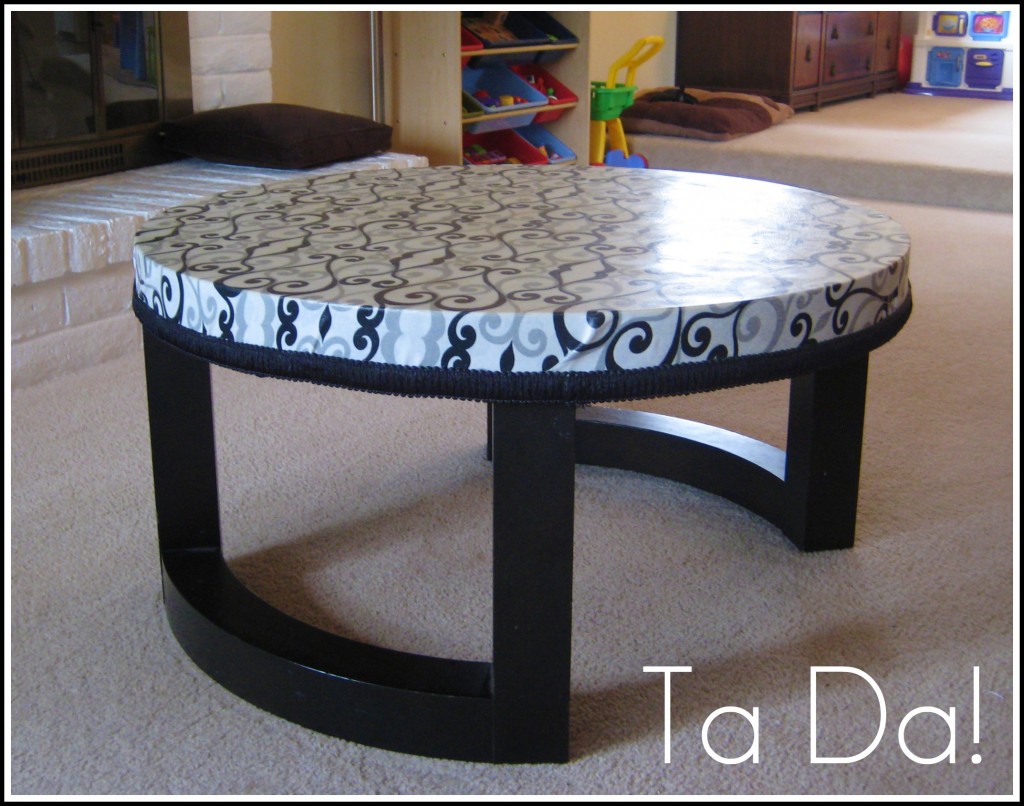 I apologize for the lack of photos- this was done months ago during my blogging break, but I will describe it as best I can.  I won't say this is a tutorial, but if you ever ponder doing the same thing with one of your pieces of furniture, please shoot me questions and I'm happy to answer them.
First I poured a pretty hefty amount of Mod Podge (fabric) on the table and spread it out as evenly as I could over the top, but not the sides.  Then, I carefully laid the fabric on top, like so: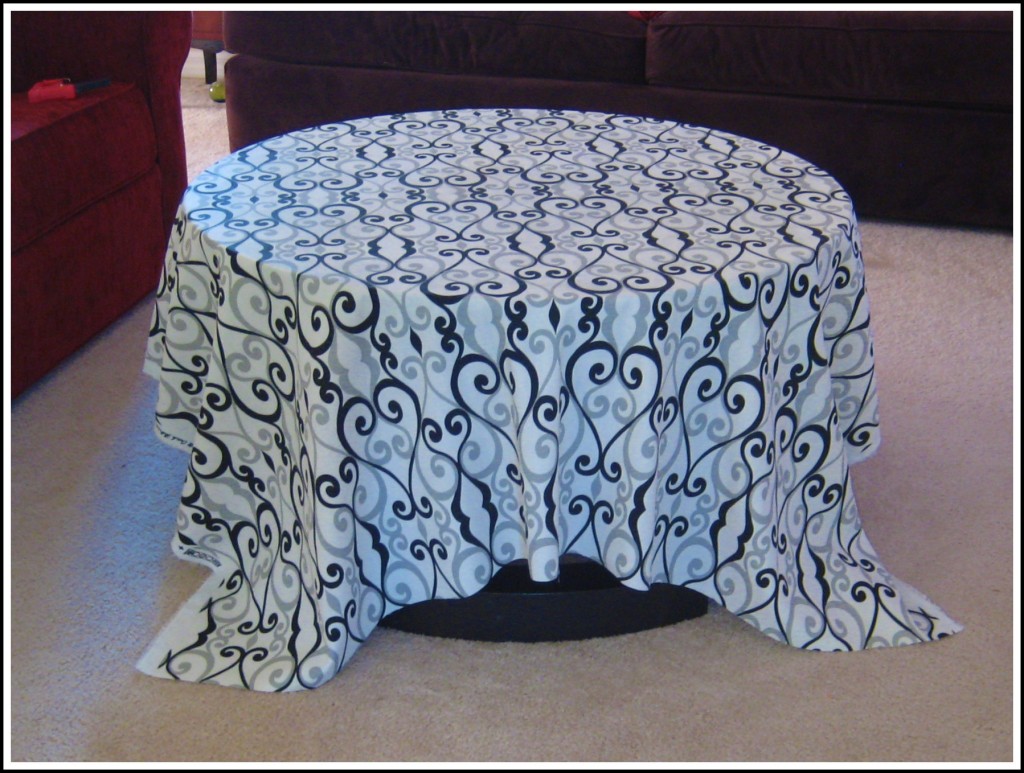 Then I used the brayer to roll the fabric out as flat as possible until I could see no air bubbles, no bumps, etc.  With the pattern in the fabric my eyes did cross a bit from time to time, and eventually I had to sit down and take a breather.
I waited a bit, and then I carefully trimmed off the excess fabric.  This is when the stapling began.  I wasn't really sure how I was going to do this part- it was definitely a fly-by-the-seat-of-my-pants project.  But I ended up being happy with the results.  Basically I pulled the fabric straight down and stapled until I absolutely had to pleat it because of the direction the fabric was pulling.  It seemed scientifically impossible to get it all to lay flat on the sides.  You'll see in the collage below that there are just some pleats here and there- I stapled them as tight as I could- my fingers were nearly raw by the time I finished.
Finally, I added the trim with a hot glue gun.  I think in hindsight I should have stapled at least the beginning down with a staple or two, but it's holding up great so far, so maybe it's not completely necessary?
I wasn't done yet, though.   I started the Mod Podge process with the hard coat formula using sponge applicators.  I have only been able to find MP hard coat in the smaller jar, and I started with two jars, but ended up buying two or three more.  I always did these coats after the kids went to bed so it could dry over-night.  I decided to go with the "built up finish" because I knew this table would be put under great duress by us and the kids, and the more layers, the better.  This equates to a minimum of 5 coats.  After 5 coats, I didn't feel it was done yet.  There were lots of ripples in the MP, and I was curious to see if they would go away with a few more coats.  I think I probably did 10 coats or so- it was a lot.  It was also a bit tacky, as MP sometimes is, and I didn't know what to do about that.  In the end I first sanded it a bit with a really fine-grain sand paper, then sprayed the top and sides with two coats of clear acrylic spray.  I'm actually not convinced I'm done with it, but it's holding up great until I figure out what to do- maybe I'll put some custom-cut glass on it someday when the kids are a bit older?  Or maybe by then we'll be able to afford a new table… Hmmm…     Anyhoo, here are some more shots of the finished product: